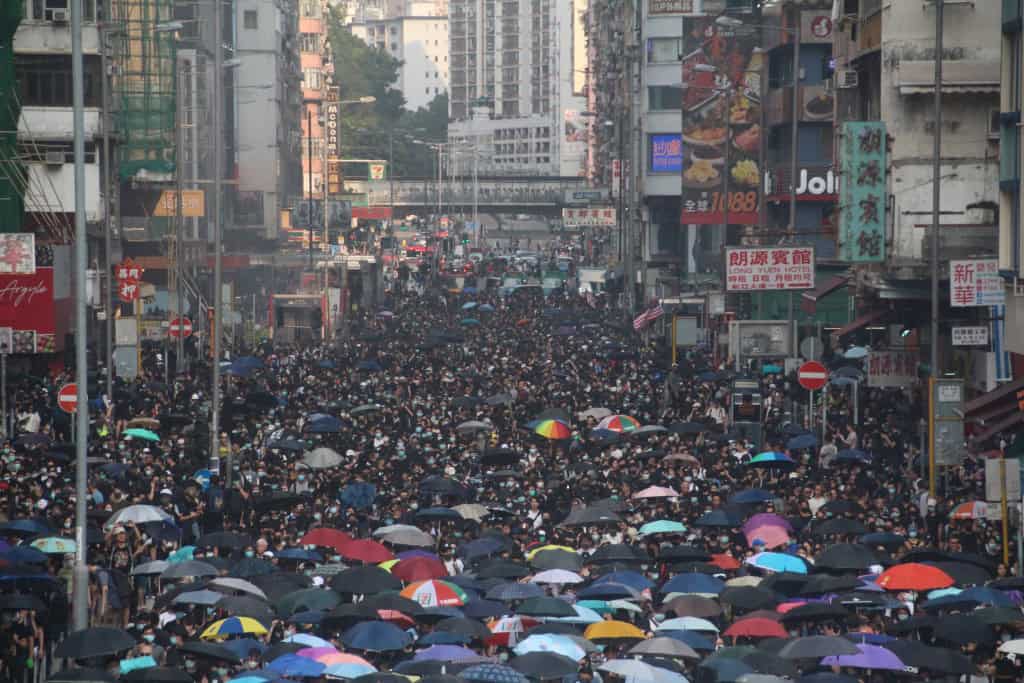 The Hong Kong protests are not stopping anytime soon, but they are changing. After months of protests in Hong Kong, here's some advice if you're visiting in 2020.
Waves of teargas, avalanches of petrol bombs and a super-city in need of a makeover, 2019 wasn't Hong Kong's finest for tourism. As protesters and police clashed relentlessly, visitor numbers into Hong Kong understandably dropped. Hong Kong has always been safe to visit, but the scenes on the ground have mirrored urban warfare.
Hong Kong is desperate to keep attracting tourists despite the city is being under pressure. You're encouraged to visit because it's still safe to visit in the main, but further precautions will be needed.
With protests taking place for the second half of 2019, we now know what to look out for in Hong Kong in 2020.
Decrease in tourism
With tourist numbers down dramatically in 2019 – nearly a 50% decrease from the mainland – the streets are less hectic and the queues are noticeably shorter. As of now, there are also bigger discounts on attractions whilst hotel prices have plummeted. Although it's a long way off from prices in Southeast Asia, Hong Kong does benefit those who wish to visit.
Low prices for accommodation
With many people afraid of scenes they see, along with the travel disruptions, accommodation occupancy has decreased. This has pushed owners to drop prices significantly in an effort to increase bookings.
If you're a budget traveller, look at Urban Pack Hostel in Tsim Sha Tsui, Kowloon. With a price drop on dorms, privates and apartments, Urban Pack also offers free WIFI and activities every night.
For hotel options on Hong Kong Island, Homy Hotel, Mini Hotel, and the Ramada currently offer discounted prices.
If you get caught up in an airport 'stress test'
Hong Kong's International Airport on Lantau Island came to a standstill in August 2019. The airport 'stress test' showed protesters demonstrating in and outside of the airport causing major delays and cancellation to flights.
There are now added security measures at HKIA, with checks on your boarding pass, tickets and passport upon entering the airport.
If there is a hint of a 'stress test' happening in 2020 and the roads are gridlocked in and out of the island, look at these options.
Option 1: Check to see the status of the Airport Express train, as this is the quickest link between airport and city.
Option 2: Make your way to Tung Chung MTR Station and use the orange MTR line for your journey.
Option 3: A last-ditch effort would be to travel via Discovery Bay – also on Lantau Island – that operates a ferry to and from the Central Ferry Piers on Hong Kong Island.
Alternative options to the MTR
The MTR (Mass Transit Railway) is one of the most efficient in the world, but it has come under scrutiny from protesters over its alleged collusion with the Hong Kong Police. Protesters have purposely targeted the MTR, thus affecting normal service and causing delays for everyone.
If the MTR expels service as we've seen before, look up the bus routes. Trams are also available whilst taxis are plenty and Uber is widely used throughout the city.
Expect early closures in the city
It's common to see various banks and ATM's damaged during demonstrations, so make sure you have enough cash prior to your arrival. Alternatively, make sure your credit or debit card is with you, and your Octopus card is topped up. It's also common for stores to close early amid demonstrations, whether it's a 7 Eleven or a local restaurant. If you're seen shutters come down and lights go out in respective buildings, treat this as an indicator that clashes may happen imminently.
Teargas 
Regardless of the severity of a clash between protester and police, teargas is often used. With police firing tens of thousands of teargas canisters since June, even the smallest of skirmishes can prompt this action.
If you come into contact with teargas, buy some saline solution that will help wash out your eyes. Teargas is incredibly irritable and can burn your throat and skin.
Watch out in Mongkok
One of Hong Kong's most popular places for incoming visitors, Mongkok brags a bargain or two. It has interesting markets, cheap electronic malls and greasy street food. But given the unrest at the moment you should plan to visit during the day, not at night. Mongkok Police Station is next to the Prince Edward Station and both have become hotspot areas for protesters and police to collide, even during the week.
The adventure side of Hong Kong
Hong Kong has shiny skyscrapers and a buzzing nightlife, but it also boasts tons of adventure with parks, trails and islands all away from the city.
Lantau Island is home to the Big Buddha, one of Hong Kong's must-see attractions. Lantau Peak is the second highest in Hong Kong with Sunset Peak right next to it, the third. Cheung Chau Island once had pirate gold and brags restaurants and shops. Lamma Island, around twenty minutes from Central via ferry, has quirky shops, a vibrant social scene and scenic walking trails. Sai Kung is arguably the premium place for adventurers with beautiful lakes, trails and beaches to get your teeth into.
If you visit any of these, you won't be in any danger of getting caught up in the protests.
Independent businesses 
The contrary to cheaper prices and fewer tourists is that independent businesses are struggling. You'll definitely have the chance to use international brands in Hong Kong but if you want to support independent businesses (and experience local Hong Kong) spend your money at the bundles of street food vendors, trinket shops and local bars.
Refrain from getting involved  
If you're visiting Hong Kong during the social unrest, it's important to do so with care. A minority of visitors have been seen heckling police, injured by projectiles and even arrested. Hong Kong isn't Syria in terms of violence but that still doesn't warrant visitors to get involved. Unless you're a professional – like press – do not put yourself or others at risk of being in the way.