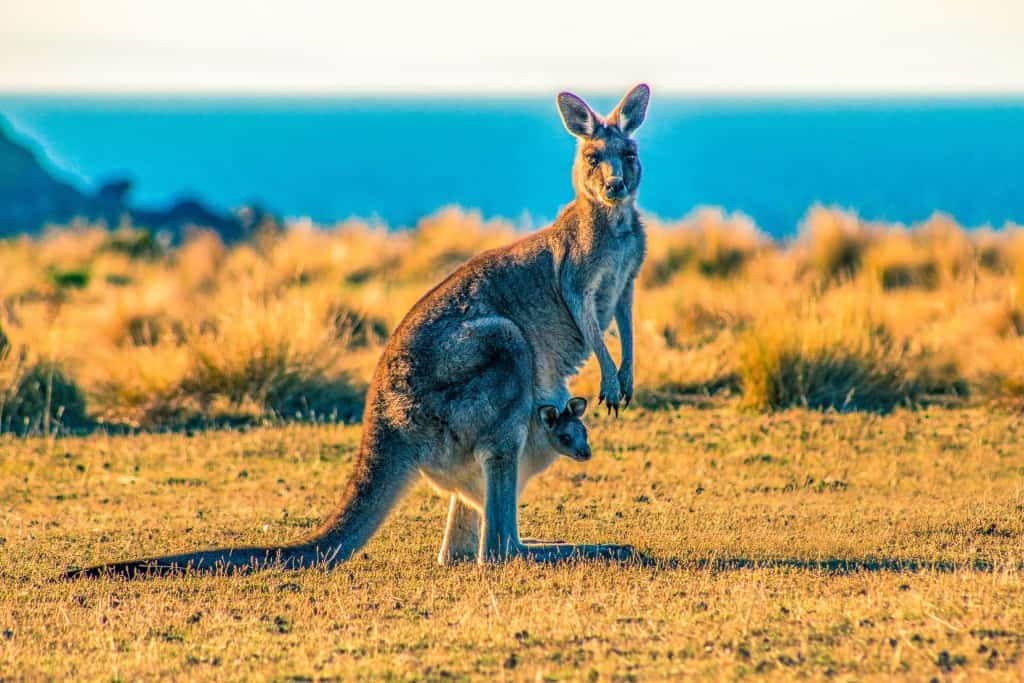 Remarkable rocks. Sand surfing. Enchanted trees.
Kangaroo Island delivers in leaps and bounds.
Kangaroo Island is Australia's third largest island and sits off the coast of South Australia. The island got its name when Captain Matthew Flinders and his crew visited the island in 1802. The crew were starving after a long voyage, and after landing on the island, they found what they needed most: fresh meat (of the kangaroo variety). The captain's journal states that the crew hunted, skinned, and consumed as much meat as possible. In gratitude for feeding the crew and saving them from starvation, Flinders dubbed the island 'Kangaroo Island.'
The island has long been a sanctuary for wildlife and is well-known for its rugged beauty and clear waters. Unfortunately the island suffered from wildfires in 2020, which devastated half of the island. So, it is even more critical to protect these fragile environments. And the Australian government is doing just that whilst promoting a more sustainable form of tourism. The eco-aware accommodation options vary, and all are stunning. They range from self-contained hilltop "Wanderpods" to luxury villas, with three-course gourmet dinners thrown in.
Getting around the island
One of the most convenient ways to explore is to self-drive. Hire a car on the mainland and bring it over by ferry or hire one on the island. It gives you more freedom and time to enjoy things at your own pace. You're permitted to drive on unsealed roads which means you get to explore and discover hidden beaches and wildlife too. If you don't drive or simply don't want to, there are lots of places that organise tours of many of the main "must-see" attractions. It is pretty easy to get about, and bike hire is also available.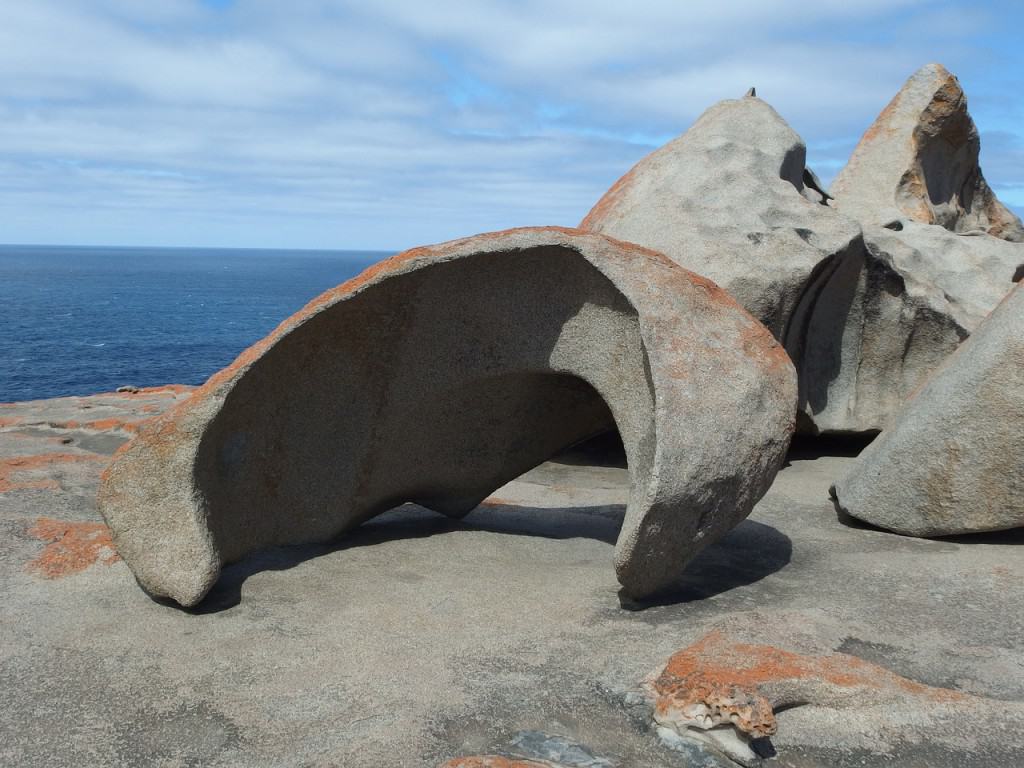 Rocks and geology
Remarkable Rocks are exactly that. A geological granite form created by wind, sea, and rain for over 500 million years. Situated in Flinders Chase National Park, it's one of the most recognisable landmarks on the island. Morning and late afternoons are popular times to visit as the sun transforms the rocks into something visually outstanding. Also, within Flinders Chase National Park is Admirals Arch, a rocky naturally-formed archway dripping with stalactites, where fur-seals can often be found playing among the rocks.
A magical meal under and enchanted tree
The Enchanted Fig Tree is a dining experience like no other. Tucked away near Snelling Beach, the tables sit under a 120-year-old fig tree. Australia's most renowned chefs serve up the food here and it is the ultimate dining destination on the island. Created by Gastronomo, who take inspiration from the landscape, local culture and history and supported by the Bushfire recovery fund. This fund aims to support the recovery of bushfire impacted communities and industries.
Hit the beaches and top up your tan
You'll be spoilt for choice with beaches as there's more than 500km of coastline. Emu Bay is an idyllic long, white sandy beach, protected from the elements. If it's windy around Brownlow Ki, head over to Emu Bay, where it will be calm and clear and ideal for baking in the sun. There's no parking here, but you can drive directly onto the beach! Other beaches among the top 5 are: Stokes Bay, Vivonne Bay, Snellings Beach and Western River Cove.
Are you the artsy type?
Kangaroo Island is fast becoming a top arts destination in South Australia. The island is home to award-winning and emerging artists. Inspiring creativity they contribute to a lively arts scene. There are galleries, studios and art spaces all over the island where artists create and showcase their work. The Kangaroo Island Gallery and Fine Art Kangaroo Island are perfect places to view paintings, drawings, photography and locally-made jewellery.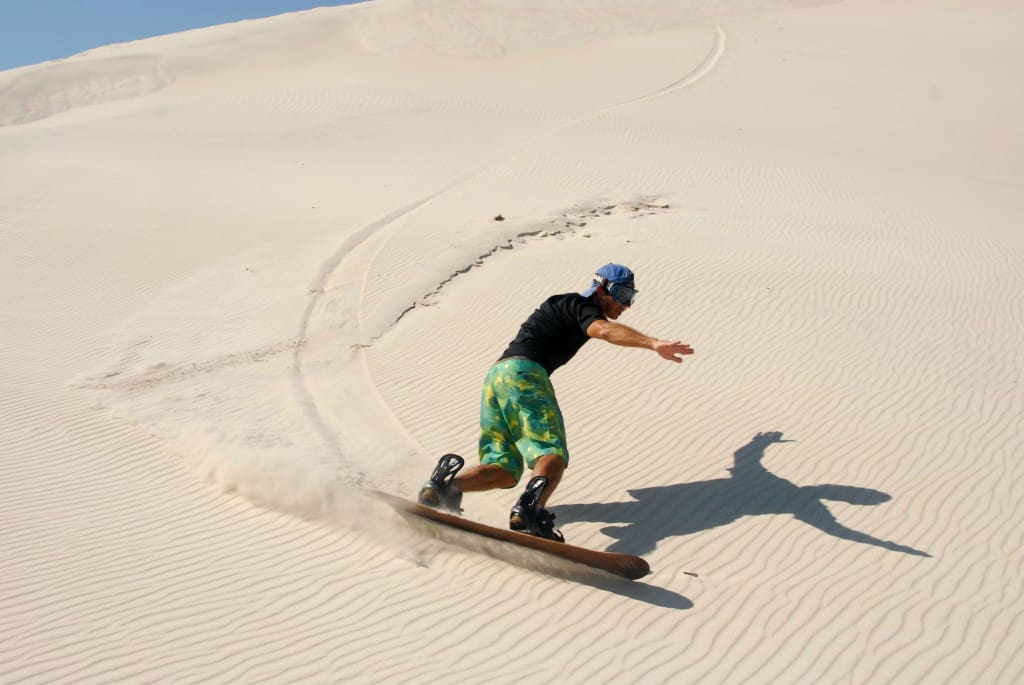 Sand surfing?
They got that covered too. The Little Sahara Adventure Centre in the south of the island hires out sandboards and toboggans. Surf down the sandy peaks, with the tallest dune towering about 70 metres above sea level.
Nature
If you want to channel your inner Sir David Attenborough, there are plenty of nature tours and experiences. Penneshaw Penguin Centre, Hanson Bay Wildlife Sanctuary, Living Honey's Beekeeping Experience, and Kangaroo Island Ocean Safari are all wonderful immersive tours. You'll see kangaroos, penguins, wallabies, koalas, dolphins, seals and tons more.
Trekking
There's heaps of hiking and trekking to do around the island too. Make sure you pack your hiking boots and grab your camera. Kangaroo Island has three main towns, but most of the island is wilderness. Travel through bushland, hidden beaches, over rolling hills and around rocky cliffs. The photo opportunities are endless and the number of times you'll say "wow" won't get boring.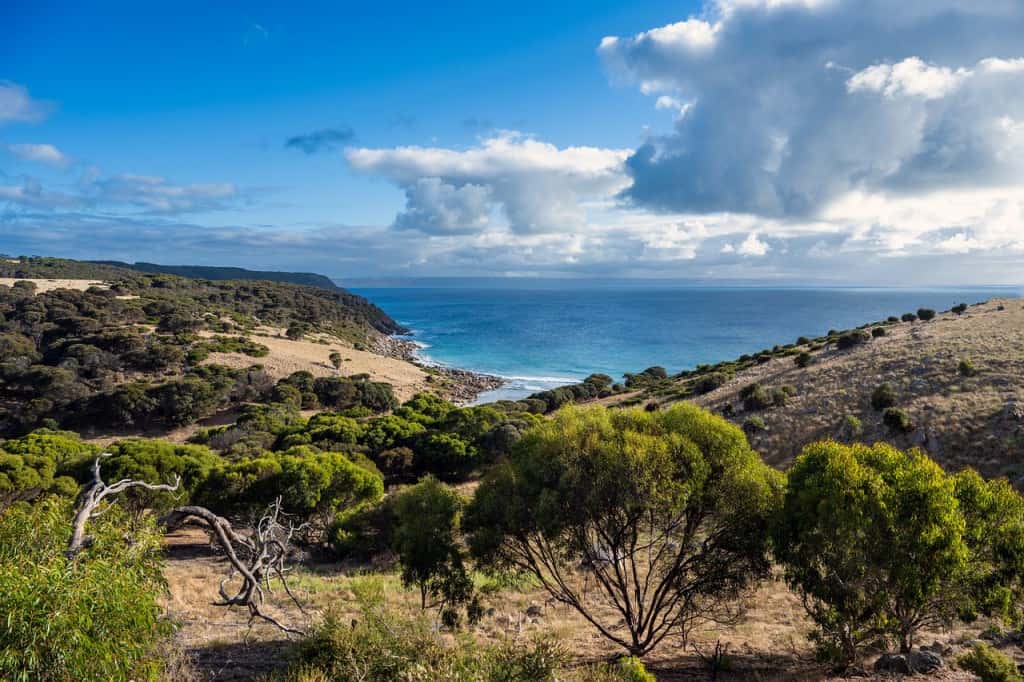 Vene, vidi, VINO!
If you're all about food and plonk (sorry, wine), you have come to the right place. Discover the Fine Flavours local produce tour, which includes fresh oysters, honey, wine, gin, olives and olive oil. How about the False Cape wine experience? Enjoy their wines and a deluxe platter with a selection of cheese, meats, dried and fresh fruit, nuts, onion tarts, dips, Turkish bread, crackers and olives. Yummmmmm.
Eating is cheating? Want to skip straight to the good stuff? Try the Islander Estate vineyard experience. An educational tasting that explores a range of their wines. They are the region's only Halliday 5-star rated winery.
When to visit
So, when is the best time to visit? Summer (December – February) is the most ideal weather but also the busiest and pricier. Spring and Autumn (September – November and March – May) are equally great. The weather will be cooler but also less crowded.
How to get there
The closest international airport is Adelaide city/airport. It is then about a 90-minute drive (100km) to Cape Jervis. Taxis are very expensive, so hire a car or take a bus into the city centre.
From the city centre, Sealink, the ferry service, provides a shuttle service to Cape Jervis. You should be aware that there are only 2 services a day. It is better to check with the ferry company beforehand, to avoid being stranded. From Cape Jervis, catch the Sealink ferry across. Be sure to book in early if you are travelling during the summer and taking a car, as it books up super fast!
If Kangaroo Island sounds right up your alley, hop to it and get booking your fascinating trip.