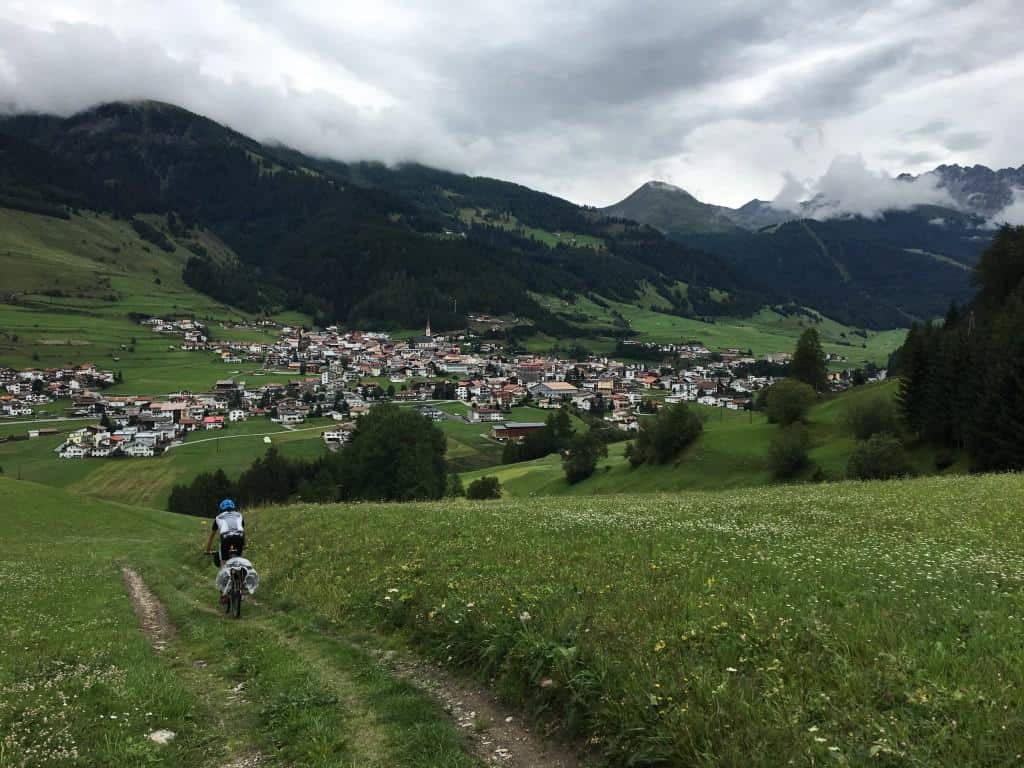 Would you like to try a bikepacking experience? Whether this is your first time or not, we hope you will find some useful information here for your next adventure!
Note: Emanuela and Eros are bikepackers currently cycling the length of their native Italy. In this series, Emanuela covers bikepacking basics, trip-planning and gear, as well as travel challenges and how the duo overcame them. 
Tech to nature: overview
After deciding the country to cycle through, we open and fill out an Excel file. It has always helped us out to plan our trips. It gives us an overall view of what we encounter.
The path we are pedalling through is called The Sun Cycle Route, or EuroVelo7. It connects The North Cape to Malta. Our route begins in Legnago, leisurely pedalling to Florence, towards Rome, and Naples, where we will catch another route, called Francigena del Sud, proceeding to Matera, Alberobello, Ostuni and, last but not least, Brindisi.
Trace the route
Then we trace our route on https://cycle.travel/
This website provides cyclists with essential information such as altitude, total length of the trip, alternatives, different colours for different routes. For example, we always avoid the brown ones because they could be uneven/bumpy/rough, or covered in loose rocks or roots which might make the ride more technical and treacherous.
We always take white routes, which are narrower but paved, gravel grind or green way with gentle slopes or very short rough paths. If we are riding a hard climb and we are tired, we jump off and walk our bikes.
Plan in daily stages
We ride an average of 70km per day, depending on the altitude.
We save one stage per day and then download them all in gpx format. Then we upload them on our Bryton and Garmin (you can use any Gps brand). If you have a Garmin, you can directly transfer the routes!
Have a detailed map of the route
In case we get lost, we upload our paths on View Ranger. View Ranger is an app that works offline as well. It offers a super-detailed map, albeit it will run the battery down if you use it all day long. By the way, a power bank is always useful!
Gear
First of all, here are our bikes.
Emanuela: 26 – front suspension – aluminum frame – 15 years old – 8 trips
Eros: 29 – front suspension – carbon frame– 6 years old – second-hand – 2 trips
Tyres: We use Schwalbe Marathon Plus MTB tyres because they are puncture-resistant. Off-road tires that use either deep tread or a pattern of protrusions to provide more traction on unpaved surfaces are highly recommended.
Pedals: Flat mount pedals. We usually ride clipless because it really helps smooth out our pedal stroke. While cycle travelling we prefer wearing comfortable trainers because we might jump off and walk the bike on bumpy paths. Believe me, riding shoes are not so comfy! Moreover, you have to save room in your luggage for other indispensable stuff.
3 essentials
Bike grips: Ergon GP 3 grips are amazing! No more tingle!
Saddle: Find the one that is best for you. It should fit and work properly minimizing and eliminating friction. Adjust the angle of your saddle depending on where your weight is going to rest on sit bones to alleviate some pressure points.
Don't forget to regulate the saddle height: when the pedal is at the lowest point your leg should be slightly bent. If the saddle is too high, your legs will be too stretched, and your pelvis will rock, causing discomfort! On the other hand, a low saddle causes a lot of pressure on your knees.
Cycling chamois: For big day-long ride we strongly recommend a multi-density foam chamois. Your bottom will appreciate it!
Tools
pump –  or a frame pump – shock pump- tire levers – torx keys – multi tools – chain tool – new chain – bike break cable- bike gear cable –  cable cutters – full size multi tool – cable tires – set of emergency lights– tubes – chain lube – electrical tape
First Aid
latex surgical gloves – hand spray, good for hand cleaning and for antibacterial properties – first aid kit –  space blanket – stop bleeding fast spray – painkillers – antiseptic wipes

Clothes
Only things that can be washed in a sink and are dry by morning! mini clothesline – 3 changes of clothes, 3 pairs of socks, 3 bike chamois, 3 cycling t-shirts – waterproof and windproof jacket – waterproof shoe covers – waterproof hat that fits under your helmet – 2 changes for evening- flip-flops
Creature comfort: accommodation
When planning a trip, we decide where to stop when we find nice accommodation at a reasonable price which provides us breakfast and a safe place to lock our bikes. We usually use Airb&b, Couchsurfing, or a B&B with good host reviews because we are eager to share good times with other people.
We have learnt to book accommodation far from the city centre mainly for 2 reasons: cities never go to sleep and there is no easy place to lock your bike! In cities, there is no easy storage for bikes unless you like climbing endless stairs dragging your bike or squeezing it on narrow elevators.
We usually stop in villages, 10 or 15 kilometres before (or after) the city centre and visit it the following day. Having a good night's sleep is highly recommended.
Next time, I'll talk about some challenges we faced whilst bikepacking, and how we overcame them.