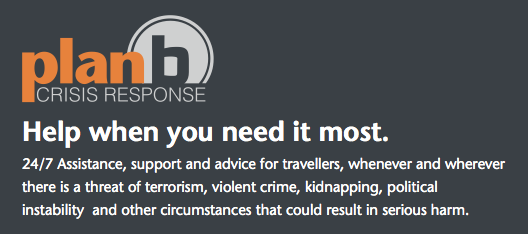 planb – Crisis Response Insurance is the belt to your suspenders: should things go sideways, your pants still stay up.
Most travellers go to happy nice places where the biggest crime is the fat guy in speedos. For these folks, basic travel medical insurance should be just fine.
Other travellers visit more challenging places. Whether for work or funsies, dangerous places call for benefits that cover more than sunburn.  When travelling in dangerous places, extra coverage, know-how and support can't hurt. It's always good to have a back-up plan. This is where Crisis Response Insurance comes in.
Often added on to an existing package, this kind of plan that offers assistance for violent crimes, wrongful detention, mysterious disappearance, kidnapping, blackmail, extortion, political threats, hijacking, and acts of terrorism. If you get in trouble, crisis management teams swoop in to help save the day.
The assistance provider can deploy lawyers who understand local law and customs, provide a liaison with relevant officials and offer negotiating support. If things get really bad, some plans cover evacuation to safety.
One of the best ways not to get in trouble is to know something about where you're going. Do some research, ask others who've been there, and follow the news. Make a list of realistic dangers you may confront, and tailor the policy accordingly.
When buying Crisis Contingency Assistance, be sure to read the service contract carefully. If you are evacuated to another region, are you still covered by your travel medical insurance? Does the assistance provider have local teams in place in your area? If not, how long until help arrives? In the event of an incident, what is the best way to contact your assistance company?
Crisis Response plans usually run less than £3.50 per day, depending on the location. For those headed to dangerous places, it's essential to have a planb.