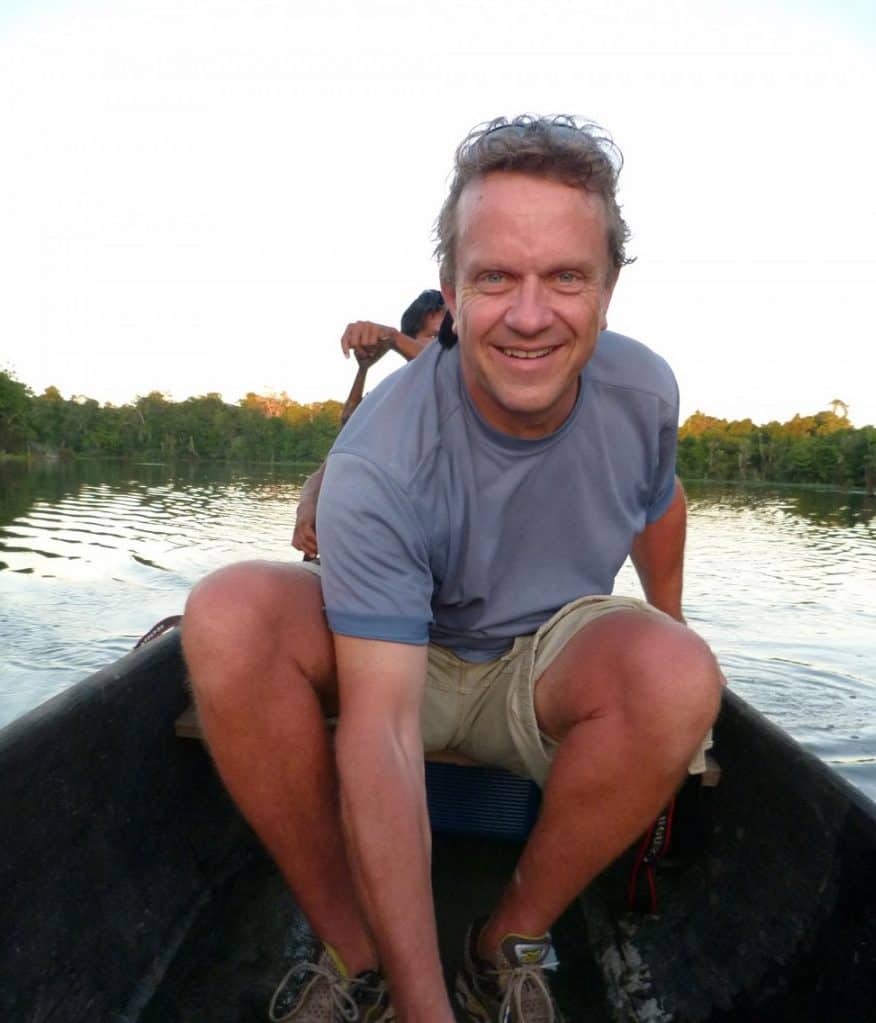 Mark Hannaford is the founder of World Extreme Medicine, Across the Divide Expeditions and the prestigious Extreme Medicine Conference series.
His passion is to bring inspirational people together, building networks to improve standards in remote, disaster & humanitarian medicine.
From providing extreme medicine courses to medical professionals, to helping individuals raise more than £87m (USD$115m) to date for charitable courses, to building effective, collegiate and happy teams for corporate partners, Mark has built businesses and delivered experiences, courses and conferences that motivate and inspire.
Across the Divide was the first commercial organisation in the UK to employ doctors, provide comprehensive Continuing Medical Education-certified training, and to standardise medical kits deployed on all of its events and expeditions, and significantly lifted the standards of medical care provided by the adventure travel market.
More recently, Mark and his friends, Dr Sean Hudson and entrepreneur David Weil, established the 'Extreme Medicine' conference series. Developed specifically with medical professionals in mind, this ground-breaking conference series has been held at the Royal Society of Medicine in London and Harvard Medical School in Boston. The World Extreme Medicine Conference challenges thinking, builds bridges and shares new and more effective approaches to medical practice in the world's most remote and austere locations.
Mark was honoured for his 'pioneering work in the field of the promotion of expedition & wilderness medicine' by the Royal Society of Medicine and also awarded BT's Essence of the Entrepreneur Award in 2008 for the creation of Across the Divide's Corporate Social Responsibility arm. Mark was made a Fellow of the Royal Society of Arts in 2004; he was also elected as a Fellow of the Royal Geographical Society in the early 1990s.
battleface caught Mark between heroic feats and planning a conference on two continents to answer a few questions.
Extreme medicine: we think medic performing surgery whilst hanging off a cliff. What are some other examples of extreme medicine?
We engage with a huge range of medics here at World Extreme Medicine, from surgeons carrying out biomedical research on the side of Everest to military medics working in Afghanistan to sudden-onset disaster specialists and general practitioners working on remote Scottish isles.
The reach of the conference widens each year, with delegates attending from across the world and from a wide breadth of organisations.
Our speakers this year are a particularly diverse bunch with topics across the whole gamut of extreme medicine: speaking about the present medical situation in Syria, harnessing the power of the environment to generate world class endurance performance, and preparing for medical events in space. From developing a field medical training curriculum for the European Space Agency to multi-agency coordination in major incidents – Exercise Unified Response.  They are literally travelling from all corners of world, from remote outback Australia and the Khumbu Valley in Nepal to the South Pole!
You founded World Extreme Medicine, a conference that tackles the challenges of extreme medicine. What are some practical and logistical challenges of extreme medicine?
The types of environments that our delegates find themselves delivering medicine include some of the most remote in the world, or where a sudden onset disaster has stripped the location of its medical facilities. It really is a different type of medicine, where practitioners have to both adaptable and innovative but also aware of the environmental dangers all around them.
The conference content not only features some of the world's most respected speakers but also a huge number of both speakers and delegates who are recently returned 'from the field' who are keen not only to share best practice and their experiences but also to look at innovation and research to network at the world's largest gathering of extreme medics.
They are all united by a desire to provide the very best medical cover in remote low resource environments – we think of them as being the 'extreme edge of medicine'.
What sort of extra training does a medic need to work in challenging conditions?
Working in remote areas asks for a lot of medical professionalism, and of course, particular environments require a strengthening of knowledge, such as altitude medicine for working in mountainous environments, jungle medicine and disaster medicine.  But there is a lot more to working in extremes, including working with teams, operating under pressure, being aware of your own personal security, an awareness of the 'bigger picture' when dealing with the media and the advantages of having a strong insurer behind you.
The list is quite extensive and the conference addresses a wide range of these, both on stage presentation and a wide range of additional workshops and specialist courses.
How did you get started in this line of work?
My personal background is one of expeditions, and I have spent over 25 years working in this area and have been very fortunate to have led or been involved in remote expeditions to all of the world's continents. This inspired me to establish Across the Divide Expeditions (ATD) in 1997 , to provide adventure challenges for charities to use as fundraising vehicles and which has helped to raise over £87m (US$110m) since its inception.  One of the cornerstones of ATD was that every single one of its events was accompanied by a suitably-qualified medical professional, who was a paid member of the delivery team.
ATD, if not the first commercial company to have that as an underlying philosophy, was one of the first.  As we started to bring these doctors through they asked us for more and more specialist training such as a Polar Medicine course which we run yearly in Norway, and in New Zealand a Mountain Medicine course which operates to Everest Base Camp and which have themselves developed in the present-day conference.
Got a favourite anecdote?
One of my favourite memories is at the end of one of the conference days I was putting a NASA astronaut/doctor in a taxi with the founder of Everest ER and the Medical Director for Extreme Medicine, none of whom who had actually meet until that moment, but all of whom become firm friends as a result of that single taxi journey!
A common misconception about medical professionals who practice extreme medicine is…
That it's easy….
Medicine in space! How is it different?
Operating in space presents its own unique challenges, not least the fact that weight is of absolute importance, resources are extremely finite and that procedures and techniques which are commonplace on earth, in gravity, are impossible in space. Add to this the unique stresses that space travels place on the human body, and mind, you have a unique mix of challenges which need to be overcome before travel to Mars becomes a reality.
What is your role at the WEM conference in November?
My job at the conference is to present a calm and unflappable face to the delegates as I open and close each day whilst my amazing team work tirelessly in the background to ensure that we deliver one of the most amazing medical gatherings in the world.
2016's Extreme Medicine Expo is 18-21 November at Dynamic Earth, Edinburgh.
Click here for more battleface interviews