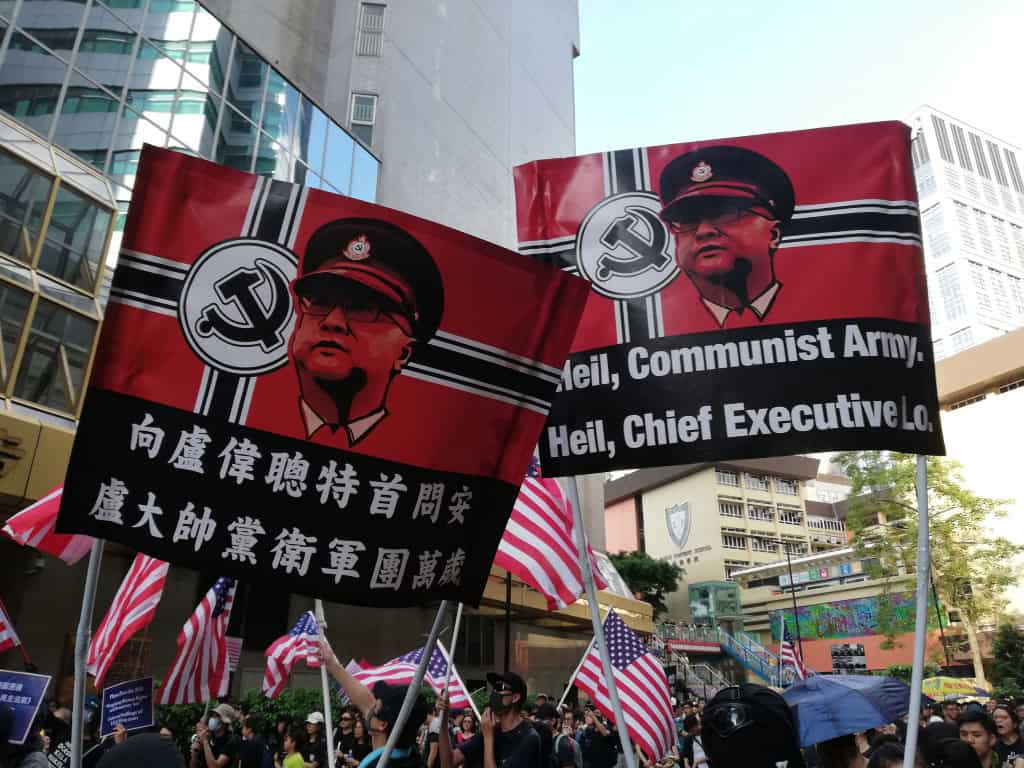 Intro:
Pro-democracy protests, hundreds of thousands of dissenters and suburb shutdowns have been international headline news of late in Hong Kong, and it looks like it will get worse before it gets better.
At the time of writing, for eight consecutive weeks, Hongkongers have been protesting relentlessly against the pro-Beijing culture that has been slowly infiltrating the democracy of Hong Kong.
Things seem to have hit a new low in recent weeks that has got people asking the question; is it now becoming unsafe to travel in Hong Kong?
About Hong Kong
Long story short, Hong Kong was under the British crown for most of the time until 1997 when Hong Kong was handed back to China. The deal was for Hong Kong to be autonomous for 50 years until it can be reclaimed as a Chinese city. Hong Kong has its own laws and currency under the 'One Country, Two Systems' policy.
Hong Kong was built into a successful and flourishing state with levels of democracy and culture derived from Britain. Since then, Hong Kong has enjoyed levels of democracy that are not found in mainland China.
In recent years China has sneakily tried to change that.
What happened on 21st July?
An approved protest allowed for over 400,000 people to march on a variety of issues with mainland China, Chief Executive Carrie Lam, the government and Hong Kong police.
This protest was originally due to start from Victoria Park, Causeway Bay and was supposed to finish in Wan Chai, Hong Kong Island. It ended up in Central, at the Liaison Office of Hong Kong, with the emblem of China being visibly tarnished.
Images of the lingering tear gas spread across media outlets worldwide on the Sunday night and Monday morning, a sight one may see similarities to a war zone. If this continues on, it feels Hong Kong may be on the brink of some form of 'civil war'.
Later that night closer to the mainland Chinese border in Yuen Long, pro-Beijing thugs all dressed in white t-shirts – a contrary to the pro-democracy protesters who all wear black – viciously attacked pedestrians and protesters, including the elderly and a pregnant woman. This obscene attack sent shockwaves through the whole of Hong Kong and the world.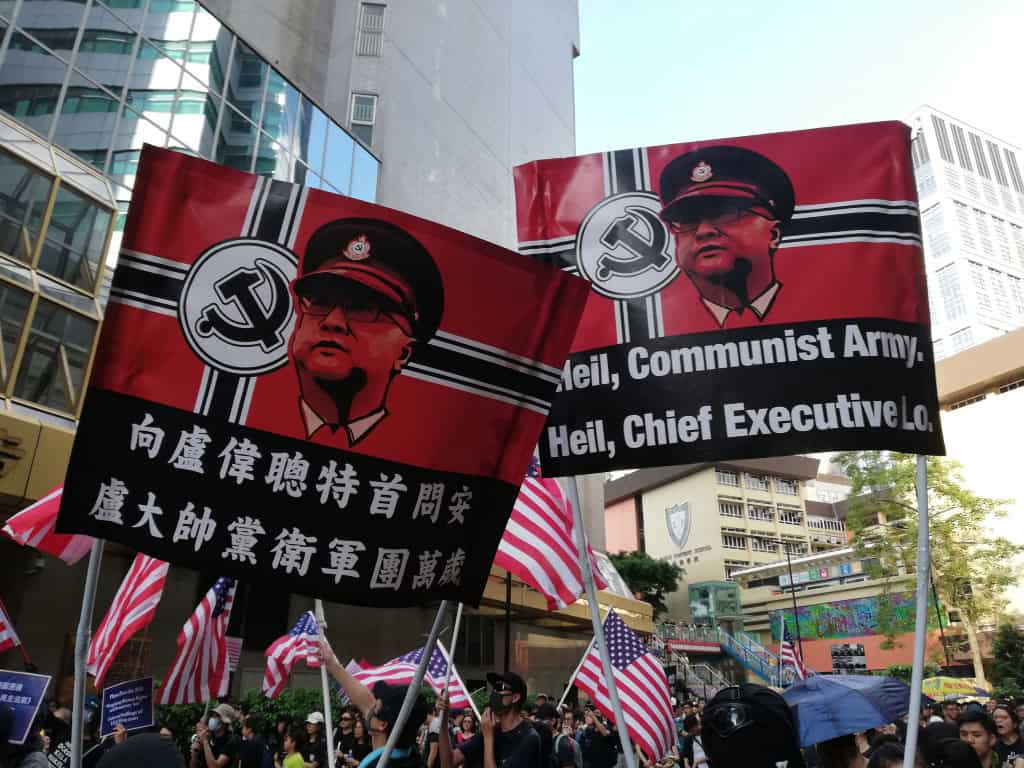 Corruption and controversy
It has also been heavily rumoured that the white t-shirts were secretly hired to carry these moronic actions out.
Another thing that has come to light is the complacency of the Hong Kong police. During these violent incidents, the Hong Kong police were not taking calls, hanging up on callers and even two police officers at the scene stood and watched rather than help the innocent bystanders. It has even been said the Yuen Long police department shut their doors despite pleas for help.
Update: What has happened since?
To gain more international exposure, protests took place on Friday 26th July, firstly at Hong Kong International airport. With many black t-shirt protesters just providing information to incomers into Hong Kong, the protests where relaxed.
Secondly the day after on the 27th July, in reaction to the Yuen Long incident, huge protests took place in the town, despite it not being approved by police. This means the protest was illegal but didn't deter thousands from attending. With the white t-shirts clearly out numbered and undoubtedly fearful, this got tense later into the night with tear gas being dispersed by police.
Sunday 28th July caused more violent scenes in Central and Causeway Bay again. The police took the initiative with several attacks and arrests to protesters. This is thought to be one of the more violent clashes of the last two months of protests.
What has happened before this?
First, the kick-off point was about the extradition bill that promised to extradite prosecuted Hongkongers to mainland China for trial, decided by case-by-case. China has a flawed judicial system with fearing Hongkonger's they could be tried in court under China law. Carrie Lam has since announced the bill is 'dead' due to the protests.
Have there been signs of terrorism?
Although Hong Kong doesn't have any recent history of terrorism, on the 20th July 2019 explosive devices were found in the New Territories. This is highly unusual for a place like Hong Kong and the authorities are still determining the reason behind it. Locally, Hongkongers are labelling the Yuen Long attacks down as acts of terrorism.
Where are the protests?
Protests have typically taken places on Hong Kong Island, Kowloon, New Territories and even at Hong Kong International Airport. These are all subject to change as protests continue on.
Travelling in Hong Kong
The Yuen Long incident was very far away from any notable place to visit in Hong Kong. With further protests due to occur throughout July and onwards, your visit to Hong Kong shouldn't be too affected in terms of preventing what sights you want to see.
Although hotel bookings have dropped, Hong Kong is still safe to travel in the main. Despite the current events, you'll very likely get to do and see everything you want in Hong Kong. The best thing to do is to keep an eye on protest dates and the news. The likeliness is that further protests will happen is strong but from what has happened so far, the unfortunate violent elements come late at night.
Follow the Hong Kong Free Press website for updates or via Facebook.
Alternative attractions
If you're a first-time visitor and you're concerned about the wrestling of downtown, you'll be glad to know there are many cool things to do won't have you to step foot near the protests.
Lantau Island
Away from the chaotic city, protests or not, Lantau Island is somewhere you've all visited before. This is because it's actually the island of Hong Kong International Airport, but crucially it's home to several top attractions in Hong Kong.
Tian Tan 'The Big Buddha'
Located in Ngong Ping, it is one of the largest sitting bronze Buddha's in the world and is a must-visit. Whilst on site Ngong Ping, you can also visit Po Lin Monastery, too. To get here you can get the MTR to Tung Chung then walk over to Ngong Ping Cable Car and take the journey up.
Lantau & Sunset Peaks
Away from the mass tourists, Lantau Peak and Sunset Peak are the second and third highest peaks respectively in Hong Kong. You can hike Lantau after or before you make it to the Big Buddha. Sunset Peak is a little scarcer and takes around three hours up. These are strenuous but short hike so it's important to wear SPF, take plenty of water, cover up from the heat and wear good trainers. 
Mongkok 
Mongkok's is a flurry of bright lights, markets, and busy streets. It may not be a perfect place to live, but to visit it's an interesting place. Head to the Lady's Market for some good old souvenirs and bargain buys.
Go to the Central Ferry Pier 
In case you didn't know, Hong Kong has over 200 outer-laying islands. So if you want to avoid the confusion and protests of downtown, head on over to Central Pier and choose your spot!
Lamma Island
Lamma has a bit of everything in small doses and you can get there by taking the ferry at Pier 4. From cool main street bars to fresh seafood, it's a good place to indulge. You can also check out the local shops whilst there are a couple of beaches and hiking trails to consider. Lamma tries to stick to its local roots with no cars and not a single 7 Eleven on the island!
Adventure Tip:
If you really love a challenge then hike Mount Stenhouse, the highest peak on the island. It's far more worn than Lantau or Sunset Peaks, with barely any path, shade and steep climbs. If you don't mind a bush walk and plenty of spiders, this might be for you!
Beach towns, fishing villages & pirate caves
Mui Wo is a smaller beach town with a pleasant vibe. It has bars, restaurants, barbecue stands and a good stretch of beach. You can actually connect to Lantau Peak from here.
If you want to check out Hong Kong's creaking fishing villages head further onto Tai O by bus. You won't even feel like you're in Hong Kong when you arrive. The houses are on wooden stilts and plenty of boats drift between these waters. Think of an ancient Venice and you'll get the image!
Cheung Chau is a popular spot for visitors with waterfront bars, restaurants, and a beach. You'll find McDonald's here so it's definitely more commercial than Lamma. Cheung Chau has a swashbuckling history; a former 19th-century pirate Cheung Po Tsai apparently once kept his loot in a cave-tunnel here. You can even climb down, clamber through and out to the other side! Take Pier 5 to reach Cheng Chau.