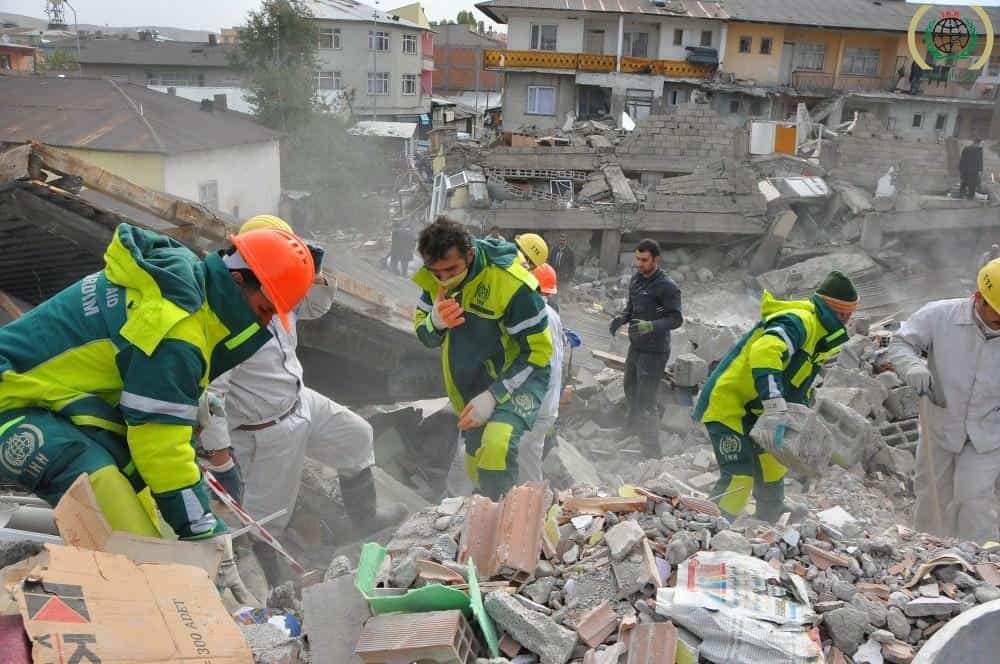 The 7.8-magnitude earthquake which hit Turkey and Syria in recent days has caused near-unimaginable devastation. The death toll currently stands at more than 22,000 people – and time is running out for those still at risk.
That's why battleface today announces a US$25,000 donation towards relief efforts and urges others to join us in raising crucial funds for those affected.
What we know so far
On February 6 a series of quakes hit central and southern Turkey and northern and western Syria, being felt as far as Israel, Lebanon and Cyprus. Rescue efforts so far have been hampered by severe weather conditions with many still trapped under the rubble of fallen buildings.
At the time of writing, more than 18,000 people in Turkey and almost 4,000 people in Syria have been reported killed in the disaster and its continued repercussions.
Why we are supporting Ahbap
battleface takes great pride in being a global company with team members and partners from and based in Turkey. It was after consulting with our team about the best use of our funds that we decided to support Turkish nonprofit Ahbap.
Atanur Oytuner, Head of Partnerships in Europe, said: "As part of an international company, living outside of Turkey, we're deeply saddened by the major destruction in our home country.
"Supporting on-the-ground efforts is crucially important right now, which is why we have decided to donate to Ahbap, an organisation that pools together volunteers to aid in social and environmental responses."
The official Ahbap website highlights a map of safe locations around the earthquake disaster areas including local businesses and institutions opening their doors to citizens. The money donated to Ahbap, which was founded in 2017, will go directly towards shelter, food, and medical supplies for those impacted by the disaster.
Find out more and donate to Ahbap here.
How else you can help
Global and national aid organisations desperately need funds to continue the lifesaving rescue efforts underway in both Turkey and Syria.
We urge you to join us in donating to Ahbap or to one of the organisations below.

Disasters Emergency Committee
The Disasters Emergency Committee (DEC) is an umbrella group for 15 leading aid charities including the British Red Cross, International Rescue Committee, and Islamic Relief.
DEC charities and their local partners are among the first responders, working with local relief efforts in Turkey and Syria, including search and rescue efforts, administering medical treatment, and providing shelter, warm clothing, food and clean water.
Donate to Disasters Emergency Committee here.
The Union of Medical Care and Relief Organizations (UOSSM)
UOSSM's team of more than 1,800 humanitarian workers has responded immediately to support the affected population in northwest Syria.
Its humanitarian responders have been working non-stop to keep 34 medical facilities open to provide life-saving emergency medical and relief services.
Donate to The Union of Medical Care and Relief Organizations here.
Medecins Sans Frontiers (MSF)
MSF teams in northwestern Syria were already treating patients within the first hours of the first earthquake, as well as providing emergency kits, trauma kits, medical supplies, and blankets to 30 hospitals and health facilities in Idlib and Aleppo governorates.
The teams have also been assessing the needs in the most affected areas of southern Turkey.
Donate to Medecins Sans Frontiers here.

White Helmets
The White Helmets is a humanitarian organisation that operates within opposition-controlled Syria and in Turkey.
Volunteers from White Helmets are on the ground in Syria currently, searching for survivors, transporting the injured to hospitals, and retrieving bodies from the rubble of collapsed buildings.