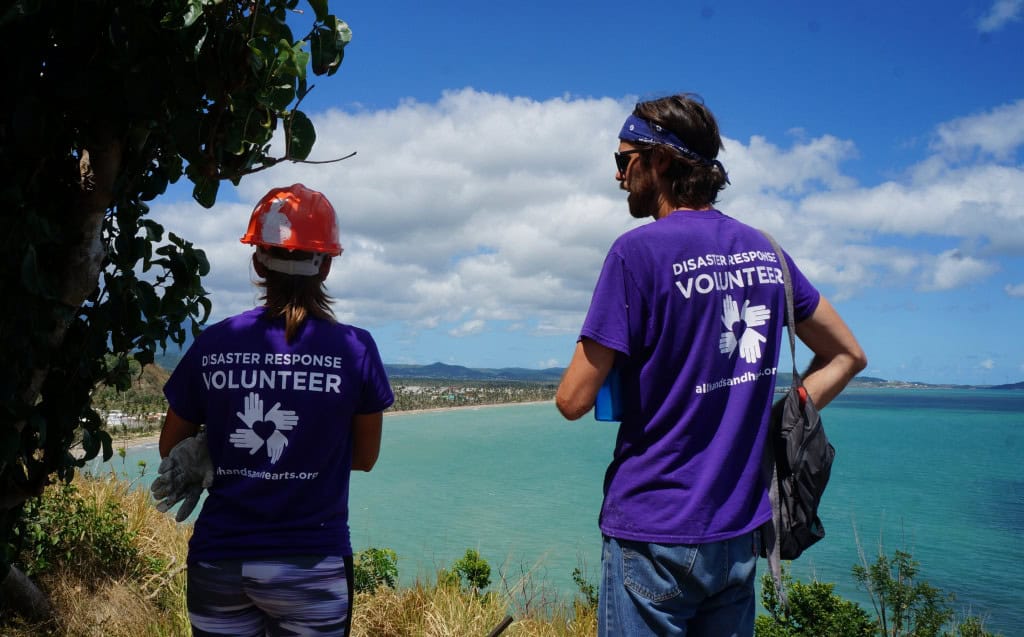 Monica Axelsson got sick of her day job and decided to ride to Sicily on her motorcycle. From Sweden. 3,000+ kilometres later, she crashed her bike and had to winter back home. Then 2 hurricanes hit Puerto Rico.
Learning to walk in Puerto Rico
After the serious accident in Sicily, I got stuck convalescing in Sweden during the cold winter. My longing for travel to a warm country increased every day, so when the volunteer organisation All Hands and Hearts offered me work in Puerto Rico, I said yes without any doubts, even though I knew that the time for recovery would be limited.
I took the flight to San Juan the first day I was allowed to walk without crutches. Then I had three weeks to learn to walk again before the work started. Puerto Rico is not planned for disabled people. It was a challenge to conquer the hilly streets and steep stairs and get into buildings without elevators in Old San Juan, where I spent most of the time. But it was also a good exercise in a city with a lovely atmosphere, good music and very nice people.
San Juan is characterised by beautiful colonial buildings, incredible graffiti, public libraries along the streets, and of course music and dance. There are lots of tourists and many of them arrive on the biggest cruise ships I have ever seen. They look like floating neighbourhoods when they tower up. There are also city beaches; it was a new experience for me to sunbathe surrounded by high-rise buildings.
Five months after the hurricanes
I arrived in Puerto Rico five months after the two huge hurricanes Irma and Maria had hit the island. The effects were notable, especially in the countryside, where many areas still had no power or potable water. I started the work in Yabucoa on the eastern side, one of the places where the hurricane caused the biggest damage. The infrastructure was poor, and trees and electricity wires hung or lay along the roads. Roofs and metal were scattered here and there, and you could see that the hurricane had moved heavy boats and cars to strange places.
The inhabitants were incredibly grateful for our help, some of them were crying from happiness and they usually wanted to offer us food, despite scarce resources.
Lots of work had to be done, for instance mucking and gutting, roofing repair and mould sanitation. I was not restored enough to climb the roofs but mould sanitation worked well, for several weeks. The weather was hot and it was even hotter inside the protective equipment. When the headache came, my first thought was that I had not drunk enough water. When I also started to cough, got sore joints and fever, I thought it was the flu. I got better when I stayed in bed, but all my symptoms began again as soon as I got back to work. I did not suspect the mould because I used a good protective gear, but maybe I took it off too close to the sanitation area at the breaks.
Dancing in a disaster zone
The hurricanes will affect the people for a long time in different ways, but this does not prevent them from continuing dancing and enjoying life as far as they can.
From Puerto Rico, I went off to do volunteer work in the Virgin Islands. It's not far between Caribbean islands, but the difference in the way they live their lives is huge.
All images © Monica Axelsson