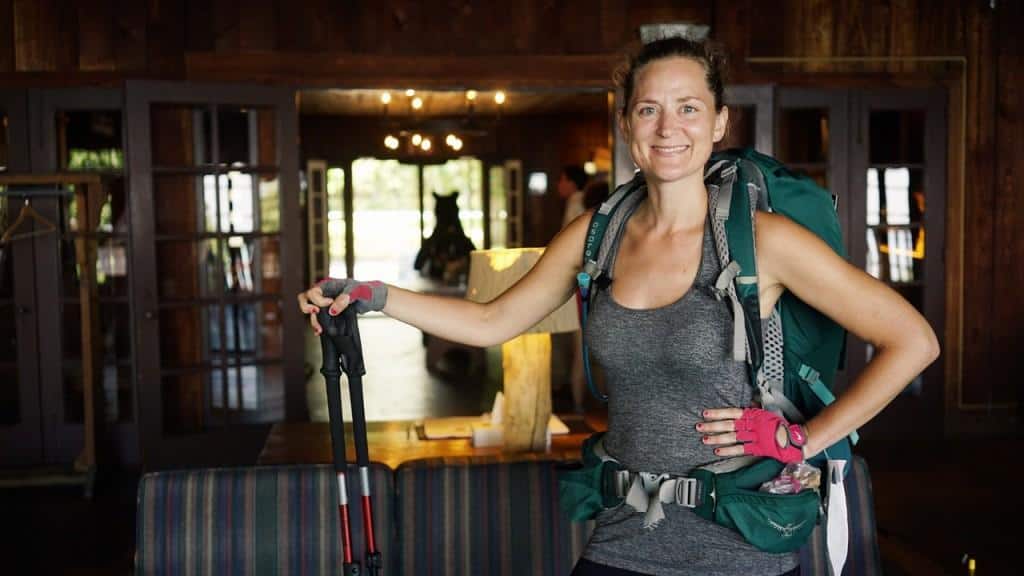 Sarah Williams is the host of

Tough Girl Podcast

, which delves into the motivations, strategies and successes of some of the world's most intrepid female adventurers and athletes.
And she's certainly got the experience to meet them on equal terms.
After quitting her 'safe' job in finance, she embarked on a life of travel and adventure which included taking part in the gruelling Marathon Des Sables (251km in six days across the Sahara Desert), walking the 2,300-mile route of the Appalachian Trail, and cycling the 4,000km Pacific Coast Highway and Baja California, solo and unsupported.
Sarah, you swapped a steady career in finance for a life of adventure. Was it difficult to take that big leap into the unknown?
It was a difficult decision because at that point I didn't really know what I wanted to do. Initially it was like 'I'm going to take some time out' – I'm going to go travelling, find myself again. And it was while I was travelling that I finally got the time to really think 'Hold on, what do I really want to do with my life? What do I want my life to look like for the next 10-20 years?' And the things that I enjoy are travel and adventure but also motivating and inspiring women and girls. So, it's been this long and winding road to get to where I am now.
How do you train for a big physical challenge like the Marathon des Sables or hiking the Appalachian Trail? Any tips for people planning similar projects?
The first thing that I do is actually look at the weather. I'm not a fan of the cold and the wet, so I do look at the temperatures, where it's going to be hot, where it's going to be warm.
The second thing I'd look at is the time frame. How much time do you have available for the challenge. One of the reasons I went from doing the Marathon des Sables to the Appalachian Trail was because of that. You're over there and you're having the most incredible time, and then you finish and it's over and I was literally like 'Huh, the adventure was finished, it was completed'. So, when I picked the Appalachian Trail – 2,200 miles, doing it in 100 days – it meant that I was out there for three-and-a-bit months. Which was just incredible.
Physical and mental prep
In terms of the physical and mental side, obviously it does depend on what event you're doing. I always start off with trying to go for a good base of fitness. And for me that's having strength – so lifting heavy weights, building that physical endurance. And I'd normally spend three months focusing on that side of things. And that would be quite specific as well to the training that I'm doing.
For the Marathon des Sables, for example, the race was in April and I was out in Australia for three months. And I was very focused on running. There was a heat wave at that point in time in Australia, and everyone else was trying to avoid the mid-day sun, and I was like 'This is perfect'. So I'd be heading out at 12 o'clock for four or five hours to make the most of the really, really hot temperatures.
Visualisation is also very powerful – breaking down the challenge. A very practical tip I learnt is doing a 'what-if' list – what are all the potential issues or challenges that you could go through? What if I run out of water? What if I'm facing a bear? What if I get my pack stolen? What if I injure myself?
You've done more than 400 interviews with female explorers, adventurers and athletes. What's surprised you the most about chatting with so many incredible women?
I think it's been fascinating learning their individual stories and the journeys they've been on. And also how they've gone about it and faced these different challenges. Men can be very practical, it's about getting from A to B, this is what was involved. Whereas women share their stories, they talk a lot more about the internal journey – the fears they had to overcome, the doubts they had in dealing with judgement from friends and family. People not really understanding why they wanted to go out and climb the highest mountain or cycle around the world, or sail around the world. I think that's been really inspiring.
Where's a great place to start with the podcast? Any favourite episodes that you'd recommend first-time listeners check out?
That's a hard question! One thing I try to do with the podcast is I try to speak to the professional adventurers and the Olympians and the elite, the one percent who are just mentally and physically absolutely incredible. But I do also speak to everyday women who are maybe going from the couch to running their first marathon, so there is a massive spectrum in terms of ages, sizes, abilities, passions and interests. It's not about comparison but it's about picking up the tips and the tricks.
A couple of my personal favourites were with Rose Swale-Pope. She's an absolute inspiration and legend. She's 74 years young and in her 50s she actually lost the love of her life, so she ended up running around the world on this five-year journey and most recently, she was running to Istanbul in Turkey and then running onto Kathmandu in Nepal. A phenomenal woman and we just get on like a house on fire.
You're coming up to six years of producing the podcast, tell us about the Tough Girl Challenge UK Adventure Series.
I started looking at different trails and adventures and I thought 'Oh it's the six year anniversary of the Tough Girl podcast, I need to mark it in some way'. So, six adventures, six walks – the Anglesey Coastal Path, the South Downs Way, the Pilgrims Way, heading up to Scotland to do the West Highland Way, stopping off to do Ben Nevis, the top of the West Highland Way is Fort William, then you can walk across to Inverness. And I'm just desperate to go away, to have the backpack on my shoulders again, back to nature, wild camping. So I'm super excited about it!
Check out the Tough Girl Challenges website here