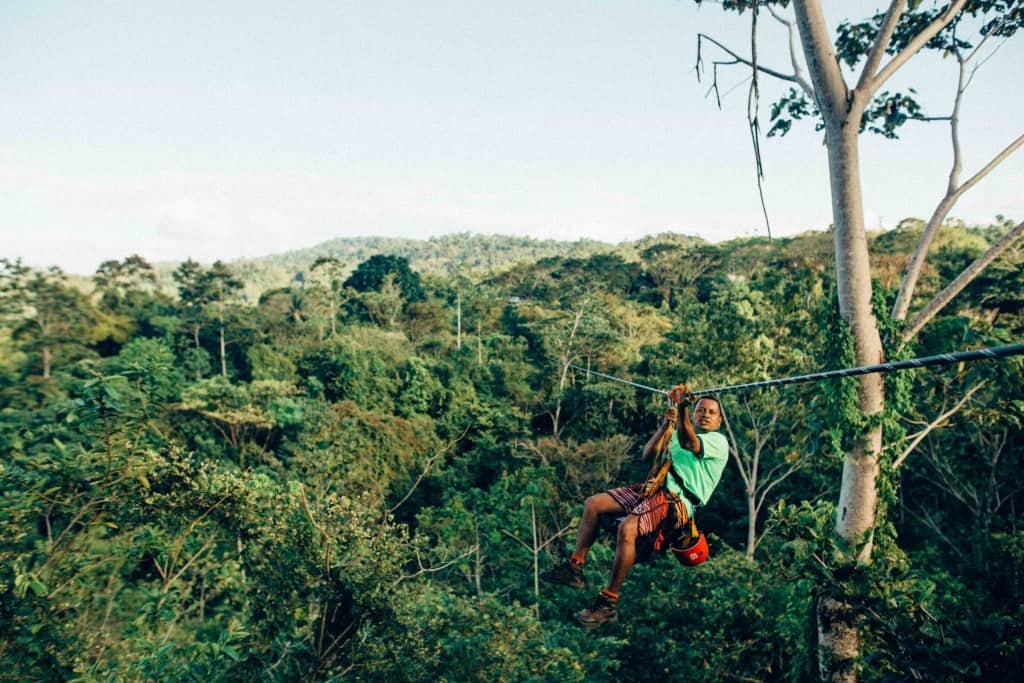 Gorgeous coastlines, stunning rainforests, volcanos, lakes, canyons and more – make no mistake, Central America is the adventure travel destination you've been looking for.
From canyoning to kite surfing, volcano-climbing to ziplining, we've scoured the region to locate the most adrenaline-fuelled physical fun Central America has to offer. Read on for our top tips.
Climbing Guatemala's Volcan Acatenango 
Guatemala's magnificent Acatenango volcano towers over the surrounding landscape at more than 13,000 feet above sea level. Thankfully, it hasn't erupted since the early 20th century, but does afford views over neighbouring (and very active!) Vulcan Fuego. Be aware, this is no climb for novices, usually split over two days and requiring a decent amount of fitness and experience.
Hiking in Parque Nacional El Imposible, El Salvador 
El Salvador's largest and most biologically diverse national park isn't called 'The Impossible' for no reason. It's home to 500 species of plants, more than 100 species of mammals and more than 5,000 species of butterflies – imagine The Lost World (with better access). The twisting trails, panoramic views and dense rainforest means there's always something new to see – and the opportunity to camp means hikes don't have to be limited to one-day visits.
Surfing in Puntarenas, Costa Rica 
Boasting miles of coastline on both the Pacific and the Caribbean, Costa Rica has long been a go-to destinations for those with a board in tow. Popular (and often crowded) spots include Playa Grande and Playa Tamarindo, both in Guanacaste) but for a slightly less trodden experience head down to Playa Santa Teresa in Puntarenas District where consistent and hollow waves await.
Canyoning in Bayano Lake, Panama 
The limestone canyons and caves surrounding Panama's Bayano Lake provide the setting for this adventure. Hikers kit up with helmets, headlamps and lifejackets as they navigate the crevices and tight corners of the breath-taking natural landscape. Of course, professional guides are on hand in case being plunged into the darkness of the lake's caves gets a bit overwhelming.
Volcano boarding at Cerro Negro, Nicaragua  
As much as surfing a molten wave of lava sounds fun, this is a different (and undoubtedly safer!) version of volcano boarding: hiking up the 2,388-foot Cerro Negro volcano in Nicaragua's north-west, before skidding down the black volcanic sands to its base. Although Cerro Negro is active, it hasn't erupted since 1999 and its activity is monitored regularly.
Kite surfing in Belize 
Belize, located on the north-eastern coast of Central America, has two spots ideal for kite surfing: Caye Caulker or Ambergris Caye, with many launches undertaken from boats, due to the lack of appropriate beaches. Once out there, however, you get to enjoy shallow reefs, stunning views and the sun on your back as you speed over the water below.
Ziplining in Roatan, Honduras 
Located 40 miles off the northern coast of Honduras, the island of Roatan has Honduras' ziplining market covered with dozens of spots to go whizzing through the dense jungle as you hold on for dear life. Of course, that jungle is also home to a remarkable array of wildlife – some of which you'll glimpse on one of the many canopy tours offered.