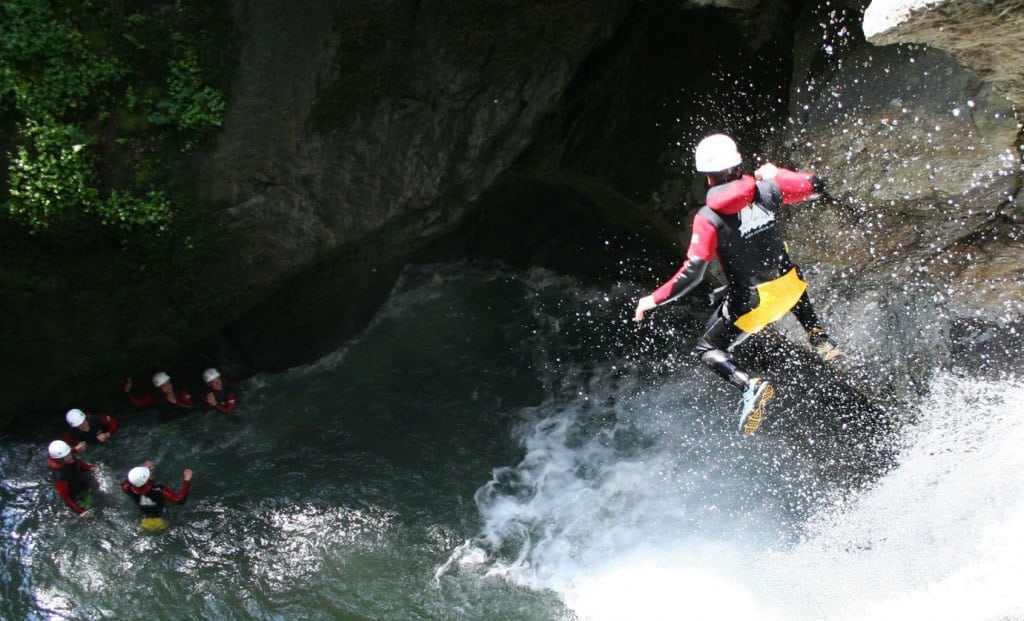 From Granny sliding on her butt down a bunny-slope waterfall to technical cave diving, canyoning offers fun for any adventure level.
Canyoneers navigate narrow canyons and gorges carved out by water.
The sport combines hiking, climbing, abseiling (that's 'rappelling' for you US readers) and navigating some kind of water feature, usually in a splashy way. This is what ziplining wants to be when it grows up!
The aim
It's not a competition. Canyoneering isn't about speed. It's about celebrating natural beauty up-close, and having fun whilst doing it.
Gear
Every canyon is different, but a day canyoning starts with basic saftey gear: helmet, harness and rope. Wear clothes and shoes that can get wet. Leave the heavy hiking boots at home; the grippy soles of trainers work better.
For dry canyons: opt for long shorts or trousers, unless you want to spend the day with a wedgie from the abseiling harness.
For wet canyons: be prepared to wear a wetsuit. Even on the hottest days, constantly moving water in the shade of canyon can be cold.
The route
Insta addicts take heed: because it's impossible to slide up a slippery rock, canyons are usually one-way trips. 'Finishing' a canyon means to reach the end, where the canyon opens up again.
Canyoneering for beginners
For those new to the activity, a guided tour is best. Tour leaders know the terrain, weather patterns, can tie a bowline knot with their eyes closed and they have all the gear. Plus, after finishing the canyon, tour operators get you back to the starting point.
Physical fitness
Beginners should be able to manage a 1-2 hour hike and can jump and swim.
Where to canyon
When people think of canyoning, they often think of a lush tropical locale, parrots and monkeys screeching a soundtrack, or spooky exotic caves.  But you can find canyoning tours just about everywhere. Here are 6 canyon tours in the UK, where the sport is called 'gorge-walking.'
Cost
For beginners, a day canyoning costs about the same as ziplining or other guided adventure activities that require specialised equipment. And the reward? A day spent convening with spectacular natural beauty that truly is pretty as a [Insta] picture.