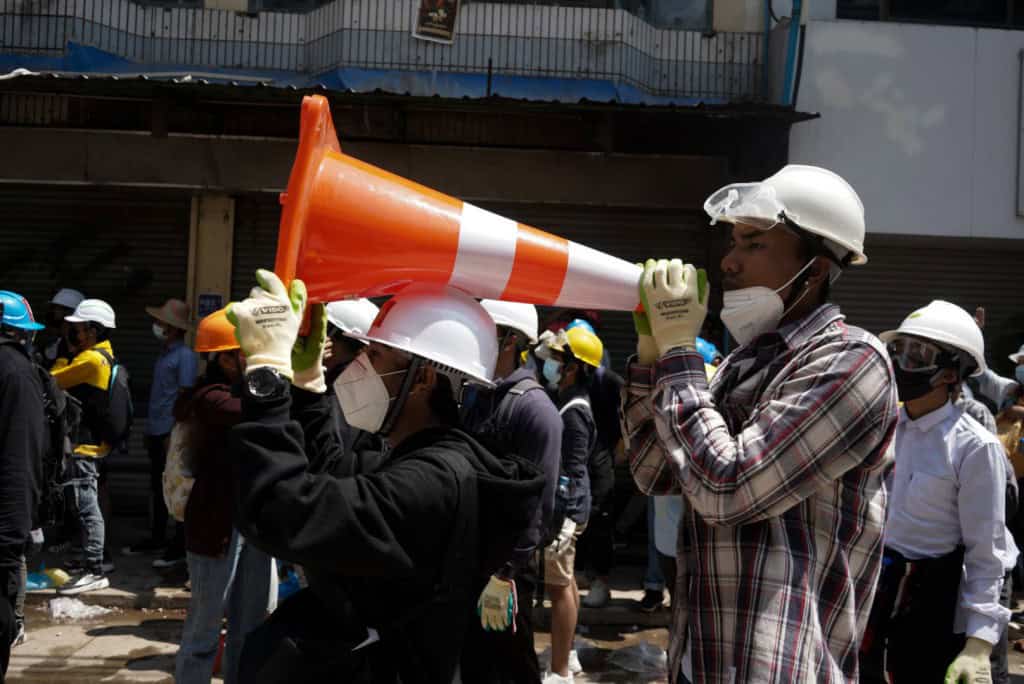 A rundown of what's happened in the Southeast Asian country as it marks a month since the military coup.
Since the first day of February, Myanmar in Southeast Asia has been under a military coup. The country has seen widespread street protests against the decision, with thousands going on strike.
The military and police have reacted with a harsh crackdown, using live ammunition, rubber bullets, tear gas and water cannons to disperse demonstrators that have left hundreds arrested and dozens dead.
And after one month since the junta government- officially the State Administrative Council- took control of the country, both sides are defiant, despite the bloodshed.
Previous uprisings against the military government occurred in 1988 and 2007, making the coup of 2021 the country's third major revolt in thirty-years.
About Myanmar

Myanmar, also known as Burma, was ruled by armed forces from 1962 until 2011. In 2015, leader Aung San Suu Kyi and her National League for Democracy (NLD) party won the country's first open democratic election.
General Elections in Myanmar in November 2020 saw the military-backed opposition lose heavily to the NLD party, but claimed there was widespread electoral fraud.
The military, also known as the Tatmadaw, has always maintained a strong influence in the country because of a law made in the 2008 Constitution of Myanmar guaranteeing they hold a quarter of all seats in the country's parliament. The military also controls a lot of the country's economic decisions.

The coup
The coup began on February 1, removing the democratically elected government. Leader Aung San Suu Kyi and President Win Myint were detained and charged.
Military commander-in-chief Min Aung Hlaing took power announcing a "one-year-long state of emergency" and a future general election would be held.
Since then widespread protests have taken place across Myanmar, with thousands demanding an end to the coup. Thousands have gone on strike, including medical workers, lawyers, teachers and engineers. Armoured vehicles have been deployed on the streets, with authorities opening fire on several occasions. Over a thousand people have been arrested, and there have been dozens of violent deaths.
Who is Aung San Suu Kyi?
Aung San Suu Kyi spent nearly 15 years in military detention between 1989 and 2010 following Myanmar's previous uprisings and pushes for reforms. She won the Nobel Peace Price in 1991. Once seen as a democracy icon internationally, her global reputation fell following the Rohingya genocide from 2016-2017, after she was criticised for failing to acknowledge the crackdown. However, she's remained a hugely popular figure domestically.
Why are people protesting?
Myanmar has enjoyed some form of democracy since the NLD party was elected in 2015. Previous military rule saw an authoritarian military rule an extremely poor nation. Residents are desperate for Myanmar to regain control of its armed forces.
Why are there so many on strike?
Thousands of workers in the country have refused to go to work under the military government. This is one tactic aiming to dent Myanmar's military-controlled economy in the hope the junta government will return power to the democratically-elected leaders. Doctors, teachers, lawyers, engineers, and miners are all examples of the workers who are boycotting.
Where are protests happening?
Nationwide. Previous visitors to Myanmar might remember the sprawling 4,000 temples of Bagan or the winding water-networks of Inle Lake, but those popular travel destinations today haven't been exempt from demonstrations and subsequent military suppression. The capital Naypyidaw has been heavily involved, as has Yangon and several other cities and township across the country.
What are internet blackouts?
Social media, especially Facebook, is a prominent tool for internet access in Myanmar. Demonstrations are arranged, whilst incidents and crimes have been widely shared to the world via several networking sites. But internet access for Myanmar residents has been restricted during the night to keep "stability" according to the military. Residents with access to Virtual Private Networks (VPN) have managed to remain online.
What is CDM?
The Civil Disobedience Movement (CDM) was created online in reaction to the military coup. It is a national movement from pro-democracy protesters, lead by leading professionals, who are demanding the military return the rule to the elected government. The medical sector is said to have begun the idea that has soon morphed into a widespread campaign. There are no leaders of the CDM, just participants.
What are the activists saying?
One of Myanmar's leading pro-democracy activists, Maung Saungkha, a veteran activist and poet, is a name that is well-known in the country. The 28-year-old is one of the founders of Athan, an activist group for the advocacy and promotion of freedom of expression. His goal is clear, the 2008 Constitution is to be removed so the military cannot hold a proportion of power by default.
What is the international reaction?
There has been condemnation globally, especially from western nations including the U.S. and Europe. U.S. President Joe Biden has placed sanctions on Myanmar's military generals, whilst Myanmar's ambassador to the United Nations, Kyaw Moe Tun, addressed the UN General Assembly urging to restore democracy to the country.
How is the Covid-19 situation in Myanmar?
According to the recorded and known statistics, there are over 140,000 people who have caught the Covid-19 virus in Myanmar, with over 3,000 deaths. Since May last year, it has been compulsory for anyone going out in public in Myanmar to wear a face mask. There are currently "Stay at Home" orders in multiple townships and states in the country.
Are the borders open?
International borders are closed for visitors and the majority of foreigners, including diplomats and UN officials. International commercial passenger flights remain suspended, whilst visa on arrival and e visa services also are unavailable.
What happens next?
This is arguably the most important uprising out of the three since 1988 because it's happened whilst Myanmar was under a democratically elected government. Furthermore, the advancement in technology is allowing residents to record and share events worldwide through social media, prompting an urgent response from western nations, the UN and human rights groups.
Unfortunately, the military has stepped up their crackdown since the end of February, with days of extremely violent bloodshed, and dozens dead. Protesters are adamant to go back under their elected government, with the movement not slowing down. Political commentators have said that the armed forces annual celebration, Tatmadaw Day on March 27th could be significant for the future of the protests and unrest.
All images ©2021 Kaung Htet Linn. Follow Myanmar freelance photographer Kaung Htet Linn on Instagram