Approx read:
3
mins
The 2017 Global Peace Index is out. Globetrotters and geography geeks rejoice!
Good news! The world is 0.28 percent safer than it was last year! This from the Institute for Economics and Peace, in their annual Global Peace Index (GPI) report.
How do you measure peace? It's complicated. the GPI uses 23 indicators to measure domestic and international conflict, societal safety and security, and militarisation in 163 countries. Criteria include perception of criminality, access to small arms, violent crime, political instability, incarceration rates, weapons export and nukes.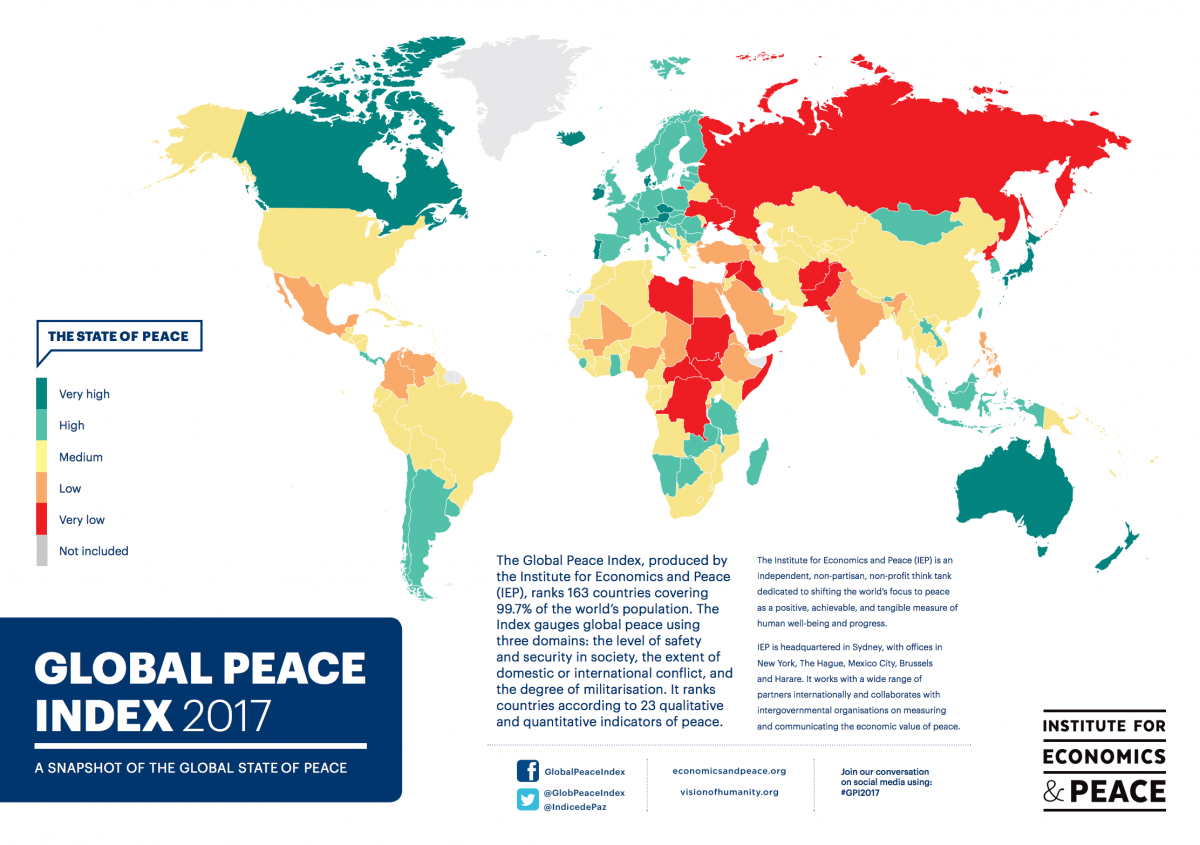 Da Winnas
Iceland, New Zealand, Portugal, Austria and Denmark made the top 5 of the list. Iceland's held steady at first place since 2008, proof that being cold and being cousins with everyone ensures a peaceful country.
Mid-list, some countries dramatically improved. These include #111, Kyrgyz Republic and #75, Argentina, both up 12 places from last year. #75, Morocco rose 15 spots. But the most improved country is #80, Sri Lanka, which moved up 17 places on the list.
Da Losas
And the bullet-studded tiara goes once again to Syria, with Afghanistan, Iraq, South Sudan and Yemen rounding out the list.
Mid-list losers include: #84, Bosnia-Herzegovina, down 21 places since 2016, and #134, Ethiopia, which sank 16 spots. But the biggest loser of all was Lesotho, which dropped a whopping 28 places.
So the world's a dangerous place. So what?
Violence is expensive. The global economic impact of violence in 2016 was $14.3 trillion.
Costs include losses from armed conflict and interpersonal violence, military spending and internal spending. In 2015, the number of countries reporting deaths from terrorism included Denmark, Sweden, France and Turkey. Even if you're not directly affected by violence, you're paying for violence.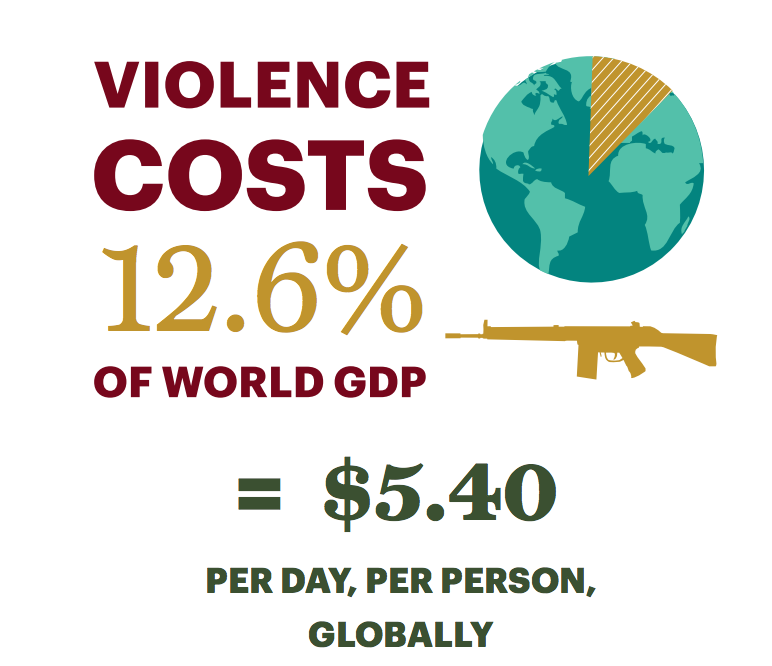 These losses have a long-term impact on the global economy. The adage 'violence begets violence' seems true when looking at the numbers. The total number of deaths from internal conflict, 2005/6: 35,988. Total, 2015/16: 285,000.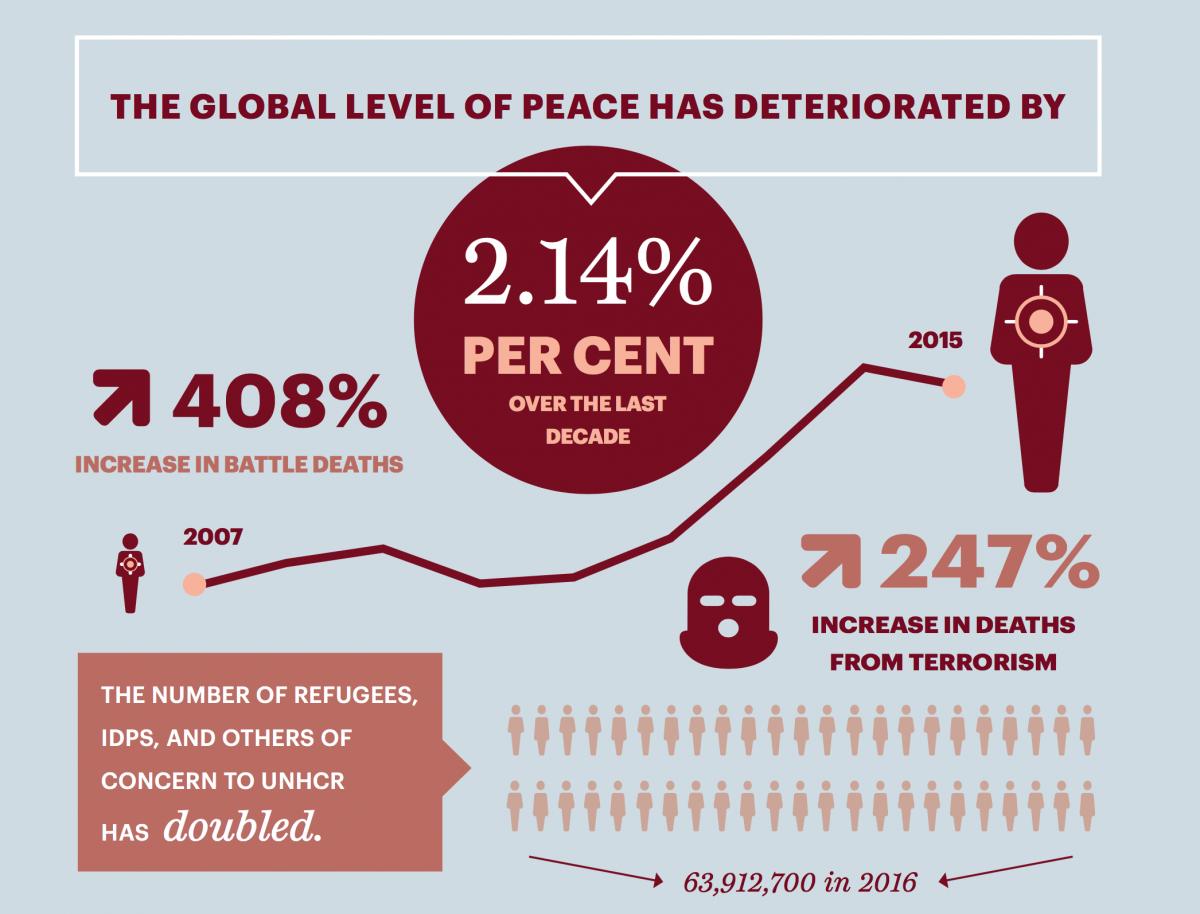 How do I use the index?
If you plan to leave the fallout shelter any time in the next year, take a peek into the GPI. For a 135-page document compiled by eggheads from the Economist, it's surprisingly good reading.
And the information is very specific, unlike those sanctimonious FCO travel warnings. Going to for a sun-soaked holiday in Jamaica? It could be blood-soaked, too. The economic cost of violence is 18% of its GDP. Looking at a lucrative job relocation to Azerbaijan? Its Societal Safety and Security Domain score is 2.596, the same as Djibouti and in the neighbourhood of Bolivia, Ecuador and Cambodia.
For travellers, expats, investors and geography geeks who like to swim in numbers, this publication is the dream deep dive.
And it's not all bad news.

images and data: Global Peace Index 2017