Approx read:
3
mins
Sleeping on the plane is never an option for me, even when I've bagged an upgrade and can actually lie prone in the business class seats. There's just something about the engine roar and the ambience of a plane that prevents me from sleeping. Even on the monster long haul legs….
Seeing as Dubai has become a regular transit point for me, I've taken to booking ahead with the operators of a short term airport sleeping pod in the terminal to get decent zzzz-time before or in-between flight legs.
Snooze Cube have two facilities in DXB Terminal 1, which I chose between according to their respective distance to my next departure gate – airports are getting bigger and bigger these days. A single cube costs AED75 for an hour – that's about $20 – and a comfortable bed in a sound-proof room means that getting some quality rest at the airport isn't out of the reach of most travellers on a budget.
But DXB is far from the only airport with sleeping cubes available. Quick-snooze facilities for airport dwellers are rapidly growing in step with our mobility and desire to travel, with some operators putting awesome design concepts into their pods.
Yotel seems to lead the way in this respect and their flagship property (I'm not sure if you can refer snooze cubes in the same way as hotels) has to be at T4 London Heathrow with single or double beds available as well as rainfall showers and great Wi-Fi: just what every long-haul sufferer needs after 12 hour-plus flights. A wash, a sleep and an email update. A minimum 4 hour stay comes at the bargain price of £32 and with Yotel also covering London Gatwick and Schiphol Amsterdam they've got 3 of Europe's largest air transit hubs covered. Best advice on getting snooze time at these locations is to book well in advance as their popularity makes the facilities difficult to get at short notice.
Another concept for the transit siesta market is the 4m² Sleepbox, made and marketed (surprisingly) by a company called Sleepbox. The name kind of suggests that it's built for a very specific purpose! These groovy little modules are popping up in the most surprising places: airports (of course), train stations, hospitals, corporate offices that host staff who travel and probably soon anywhere else that's buzzing with noise and sleepy people.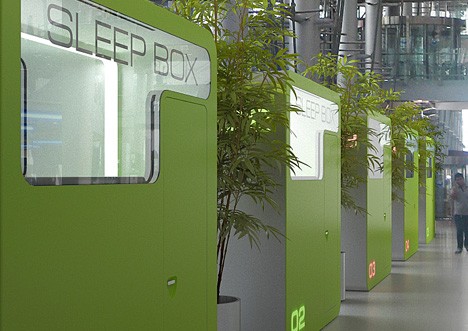 And if the word 'box' in the name is a little off putting, then you should really check out what style and comfort can be packed into a 2.5 x 1.6m base with a 2.5m ceiling. Getting horizontal on a bed that's at least 2.2m long is so much better than squeezing into a seat in a terminal, if available.
So if you're ever, ever thinking of toughing out a long lay-over by checking out all the shops, cafes or bars in a terminal, do yourself a favour and grab some snooze time in these sleeping cubes. A few bucks sacrificed for the land of nod means you're gonna arrive fresher and without that haggard time-zone zombie face.
Let us know how you get on!