Approx read:
2
mins
Beware pickpockets and loose women!
Sound travel advice for hitting the open road or just the shop down the corner, the mantra becomes law when going to Carnival in Barranquilla, Colombia.
As friendly and fun-loving as a group of people who throw the second-largest annual party in the world, Barranquilleros aren't without a few manzanas podridas.
The scam is easy: set up a huge party full of scantily-clad beautiful women, loud live music, huge crowds and colourfully-costumed teams of dancers doing ethnic things for four days. Throw in a little booze, a good-natured tarring and feathering with foam and flour, and candy-from-a-baby: where did that camera go?
After donating your valuables to the local criminal element, another problem arises: how's your espagnol?
Barranquilla has tremendous ethnic and cultural diversity. Over 500 years the port city has harboured all sorts: African, European, Middle Eastern, Latin American, Shakira. Cultural identities stuck, language didn't. This place, an industrial city 51 weeks out of the year, functions in Spanish.
Don't worry. UNESCO wouldn't have named Carnival Barranquilla a Masterpiece of the Oral and Intangible Heritage of Humanity if the people weren't nice, right?
Just remember a few things:
Batten down the hatches. Keep the money in a closed pocket, or in two separate places. Don't put the money somewhere disgusting; would you want to touch money dug out of a sweaty bra?
Keep it simple. You will be sprayed with foam and flour. Extra points for gringos. Don't want to ruin your camera? Get a zoom lens and snap away from your hotel, fun guy.
BYOTP.
Make friends with the folks around you. You'll be standing together all day, might as well get to know one another. You'd be amazed how far you can get with smiling and nodding.
This year's Carnival is 25-28 February. The days will be hot (33C) and the nights not much cooler. Weather wimps need not go here.
Colombians have a saying about Carnival in Barranquilla. It's 'the place where spider monkeys take you dancing and never let you go.' With pink champagne on ice?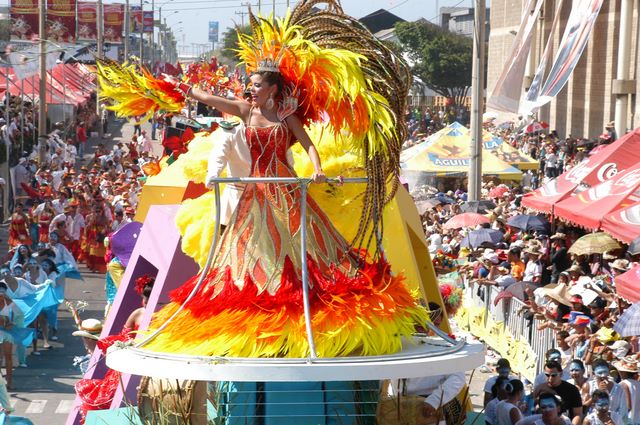 http://www.colombia.travel/en/fairs-and-festivals/carnival-barranquilla