Approx read:
4
mins
One of the battleface writers decided to see how many countries she could find on a map. Let's just say she didn't score well on the -stans. (Hey, can you name the 7 -stans?) Things started OK: Pakistan, Afghanistan. Then it got harder: Uzbekistan, Kazakhstan, Turkmenistan, Tajikistan. And Kyrgyzstan. So she asked one of Tangiers International's fields agents, Durdona*, a native of Uzbekistan, to take some notes the next time she went to Bishkek.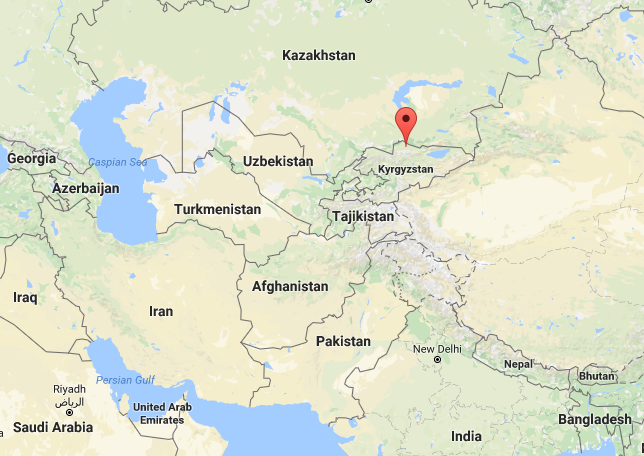 Bishkek is the capital of Kyrgyzstan. It sports a population of a million-ish, and is growing fast.
Due to geography, this culture has wonderful hospitality, incredible, sometimes scary food (fermented mare's milk, anyone?) a post-Soviet rebuilding scheme and the tireless work ethic of a rising group of Chinese investors.
Bishkek is quite a safe place, taking into account that I was roaming alone, I didn't have any problems. On the contrary the hospitality as always was at high level.  I have been to Kyrgyzstan couple times, I have tried horse milk, personally I didn't like it.
Sups
I was recommended a national restaraunt, Arzu. It was almost perfect. I ordered specifically national meals (chalop – very refreshing sour milk, beshbarmak – a famous Kyrgyz meal – I was offered a little different one – but the taste was breathtakingly delicious, bogirsak – national bread – small pieces of dough fried and a little bit sweet) I was invited inside the kitchen and met the chief cook – who was very young but as the waiter said that's why all meals are best. I must admit that flies were big headache – they are everywhere –  but the prices were quite cheap, very cheap I would say, for such a posh place.
And if you go there you must try lagman – something like noodles with sauce, that's the best I have tried around central Asian countries.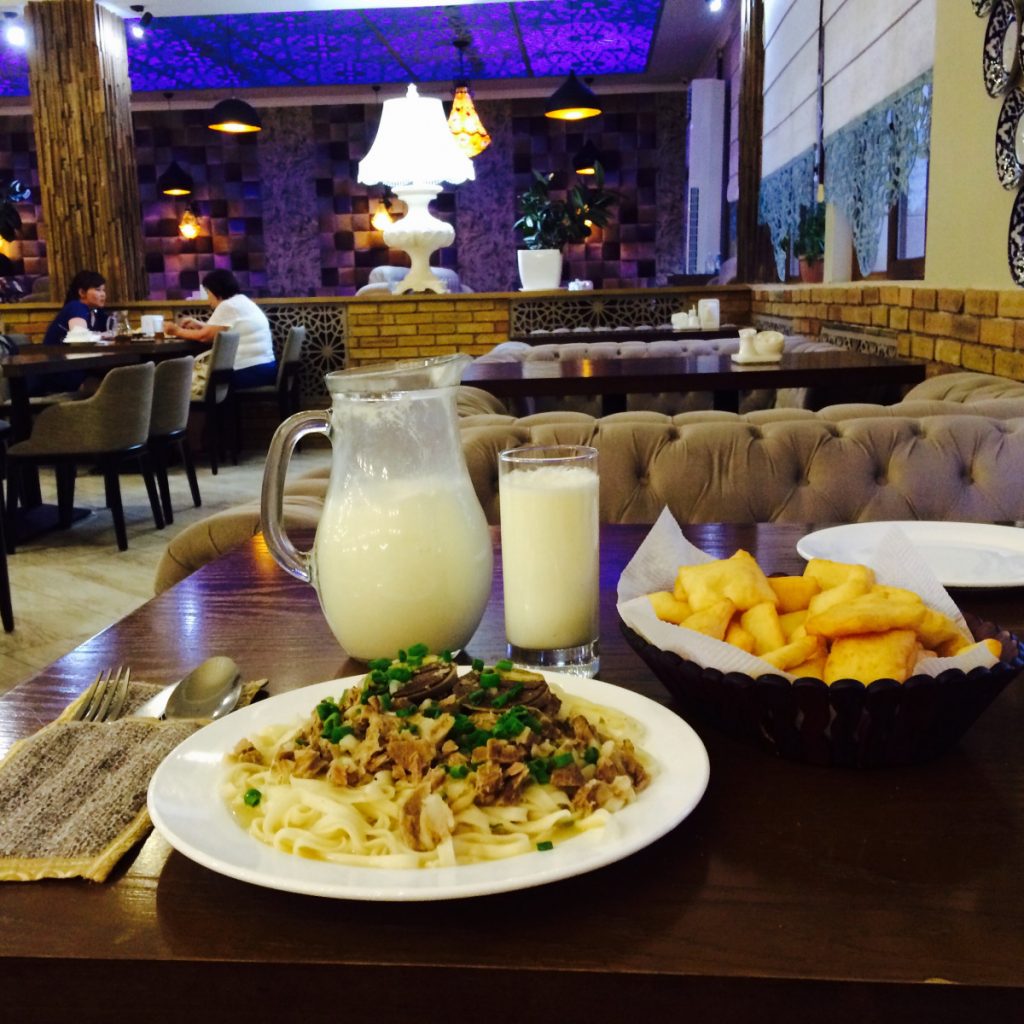 Sips
There are two night clubs, one famous beer bar, Barsuk, all guys persuading me to go there. I heard a rumour that if you recite a poem, your beer is free. I was in Bishkek on business, couldn't fit it in.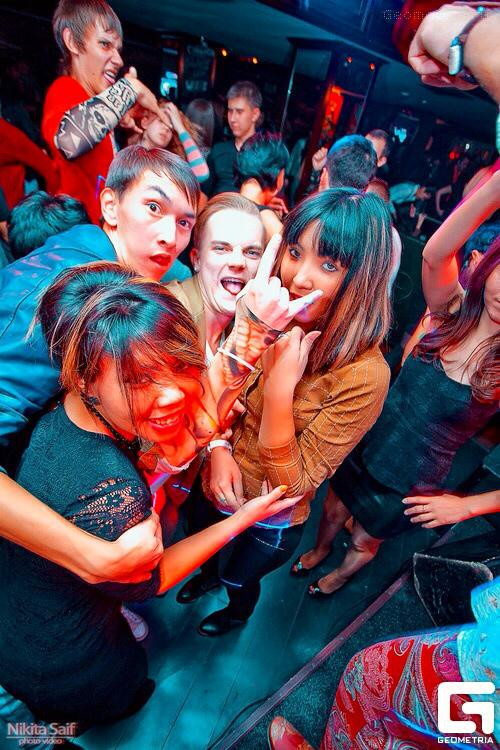 Sights
EVERYONE  asked me if I'd been to Issik-Kul (a very famous place, basically that the only place you should come to Kyrgyzstan) something like Miami for Floridians.
The World Nomad Games were very popular, very famous, the national pride of locals. They took place on the shores of Issik-Kul, with the mountains as a backdrop. The next WNG will take place in 2018. Yes, that's a headless goat the man is holding.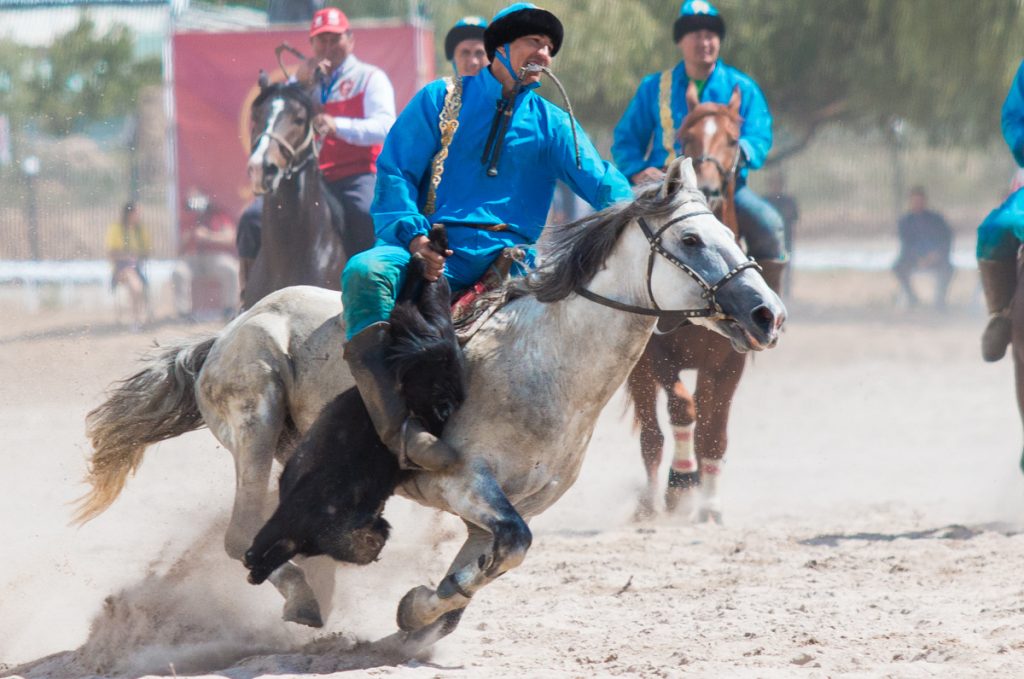 Shops
Oh for me as a person who can't live without shopping – its not a good place. Prices are very high. The exchange rate is 100 som= €1.36 and seriously, prices are as high as in Russia. But I still like their new cars- right wheeled Hondas, which are quite cheap and you may see them very often in Bishkek.
Scams
I will tell you what's biggest ripoff – taxi drivers at the airport! To be a tourist or not speak Russian or native language might cost you a lot.
Society
I had chance to meet a North Korean refugee family, they were hiding at the time and renting an apartment. What I'm trying to say, is the economical system is quite open for foreign investments – like there are two English/American schools – very very very expensive ones, yet rich people give their kids to study there.
Also there is great influence of China, Chinese products are everywhere due to close geographic location. Hospitality of locals neverending, however- I am not boasting- but Uzbeks are way more hospitable.
Stay
The country is urbanised, so only village people who live in further regions live in yurts. It's becoming a rare thing and yet they started turning it into tourism business. You can go there by paying specific amount of money, for which you will be taken to the hunt (mostly eagles hunting ) then you would be offered traditional meals (Very tasty! But not everyone can take so much fat in meal) the yurt is decorated in very traditional way. If it's rich family (wealth is counted by amount of cattle) the colors are bright and more decorations; poor family has pale decoration but I have never seen paintings, usually horns if there are any or anything that might be useful in the hunting. Electricity usually provided by generator which they fill with petroleum and which is rather loud, thus cooking is mostly open-fire.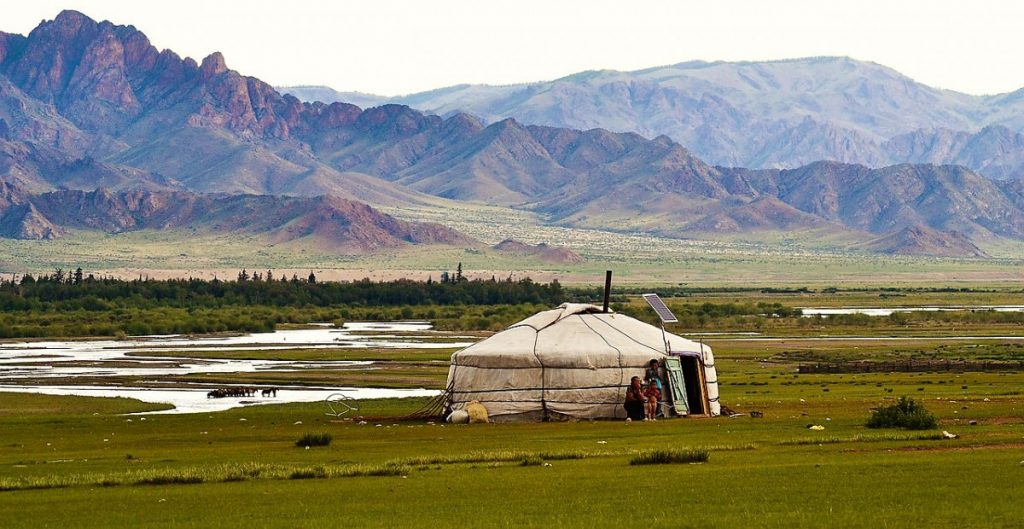 *Note: field agent name changed to protect privacy