Approx read:
3
mins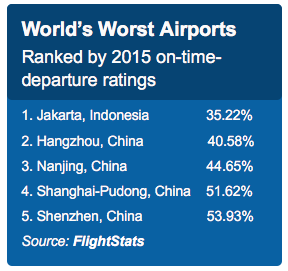 Over the last 6 weeks I've had a couple of monster trips into and around China. Starting work in Hong Kong, business has taken me to Beijing, Shanghai, Zhenjiang, Nanjing, Xi'an and Fuzhou. Subsequently I've done most of my internal travel on Chinese airlines which is why an article by the BBC last week particularly caught my eye. The title 'This is why Chinese airports are a nightmare' is supported by a table compiled by FlightStats which perfectly illustrates my 6-week experience of flying into and around China. Forget about anything you may read on TripAdvisor, this BBC report is the real stuff.
'For business travellers in China, air travel has become increasingly chaotic and unreliable in recent years due to the country's chronically — and well-chronicled — overcrowded skies. China's airports are the worst in the world when it comes to punctuality. Airport statistics website FlightStats last year ranked 188 midsized and large airports around the world according to how many flights departed on time. Of the bottom 20, 14 of them were in China, Hong Kong or Taiwan — all of which had on-time ratings of less than 60%. The least punctual Chinese airport was Hangzhou's at an on-time rating of 41%, second only to Jakarta globally. Shanghai's Pudong Airport (52%), Hong Kong (59%) and Beijing (64%) fared only marginally better. By comparison, Tokyo's busiest airport, Haneda, which handles more flights annually than Shanghai-Pudong, had an on-time rating of 92% last year, among the best in the world'.
There is of course a very good reason for the overcrowding and the resultant chaos in scheduling flights. The huge majority of China's airspace is controlled by the military leaving little room for the commercial aviation sector even though it is booming with the demand from Chinese for internal and international travel. The BBC cites that Chinese state-run media has conceded that only 30% of the nation's airspace can be used by commercial airlines – everything else is strictly forbidden – which is a very low proportion when compared to America that has 80% available to commercial use.
Sooner or later something drastic has to change if China is going to be able to satisfy its own and, more importantly, my demand for flights to take-off and land at the correct times. Chinese airlines carried over 440 million passengers in 2015 and the predictions are that they'll pass 1 billion within 10 years. That sounds like they'll be a whole lot of flying machines jostling for the already congested airspace. The Chinese are already gaining something of an unwanted reputation for being bad tourists when they leave China – the stresses that accompany airport delays before they've even left are manifesting themselves into dangerous situations.
In all the Chinese airports I've been in and for all the delays I've endured, it always happens that you're notified of the problem once you're penned into the pre-boarding areas. Hours in a cramped space with no information is extremely frustrating and probably explains the rash of embarrassing air-rage incidents in China in recent years, from passengers storming the runway to starting riots to opening the emergency doors during taxiing.
There's a Chinese proverb that says that if you are patient in one moment of anger then you will escape a hundred days of sorrow; and that is probably the best advice I can offer for anyone else using Chinese airports at the moment. That and a good book.