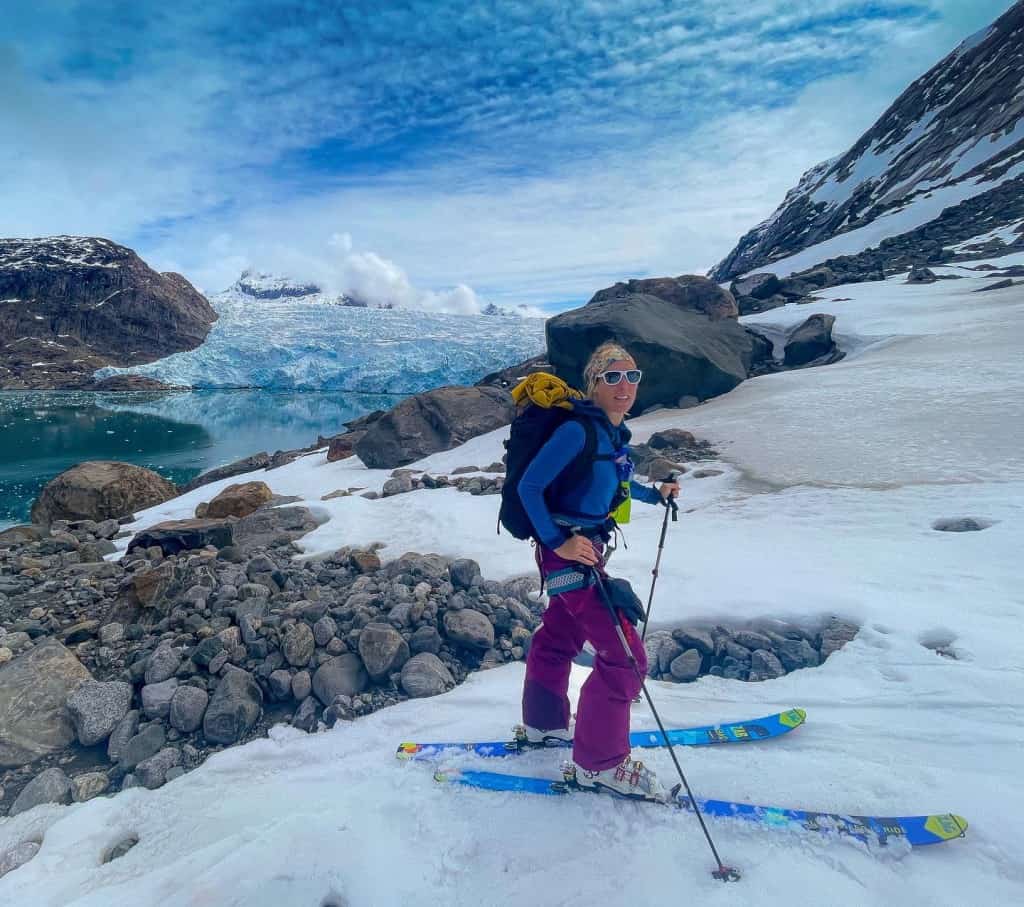 As I stepped out of the plane, a blast of Arctic air knocked me sideways.
It was early June and I had departed the UK in a heatwave, so despite expecting wintery conditions in Greenland, this was a shock.
The gusts shaved at least 10 degrees from the already freezing temperatures: welcome to 67° north.
Freelance journalist and expert skier Abi Butcher recounts a transformative ski-and-sail tour of the Arctic island.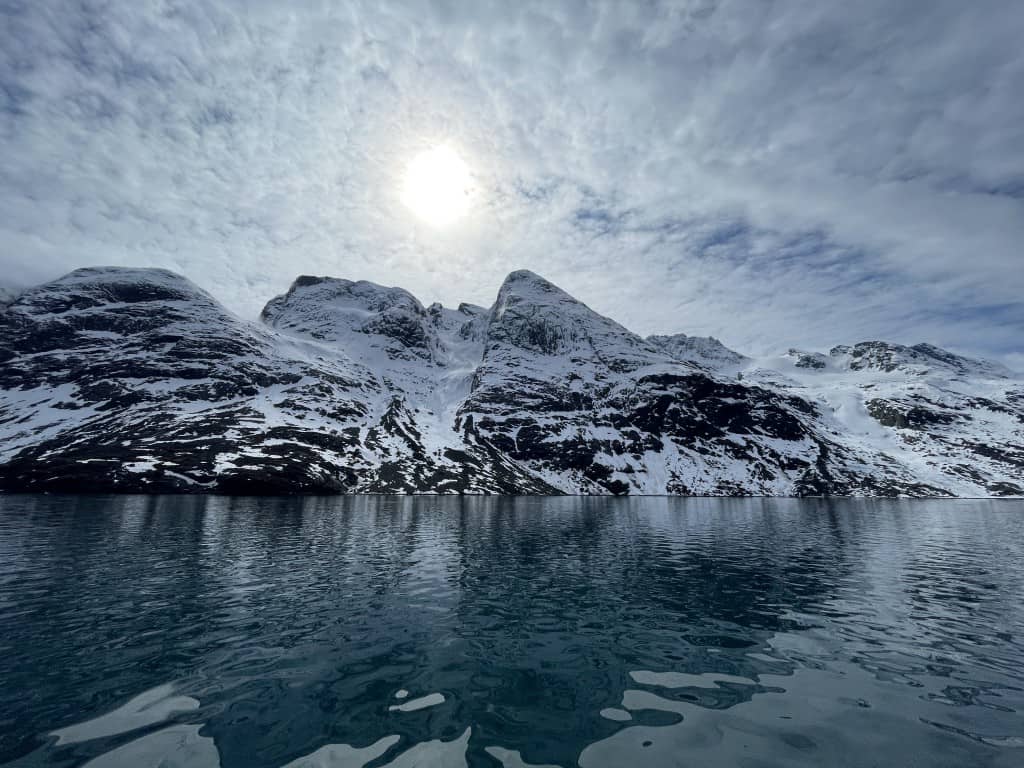 We'd flown over thousands of miles of barren rock, snow and frozen glaciers to land in Kangerlussuaq (pronounced kan-ger-loo-sew-ack), Greenland's main international flight hub.  Around 80 per cent of this island — the largest on earth at 2.16million square kilometres — is ice cap, which looks as desolate from the air as it does close up. But that desolation holds an exquisite beauty and allure, which is why I'd planned to go ski touring from a sailing boat here for the best part of two years.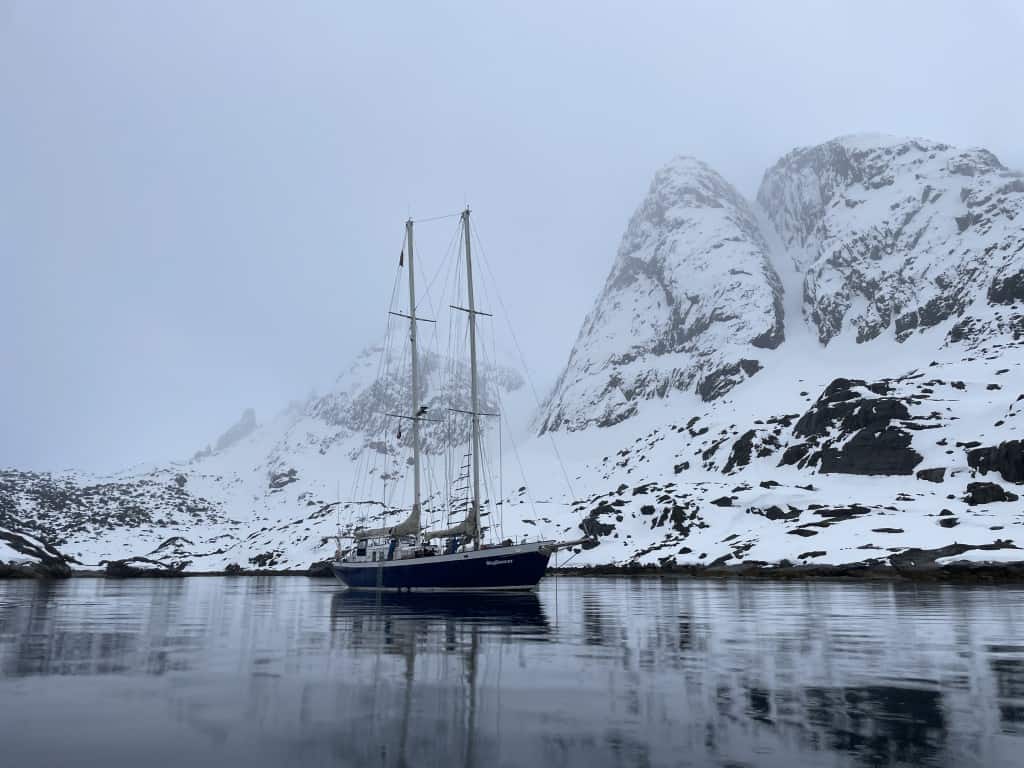 Until that point, 2023 had been a struggle. I had suffered a significant bereavement in February and my life was mired in paperwork and processing complex emotions. Friends thought I was mad not taking a beach holiday to relax but there's something about adventure that warms my soul — and as we flew over that remote ice cap, those familiar feelings of excited anticipation began to return.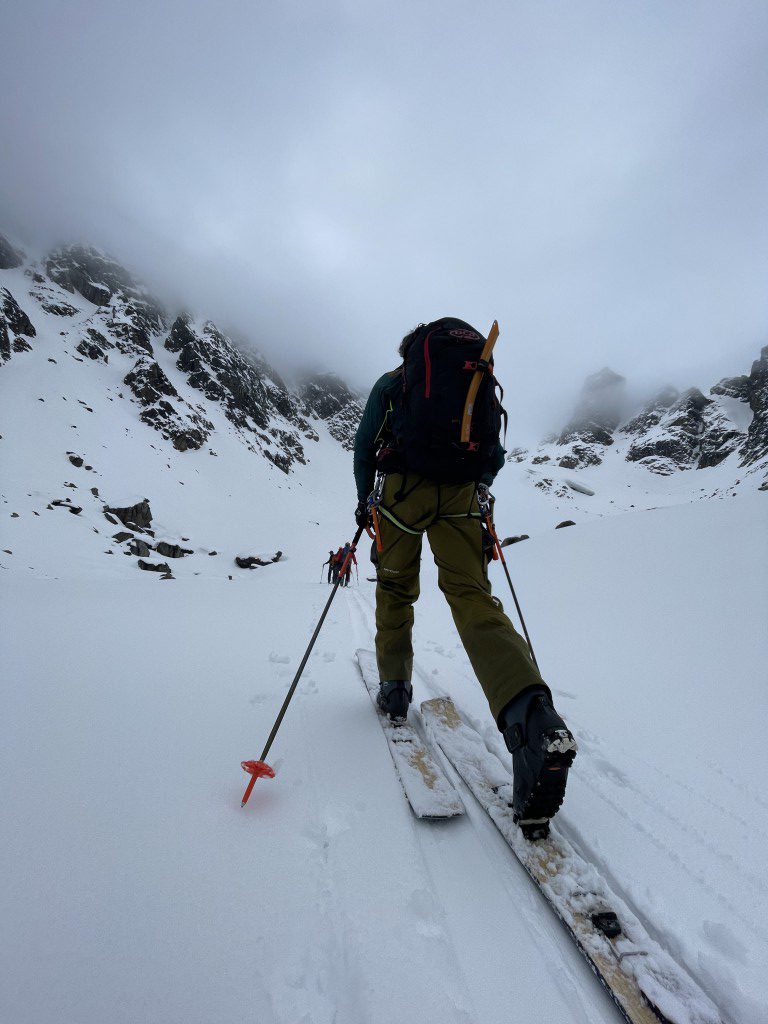 Hurry up and wait
High winds thwarted my onwards travel to Mantisoq, where I was meeting the boat, SkyDancer, and mountain guide Fred Buttard of Upguides who had organised this trip to sail around the south-western fringe of Greenland. On our way to to Sisimiut, some 180km further north, we were to dip in to fjords to ski glaciers Fred had pinpointed — anchoring overnight in remote bays along the way.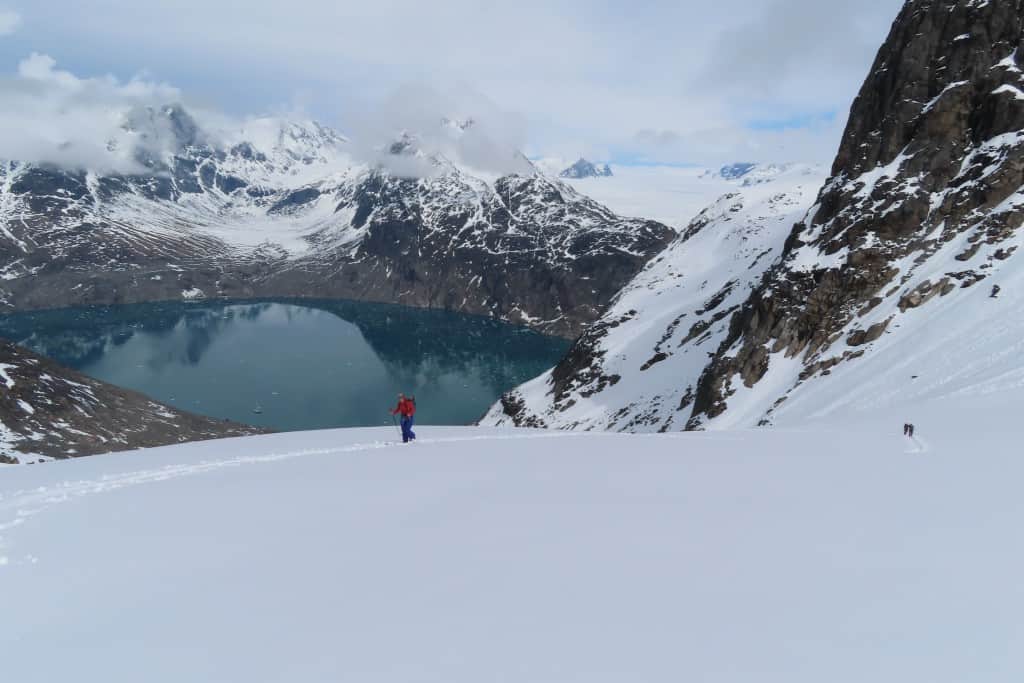 But, as often happens in Greenland, I spent the first 48 hours waiting in Kangerlussuaq for the storm to blow through, drinking endless coffee and packed like sardines with other stranded passengers into a dingy building more akin to an army barracks than an airport hotel. But that's all part of the experience when travelling off the beaten track — delays, incidents, unpredictable weather — keep a smile on your face and go with it. The journey is as much a part of the trip as the destination.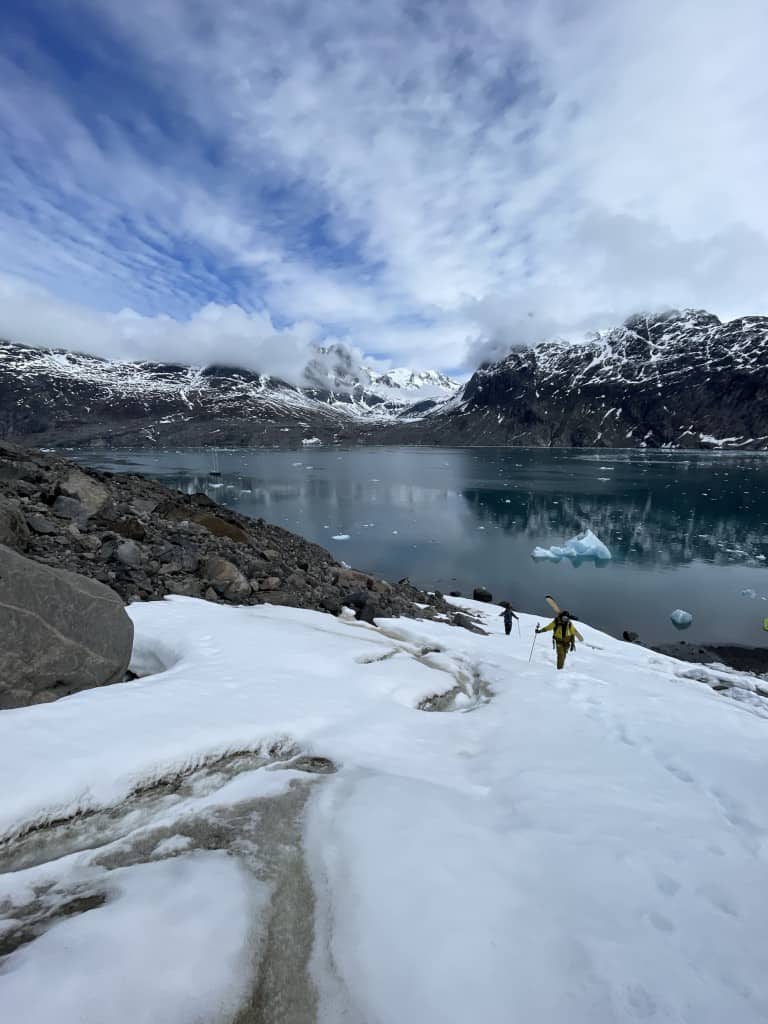 When I finally got that beer and a muskox burger in Manitsoq two days later, all was forgotten: just the excitement of the fresh snow and uncharted territory ahead. Along our way we'd encounter just two little settlements with no other infrastructure — this is not skiing with lifts. While there is some heliskiing in Greenland, accessing mountains by boat is easily the most flexible, rewarding and interesting way of exploring previously unaccessed terrain.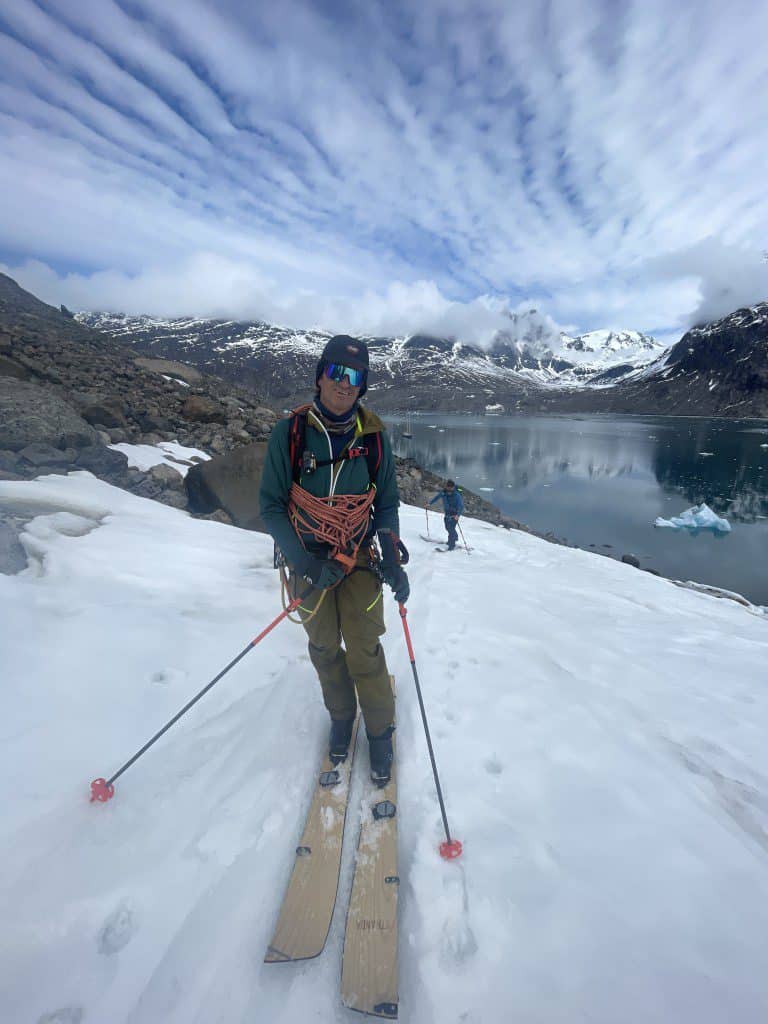 Insurance, maritime and ski experts
Getting insurance was tricky. With such remoteness comes risk — the largest part of Fred's job is to mitigate risk as well as find good snow — but such an adventure also calls for specialist travel insurance from a provider like battleface. It took a little longer than five clicks on a website to sort out, but from previous experience I knew that, should anything go awry, I would be in good hands.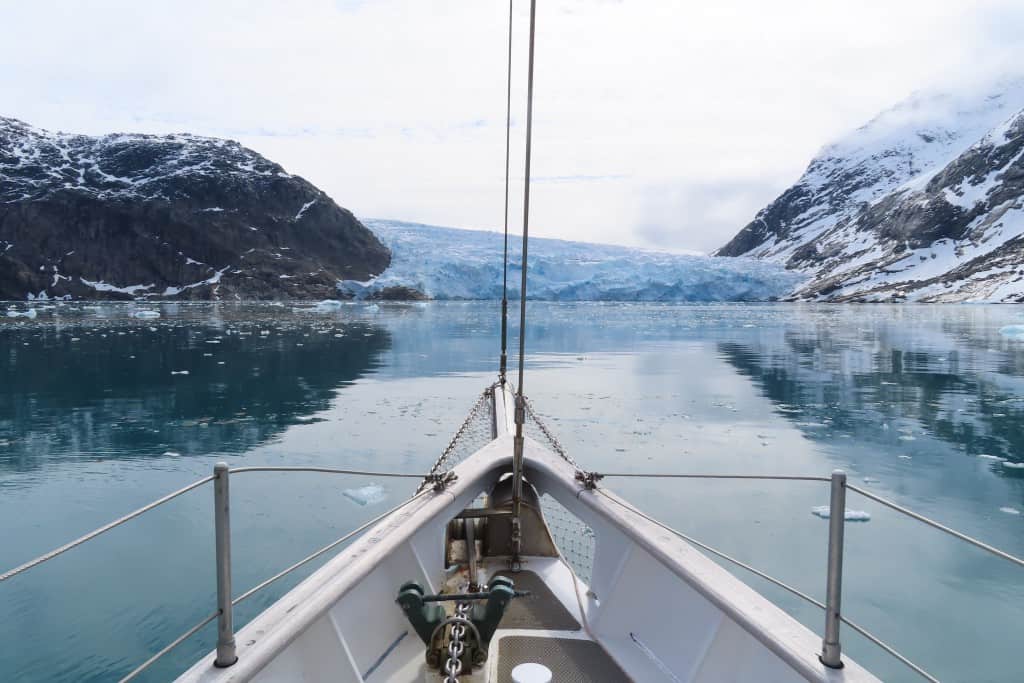 Key to a safe adventure is calling on experts. As well as Fred's extensive experience in the mountains, SkyDancer's owners, husband-and-wife team Nick and Estella, are old hands at Arctic sea exploration. The pair met in Svalbard and have been sailing around Norway, Greenland, Newfoundland for the past ten years, equipping their home for the weather with an efficient heating system, thick duvets and cosy seating with blankets — even the shower has a heated floor — there is no hardship here.
I'd skied with Fred several times before; both in his native Maurienne Valley on the French/Italian border and on a recce trip to Siberia just before the Covid pandemic. He has an uncanny knack of finding the goods each and every time; and Greenland was no different. Skiable terrain abounds — the fjords are surrounded by steep mountains with a mix of colours at the top and more mellow run-outs. Day after day we ski toured our way up slopes Fred chose for having of the perfect pitch (too steep and it might avalanche, too mellow and it wouldn't inject enough fun).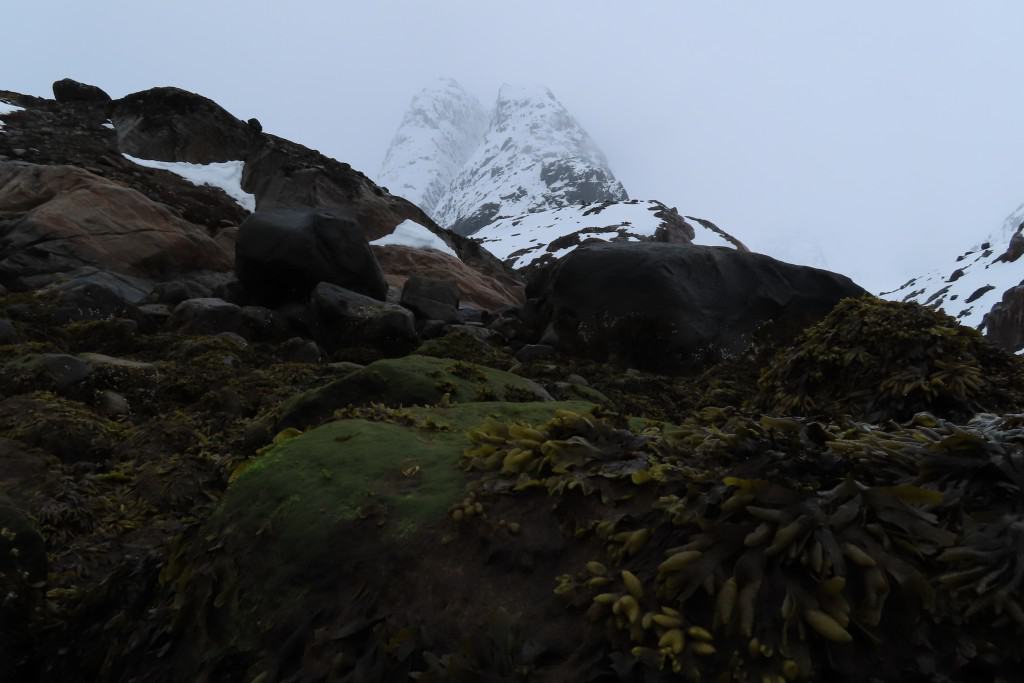 First impressions
Day one provided the perfect practise climb — 600m of steady uphill for my rusty kick-turns, skinning technique and backpack organisation skills — it was damp and drizzly, but rain at sea level meant snow at altitude and after a dry spring, Greenland needed it. The sound of snow falling from the surrounding peaks, echoing around the valley was the backdrop to our week: it was so quiet you can hear a pin drop. There's very little bird song and no traffic — only occasional airplanes by day as towns here are unconnected by road, so Greenlanders travel by boat or air.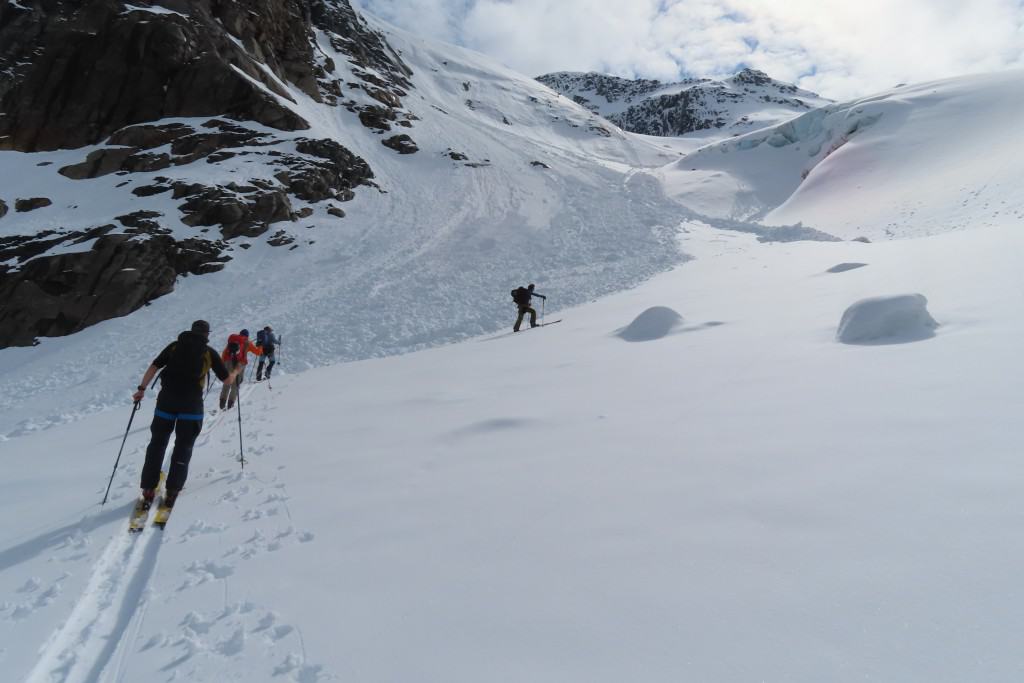 At this latitude it doesn't get dark in June, but we soon settled into a daily routine of a hearty breakfast of cereal, yoghurt, eggs, fruit, cold meats and Danish bread, making sandwiches to take on the mountain along with dried fruit, nuts and litres of water.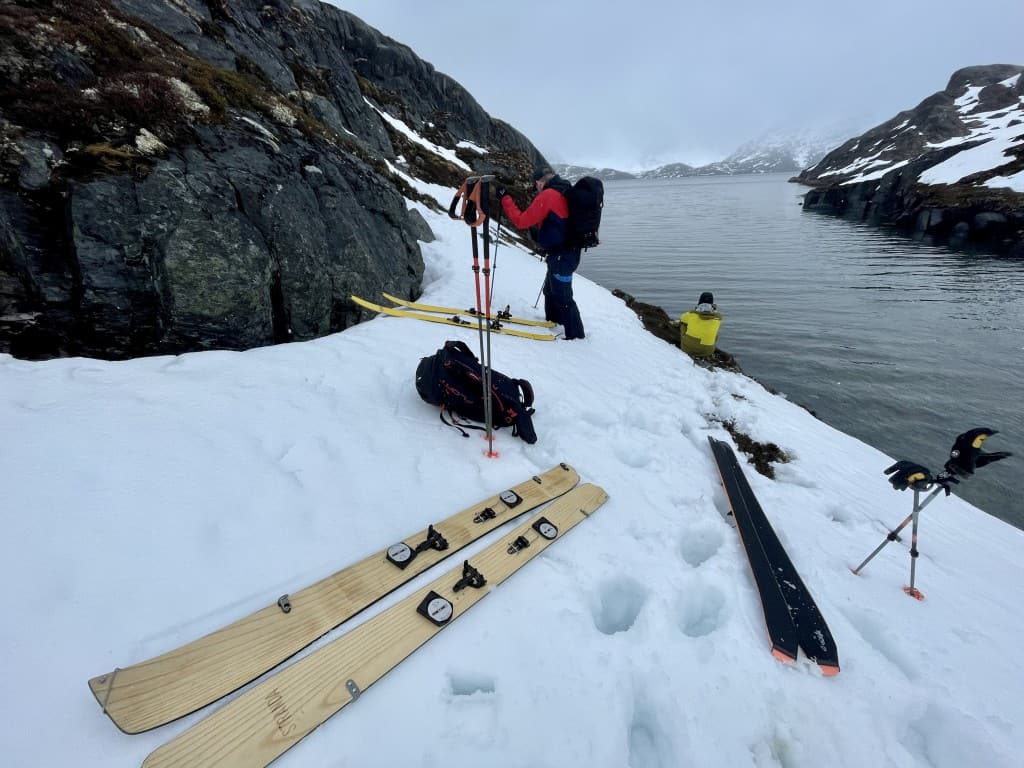 Earn your turns
After a sail to the next allocated spot, we would climb into harnesses and pack ice axes, crampons, skins and layers while Nick and Estella anchored, before setting off for shore in SkyDancer's tender. Five or six hours of climbing later under clear blue skies, we would triumphantly summit another peak, around 1300m of altitude under our belts, to enjoy the ski down.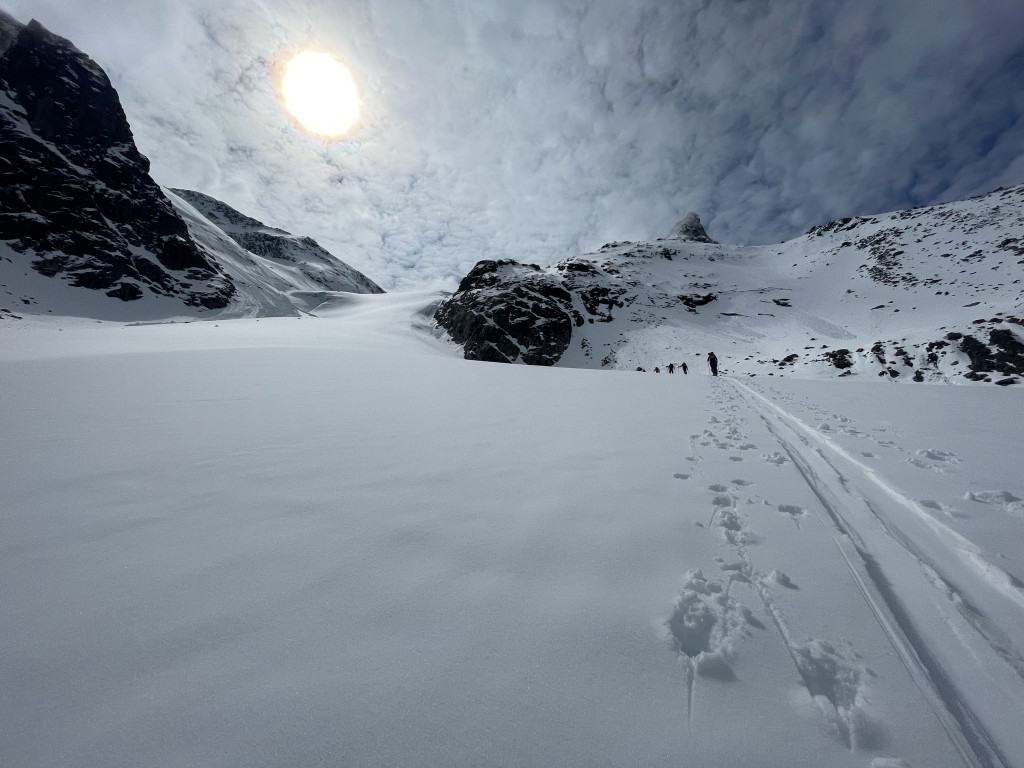 The phrase 'earn your turns' packs such a punch here; far away from civilisation, with only a military search and rescue (conditions permitting) and no nearby hospitals, this is ski touring in its wildest form. By sheer luck we had a doctor and a physio among our group, but in this terrain you can't make a mistake, so must ski within your limits and follow Fred's instructions to the letter. The reward? 1300m of incredible powder downhill, a jump in the sea followed by après-ski gin-and-tonics cooled using ice from the glacier and a hearty meal cooked by Estella.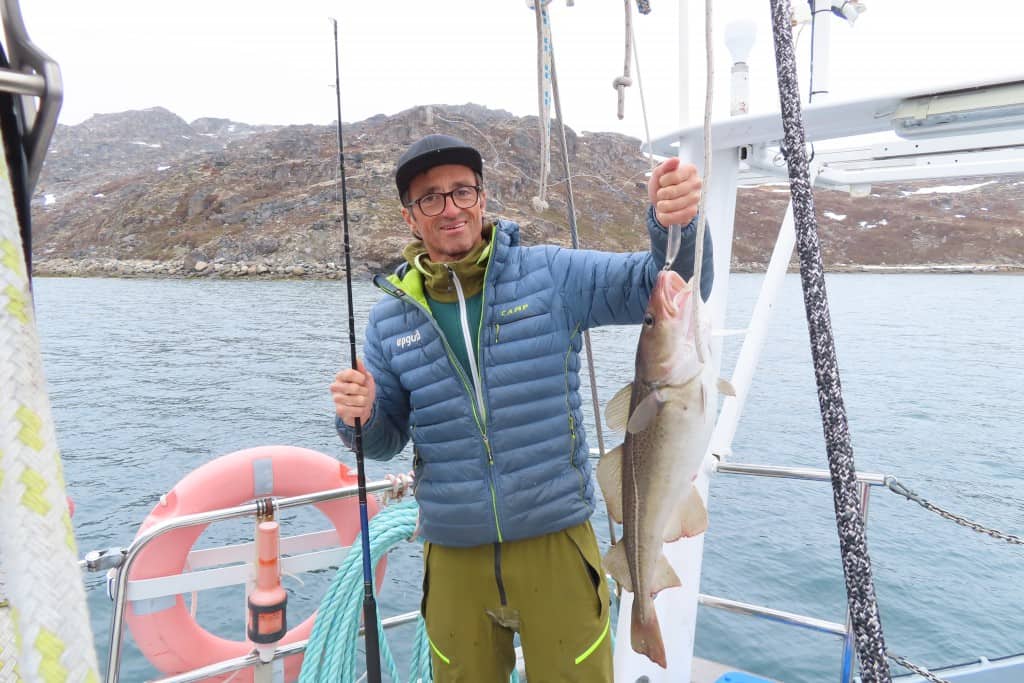 Fish and friends
One afternoon, after a lengthy sail, the crew caught cod from SkyDancer's decks; half a dozen huge, grey, glistening fish, gutting them on deck before Estella whipped them below to create combine them with Thai spices and create a fish stew for that night's supper.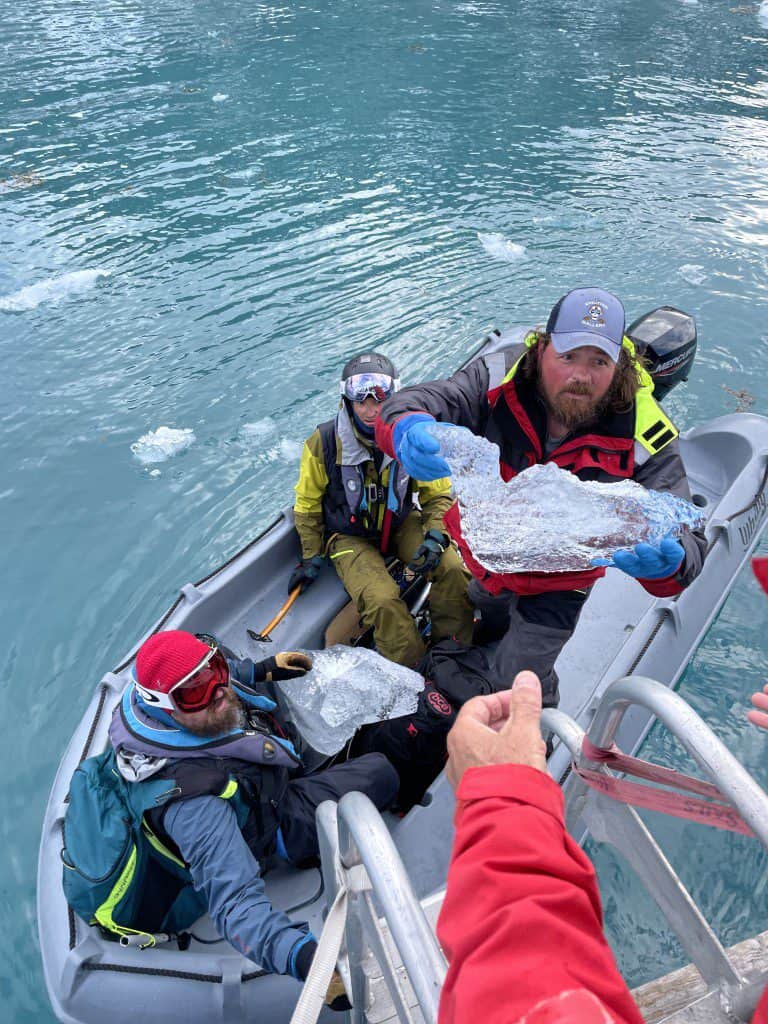 The thing about adventures is that you never want them to end. Day after day of climbing made me feel stronger, more assured, more at home and quieted the busiest of minds. Concentrating my every moment on snow offered no time and space for worry or negative reflection; the shared comradeship of the experience bonding our group together for what I hope will be a lifetime. I never dreamt I'd see glaciers crash and break into the sea, creating a tidal wave of vivid blue, or watch icebergs float past the porthole of my cabin while lying in my cosy bed.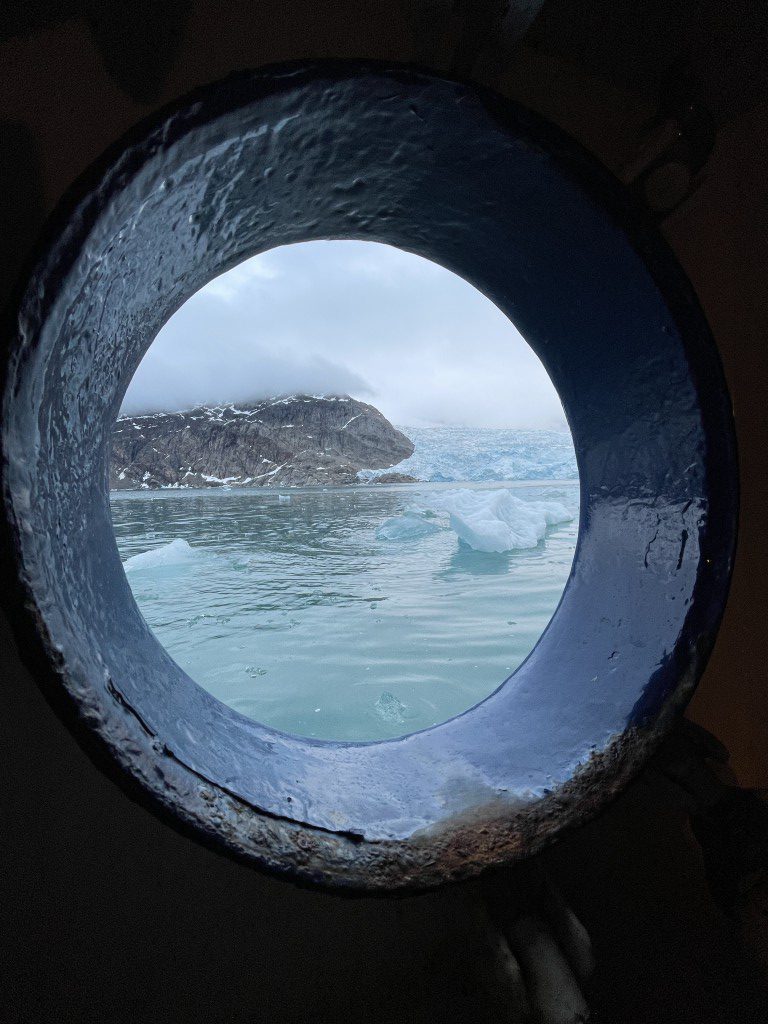 But end it must, and I'm thankful to have employed the technique of planning the next adventure before this one ended — a trick I've learnt over the years to stave off the post-trip blues. Try it, I can heartily recommend.  Just ensure you get yourself adequately insured, with a specialist insurer who will look after you if the worst happens.