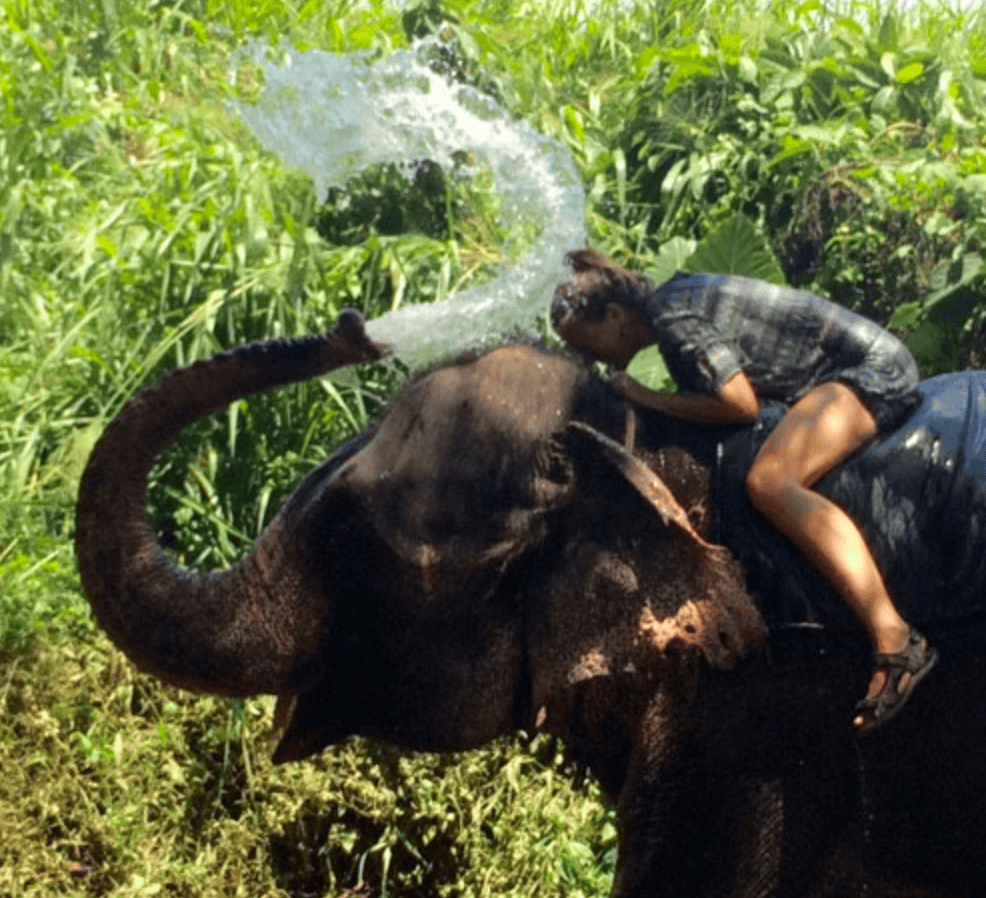 After killing it in Cuba, our favourite Solo Wandering Female hops 16,000 kilometres to Sri Lanka.
"Yikes! I swear it nearly got me! Pleeeeease can you come and  help?"
That's the third time in one day! I am currently working on an almost self-sustainable eco-retreat in the rainforest of Sri Lanka which entails gardening, building a cob house and looking after guests. I suppose that includes helping girls cope with spiders and millipedes in the dorm. Have broom, will help.
Creepy crawlies
Daniel, from France, felt an itch on his leg during dinner the other evening. A leech had been having its own dinner and fallen off, fat and fully satisfied, leaving an open wound trickling blood down his leg. Alice squealed and Rose nearly fainted. They now check every inch of the bedroom with a torch before daring to get into bed. It's the rainforest – creepy crawlies' heaven. Lucky they didn't see me shake the ants off the bread before making their toast this morning!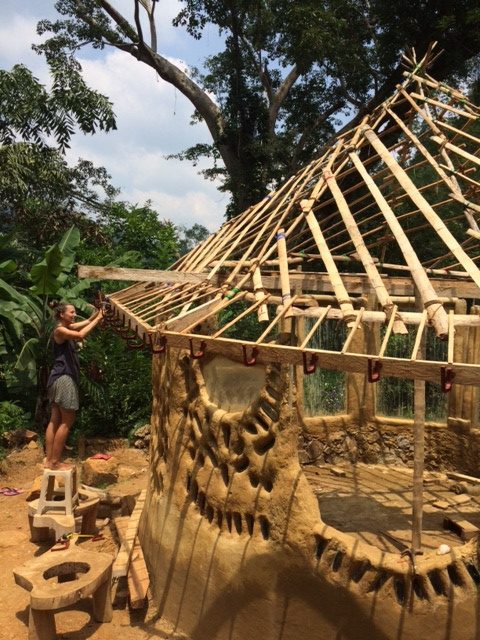 For two months now Sri Lanka has bowled me over. Such stunning scenery in the form of lush, green hill country, gorgeous beaches, chirpy, rustling jungle, magical rainforest and waterfalls aplenty. Of course there are many beautiful locations in this world. However, what makes this island so special is the people. Sri Lankans are definitely one of the most cheerful and welcoming people I have come across travelling round the world. Always calm, always friendly, always helpful. Nothing is too much trouble for them, even telling you the completely wrong bus departure times rather than admitting to you that they don't know.
Hot couture
Yes, definitely – if you don't mind sweating 24/7 – this is the place for you. I think I have worn the same baggy, quick drying dress for the last 2 months, though I do have all of five outfits in my rucksack (I always only travel with 7 kilos). Why bother change? You shower, sweat, get soaked in the deliciously cool, refreshing rain, sweat, hike a up hill for a fantastic view, sweat, sit sipping tea in a local cafe, sweat. Even underwear isn't worth it. Sshh, don't tell.
Now I might no longer be the strapping 6 foot, sporty 25-year-old of yore, but I thought you're never too old to try surfing. Welligama, surf Mecca, here I come. Oh, what a disaster. Error no. 1: try first with a paddle for stability. Error no. 2: just go for it without an instructor (can't be that hard, right?) Error no. 3: try without wearing a t-shirt. Here goes!
After an hour my tummy has been rubbed raw from the friction with the board, I don't know where the paddle has got to and I have been in 'the washing machine' one time too many. You miscalculate the wave, get knocked for six, tumbled about every which way, don't know up from down, swallow a load of warm salty water, get sand in every crevice and your bikini is hanging on by threads. Not a cool look coming out of the water, I can tell you. And just when those tanned, muscular surfer dudes were walking past. Aaargh!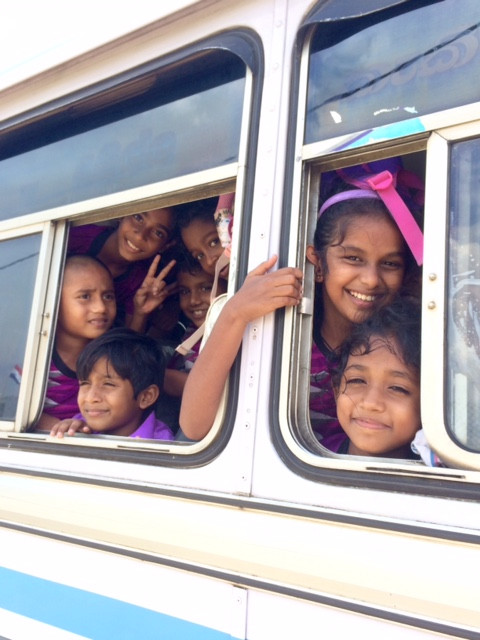 India Lite
This is 'India Light.' The toilets are clean, there is usually soap and water nearby. Relatively little plastic rubbish decorates the countryside and it is invariably safe as a solo wandering female. Locals show a lot of respect towards foreigners and are courteous. Women are shyly smiled at but nothing more.
I hitched a lift on the back of a tea truck and got packed in with a bunch of women on their way to the factory night shift. Not more than two English words between them but we had such fun. They wouldn't stop giggling, hiding their grins behind their hands. Just so adorable. This kind of thing makes travelling so unforgettable.
Best. Shower. Ever.
But the most beautiful, magical time was spending a morning with Ramenika. 43 years old. Female. Weight 3 tons. Rescued from abuse.  Noooo!!! I didn't join a local weight watchers' club. Nor the battered women's shelter.  Ramenika is an elephant, rescued with bad knees and kidney problems due to carrying tourists in a basket for too long. This little haven of peace and greenery is The Millenium Elephant Foundation, set up in 1999 to look after 8 orphaned, sick or mistreated elephants.
I got to walk with Ramenika, observe her while she wandered about, munched on banana leaves and bathed in the river. I fed her her a snack and scrubbed her back with a coconut husk then got a true trunk shower! Also I was given a wealth of information by one of the staff. It was an unforgettable experience and had me in absolute awe of these huge and gentle beasts.
Must dash – the rains are coming and we have to finish the roof of the new cob house! More next time….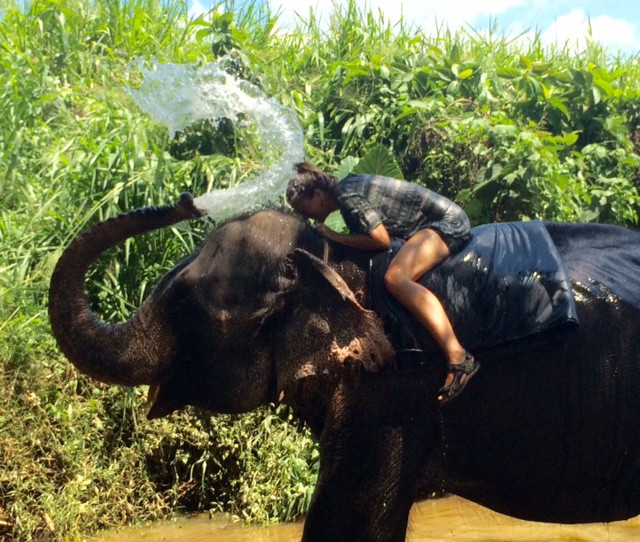 For more tales of Gwendolyn's adventures:
Hitchhiking, Havana, Hot! | SWF Part 2: Cuba
Gwendolyn Janke | Escapades of a SWF Part 1
For more on Sri Lanka, check out Monica Axelssons photoessay Dangers in Paradise
Click here for more battleface interviews