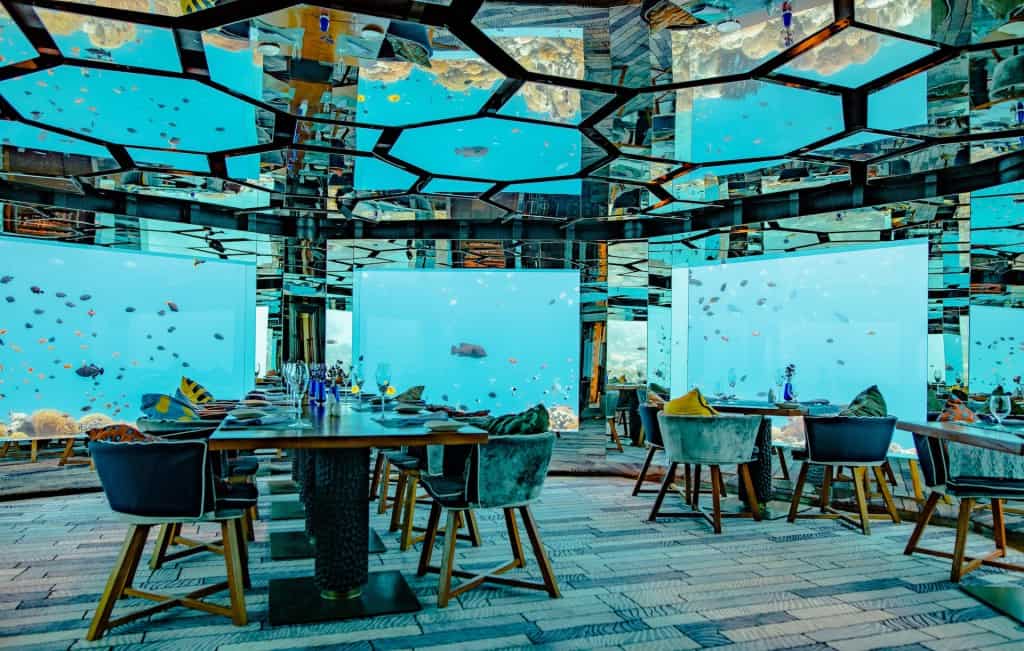 Paris, London, Tokyo, Barcelona, Hong Kong, Sydney…. are all known for their culinary delights.
But

do you want excellent food in unusual and off-the-beaten-track locations?
If the answer is yes, pick up your eating irons, grab your napkin and let's tuck in.
Mountain top, red desert, barren landscape
Canary Islands, Spain – Restaurant El Diablo

Situated in Timanfaya National Park which revolves around the Montañas del Fuego (Mountains of Fire) in a red volcanic landscape. Considered a barren landscape until authorities created hiking trails, a visitor centre and a restaurant. Meat and seafood is cooked on its basalt-built open-air grill at temperatures of 450° and 500° Celsius. They also cater for vegetarians at this circular eatery. Try the cinder-cone dessert called the Lanzarote Volcano made with chocolate, honey, almonds, and local gofio flour.
Edge of a volcanic crater, Safari national park, UNESCO world heritage site
Ngorongoro Crater, Tanzania – The Main Restaurant
Perched 2,000 feet above the Ngorongoro Crater, this restaurant creates a prehistoric ambience. This is to remind you that the location was one of the cradles of humankind. The lodge, situated in the middle of a world heritage site is run by the Tanzanian government and the local Maasai people. The menu is international sprinkled with locally-sourced dishes, such as marinated tilapia and Kilimanjaro coffee panna cotta.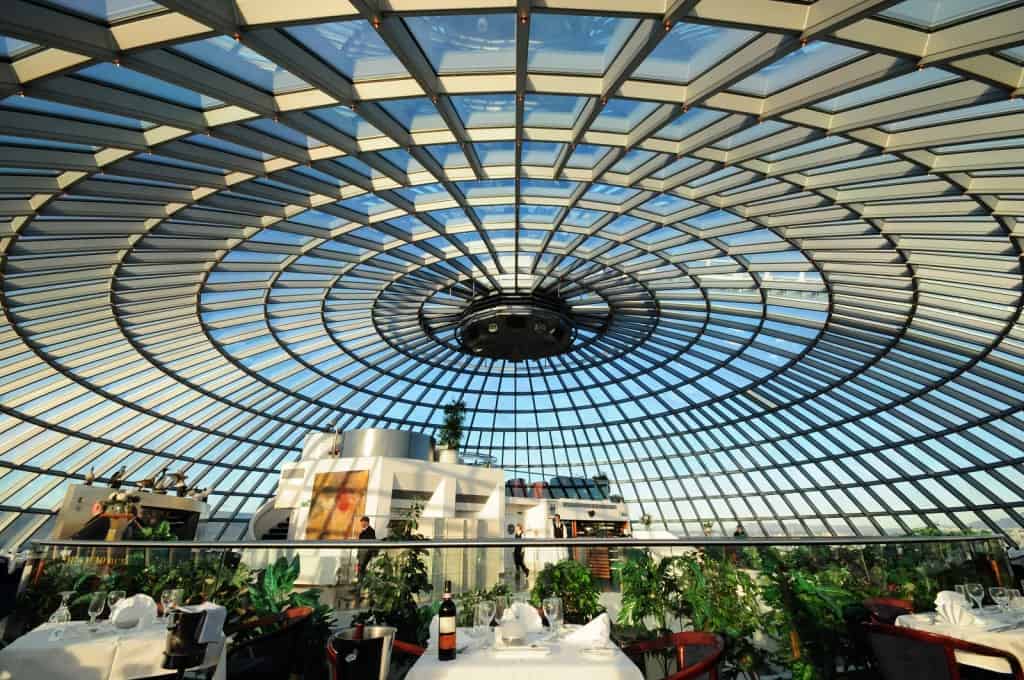 Above geothermally heated water tanks, beneath a glass dome, 360 degree views
Reykjavík, Iceland – Perlan Restaurant
Sitting on Öskjuhlíð hill, this restaurant provides 360° views of the Icelandic capital and coastline. It is part of a complex which includes a northern lights show and a walk-through ice cave. The menu includes items such as Icelandic lamb soup, artisan cheeses and open smoked salmon sandwiches. Several options are on the menu for vegetarians, too. It's not quite fine dining but it's a simple, tasty menu that is very popular with locals and tourists alike.

The world's first underwater restaurant, beside a coral reef
Rangali Island, Maldives – Ithaa Undersea Restaurant

The restaurant was inspired by walk-through aquariums from around the world. Fabricated in Singapore and transported by ocean-going barge to the Maldives and lowered into place at Alifu Dhaalu Atoll. Outside the dining room, the water swarms with colourful tropical fish, black-tipped reef sharks, and graceful eagle rays. Inside, diners enjoy lobster wontons and prawn tartare.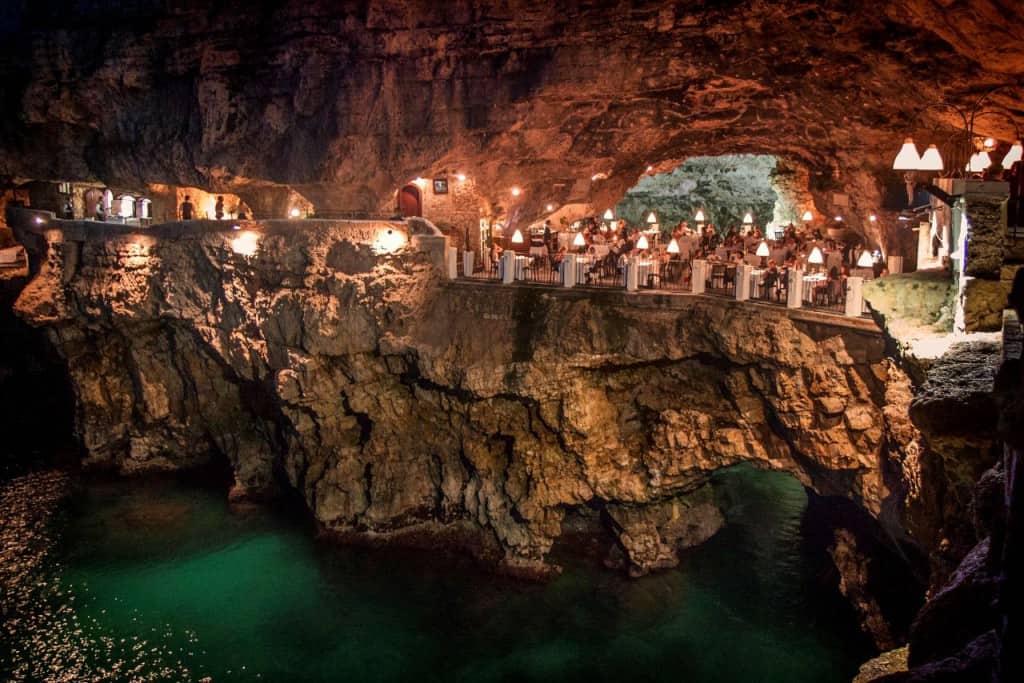 Inside a cave beside the Adriatic Sea
Polignano a Mare, Italy – Ristorante Grotta Palazzese

This is a restaurant you've probably seen on travel shows, food blogs and shared countless times on Instagram. This natural cave on the Adriatic Sea harbors a dramatic venue for one of Italy's most celebrated restaurants. The cave was formed over millions of years by wind, rain, and waves eroding the cliff's porous limestone. The grotto is one of more than 70 caves along the Polignano a Mare coast. Grotta Palazzese serves 4 and 6 course tasting menus complemented by Puglia wines.
Underground salt mine, UNESCO world heritage site
Wieliczka Salt Mine, Poland – Karczma Górnicza Restaurant

The restaurant sits 400 feet underground. Not ideal for those of you who suffer from claustrophobia. The salt mine traces its roots to prehistoric times, when people harvested salty brine from the natural springs. The restaurant is only accessible as part of a guided tour of 2-3 hours. The menu includes traditional Polish fare, such as pierogi, cream-filled kremówka pastries, bigos stew and żurek sour rye soup. But be aware, there's also only one non-meat item on the menu.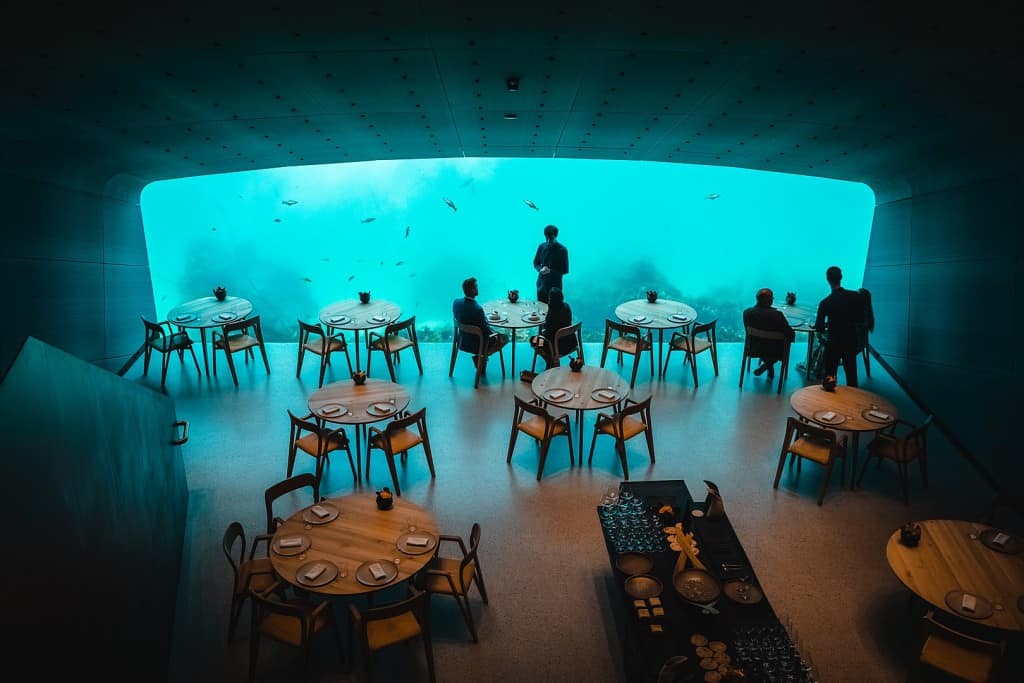 An oblong box jutting out of the North Atlantic Ocean
Lindesne, Norway – Under Restaurant
Though a tad reminiscent of the movie "The Menu", this restaurant is interesting and worth the experience. The building is an oblong box jutting out of the sea at a 45° angle. The restaurant's shell is designed to integrate into its underwater environment over time. It acts as an artificial reef to attract and shelter marine life. Inside is a stark but stylish room with a huge window looking out on sea life. With just 40 seats and an 18-course menu costing £330 per person, Under is as much about the food as the setting. The menu features fish dishes, wild seabirds and local lamb.

3,500 metres above sea level, altitude sickness friendly menu, off-grid
Sacred Valley, Peru – MIL Restaurant
This restaurant is currently number two in Latin America's 50 Best Restaurants. MIL, a 45-minute winding drive from Cusco, is 3,500 metres above sea level and takes advantage of the Sacred Valley's varied vegetation. Everything on the eight-course menu focuses on regional ingredients. Dishes are light to cater for high altitude's effect on the appetite. Each course is paired with an infusion distilled in-house with local herbs, and their own crafted chocolate and coffee. MIL has an oxygen tank on standby for guests suffering from altitude sickness.