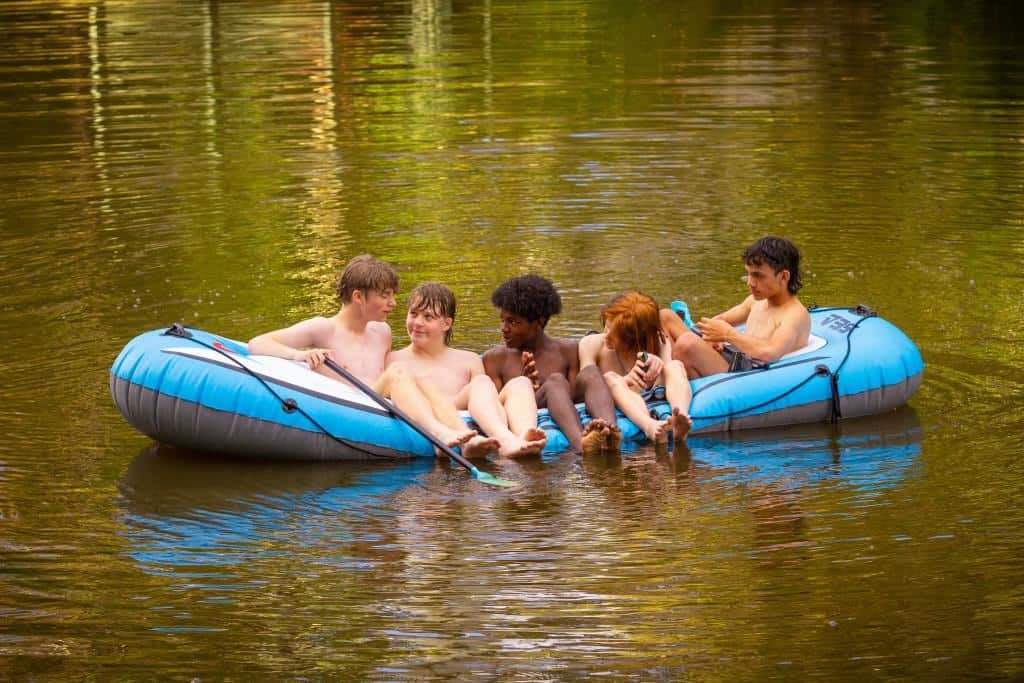 Georgia on Your Mind
Something for every adventurer. Welcome to Georgia. With 62 state parks, 11 national parks, 100 miles of Atlantic coastline, and ancient mountains, life is plain peachy in Georgia. So, come get a taste for yourself.

Chattahoochee River National Recreation Area in Sandy Springs
Any way you want to play outside in Georgia, the Chattahoochee River National Recreation Area in Sandy Springs has you covered. The "Ancient River in a Modern City" is abundant with trout, bass, catfish, and 20+ other species of fish. Trout season is every season, so take note that a trout stamp is required even for those who are fishing other species. Want to nail that tricky fly fishing flick of the wrist? Classes and guides are offered by expert fishermen. Check the weather conditions, river flow, and other useful stats here on the Current Conditions page. Not into fishing? That won't stop you from a good boat, float, or swim in the Chattahoochee. Forty-eight miles of river flow through the northern suburbs of Atlanta with a necklace of 15 explorable land masses throughout. Check out the authorized outfitters permitted to provide you with a kayak, paddles, canoes, tubes, rafts, and stand-up paddle boards for your river expedition. All these companies offer shuttle services, and High County Outfitters and Nantahala Outdoor Center feature guided river trips.
If you're more of a landlubber, check out the seven-mile trail system designed for hiking and cycling. Dogs are welcome too. Spy a colorful array of wildlife wandering through the park. There are over 240 bird species, rabbits, white-tailed deer, newts, chatty frogs, and other friends inhabiting the land. Hungry after an action-packed day? Fire up a snack on one of the grills or unpack a pleasant picnic.

Atlanta: From Civil War to Civil Rights
Atlanta has had since 1847 to gather its rich history. Join Dtours for their 5-star Civil War to Civil Rights Tour to experience 175 years of exciting historical sites packed into a 3-hour itinerary:
You will follow Civil Rights leader Martin Luther King through his personal life. Visit his birthplace, church, and grave site in the historic Martin Luther King District.
Visit the site of the Battle of Atlanta. On the eastern outskirts of Atlanta, a brutal battle engaged over 75,000 troops from the Union and Confederate armies near the long, dragging end of the Civil War.
Inman Park now stands as Atlanta's first planned suburb, known for its hip food scene. Pop into a cafe, brunch spot, or an artisan bakery. Take note for later on your trip: the Eastside BeltLine Trail, a railway-turned-walkway, is excellent for walking or biking around town. Not only are you getting the historical tour, but you're crafting an itinerary for the rest of your trip.
Oakland Cemetery is a gorgeous garden cemetery in which Civil War soldiers and Margaret Mitchell, author of "Gone With the Wind" now rest. And, it's the oldest cemetery in the city.
No food is provided on the tour, but you'll end up at Sweet Auburn Curb Market for a snack and see what once was the wealthiest African-American street in the world.

Goats on the Roof!
This is not a drill. Really, there are Goats on the Roof of this charming attraction in Tiger. Carpeted in greenery and draped in bridges, this entire mini-city of fun is a goat playground. You can admire these bearded beauties for free, or encourage the kids to feed them in order to become an official friend of goats. After all that hard work earning their keep with the bucks, nannys, and kids, your human kids deserve some treats to refuel. Try Goats on the Roof's homemade fudge, nitro-ice cream, baked goods, famous Swedish pancakes, or a big lunch from Big Mike's food truck.
Don't forget to hit the gem mining shop. Search for gems out in the warm breeze like true American prospectors. With a water sluice, you'll sift the day away by washing away the debris in your treasure-rich soil. If you didn't strike gold, there is a rainbow of beautiful stones sold in the Rock Store to choose from.