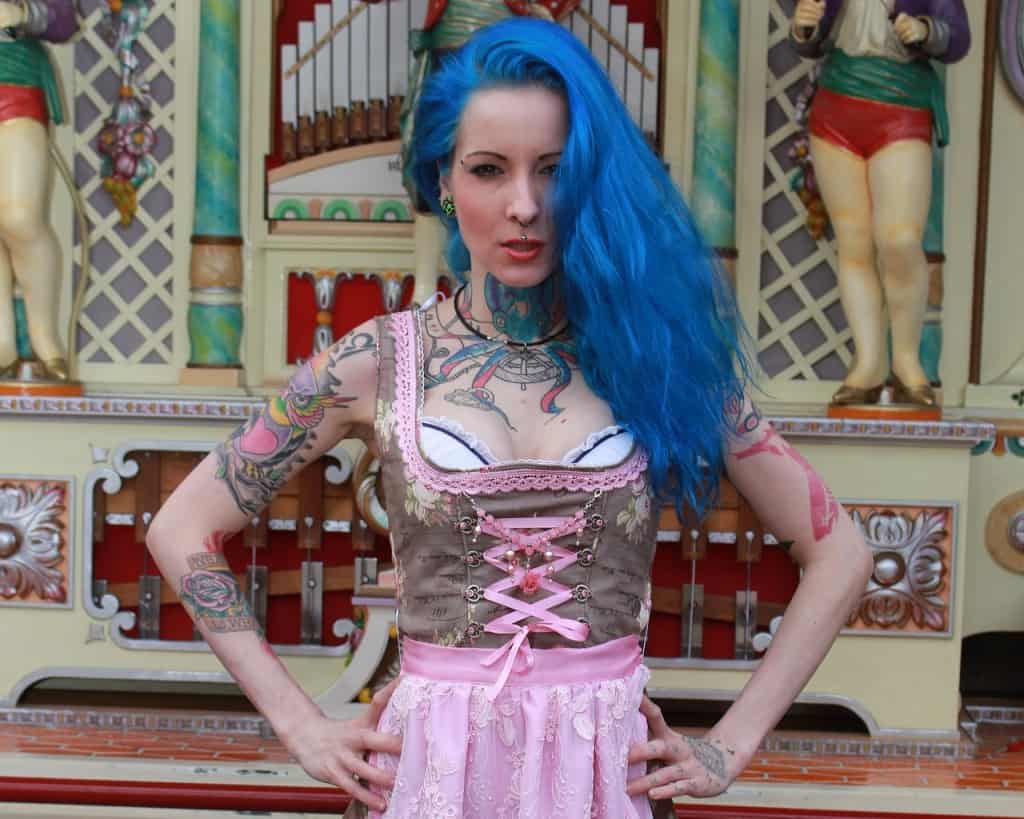 You don't have to gnaw a pig knuckle to celebrate Bavarian culture at Oktoberfest
Vegan options abound at Munich's famous festival
Oktoberfest isn't just for carnivores. Let's explore some vegan treats that fill the tank before you hit the tankards.
Beer
Munich breweries at the festival proudly adhere to the Rheinheitsgebot of 1516, which limits beer ingredients to barley, hops, water. Stick to the local brew and you're in the clear.
Avoid novelty beers, which may be sweetened with honey or include clarifying and stabilising agents that contain animal products: isinglass, gelatin, and egg whites. Not sure? Ask!
Free water
The only thing purer than freshly brewed local beer is Munich's water, available on tap for free at four sites throughout the festival grounds. Look for the word Trinkwasserbrunnen. Note: glass bottles are verboten.
Snacks
Brezn (pretzels) Kartoffelpuffer (potato pancakes) and sauerkraut provide a hearty accompaniment to a refreshing litre of cheer. Pick up a paper cone of freshly roasted, sugared almonds – gebrannte Mandeln – or try out other roasted nuts.

Like any festival worth its salt, Oktoberfest elevates all things fried. Look for spiral-cut potatoes, always a winner.
Traditional fare
Start the day with a twist on the traditional breakfast at the Hofbräu-Festzelt: a flagon of Hofbräu Oktoberfestbier and vegan Weißwurst, a plant-based sausage.
Keeping things sausage-based, head over to the Paulaner tent for vegan currywurst, mit (with) or ohne (without) sweet, tangy sauce.
Though when translated the word seems the antithesis of any vegan food, Franzls Leberkäs Speiserei's meatless Leberkäse option delivers.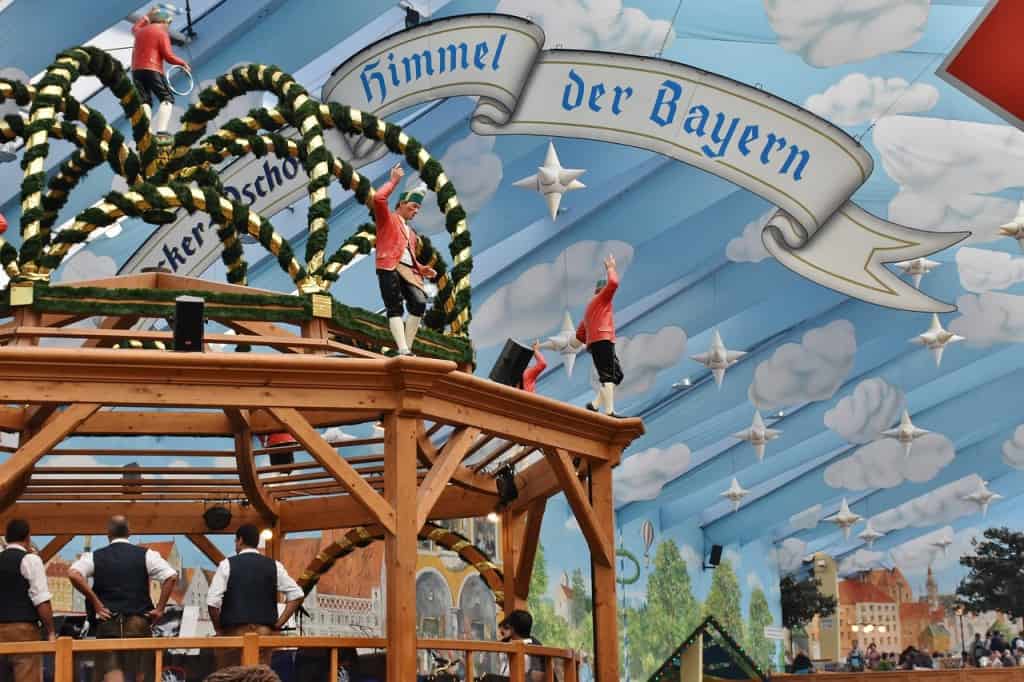 Non-traditional fare
The Löwenbräuzelt's savoury vegan strudel provides fuel for a day of dancing, drinking and singing, with a tomato ragout and chanterelle mushrooms.
Nosh on medallions of quinoa with herbed vegetables or a crispy polenta dish at Festzelt Pschorr Bräurosl.
Also-rans: kebabs, wraps, salads, pasta, soups and sweets.
Tips
2023's Oktoberfest runs daily from 16 September through 3 October. Visit off-peak to increase your chances of getting into a tent without a reservation: early in the week or Sunday evenings.
Purses and backpacks can be no larger than 20x15x10 centimetres
Fill those bags with cash in small denominations and lots of coins. While some vendors accept mobile payment, cash is still König. If you see a sign that says Nur Bargeld, it means Cash Only.
As a courtesy to vendors – and to avoid the stinkeye – pay with small notes and coins.
Don't expect the chump change back for a beer, between €12.60 and €14.90. Beer servers assume this is a tip. Don't be chintzy! Tip your servers!
In tents, you're paying for the seat, not the booze. Expect to shell out around 10 euros for water. Outside food and bevvies aren't allowed in the tents.
Free water stations are right next to the toilets. If attending with a friend, divide and conquer- the quickest to gain or expel can switch places with a thirsty (or bursting) pal in the other queue.
Have a peek at tent menu options on the official Oktoberfest site beforehand. Most offer at least one vegan option.
For grab-and-go nibbles, the Speiserei (food stalls) outside the tents deliver the best value for your budget.
You can bring your own snacks to the open-air beer gardens, but there's a strict ban on BYOB, including water. (Again, you're paying for the seat)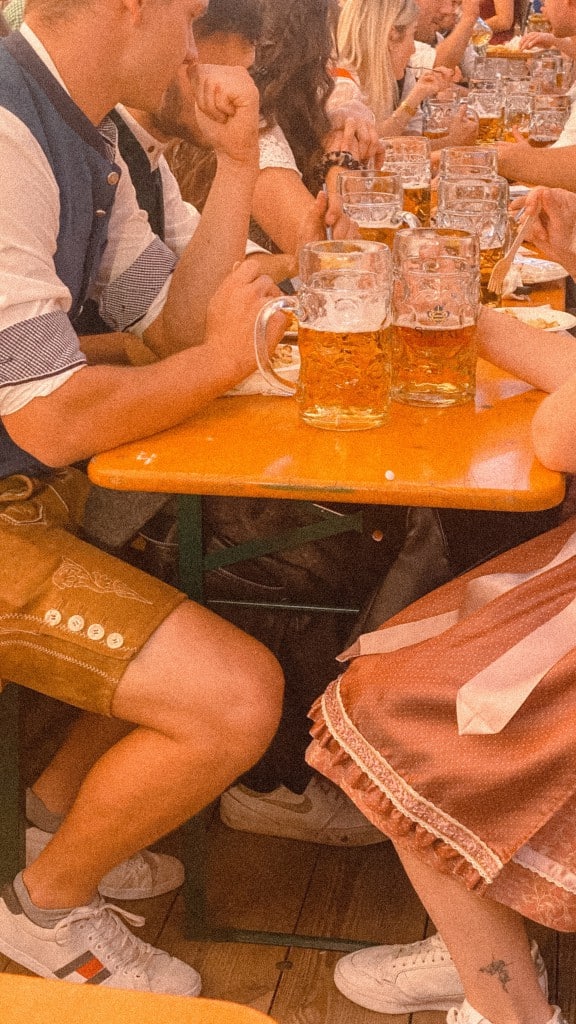 Ein Prosit
Finally, here are the words to a drinking song you'll hear everywhere. The gist: it's a toast to good times. Don't worry about the pronunciation now, you can work on it the 20-30 times a day you hear it at the festival. Avoid eye contact during the final toast at your peril: an averted gaze guarantees bad sex for 7 years.
Ein Prosit, ein Prosit
Der Gemütlichkeit
Ein Prosit, ein Prosit
Der Gemütlichkeit
Oans, zwoa, drei, Gsuffa!