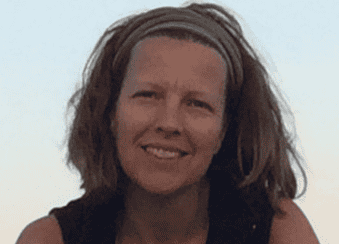 Gwendolyn Janke brings us up to speed with her latest Single Wandering Female dispatch from Serbia.
Serbian Forest Camp – I'm a survivor, DON'T get me out of here!
Perched on a cushion on a rocky outcrop 600m above sea level with fabulous views of endless green meadows covered in yellow, purple and white flowers and the mountains looming in the distance, I am checking emails while the sun comes around the back. I am indeed in the office. The only place where you get network in this camp of all camps.
Once again I have answered a call for support on the workaway website. This time I have come to help set up off grid living in the central Serbian mountains. To support a man with a vision of free living for all.
Building Utopia in Serbia
Marjan, a handsome, fit, gentle 38 year old kung fu and yoga  instructor started this project 3 years ago and is continuously looking for new recruits. People who want to live rent free and where food, water and electricity come from the land and the sun. Where drugs, drink and meat have no place. Where building and gardening workshops can be held, information exchanged, yoga and meditation enjoyed. Where everyone supports each other to keep things running.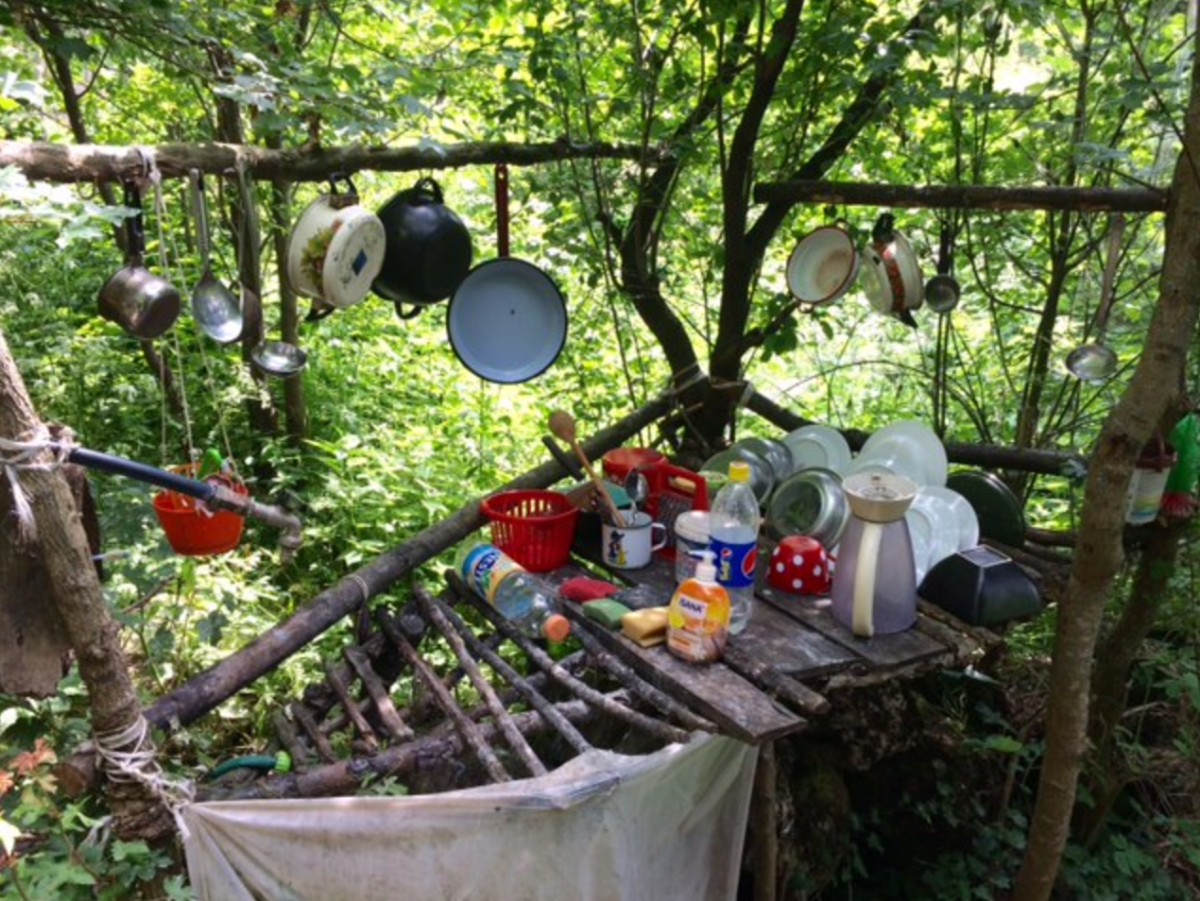 Struggling in a country whose government slowly whittled away paid holidays from 4 weeks to 2, drastically cut salaries while raising the cost of living, causing most people to need a second job to manage, Marjan found his own solution. It's not new in many a country in Europe, but for Serbia it is. He thought: What if you could buy a piece of land with a fresh water source, an abundance of woodland to build and plenty of space to grow vegetables?
The search took Marjan to the area of Sokobanja, known for it's good hiking and healing hot springs.
Voice of Nature
Welcome to Glas Prirode (Voice of Nature Serbia) where base camp consists of an old timber framed, wattle and daub two storey cottage with an earthen floor and a wood burning stove  downstairs. Carpets have been nailed to the ceiling to stop crumbling earth from above, unexpectedly seasoning your soup and painted with lime to keep creepy crawlies at bay. Upstairs straw bales and mud form the walls and there is space for three tents. A sturdy solar panel enables smoothie-makers to run and laptops to charge.
Outside a fire place encourages a coming together of people when the sun departs behind the mountains and a large half-open marquee, where a rudimentary wooden table and benches creates a spacious living area when it rains. Someone has crafted a donkey, giraffe and turtle out of branches, so there is even some non-edible livestock! Fresh water from underground is plentiful and drinkable from every tap. There is an outdoor shower with a solar water tank wired up, a tad precariously, to a tree trunk framework. Actually there is a sweet water mountain lake just seven minutes walk away but visitors told Marjan he was more likely to get women into the camp if there was a proper shower!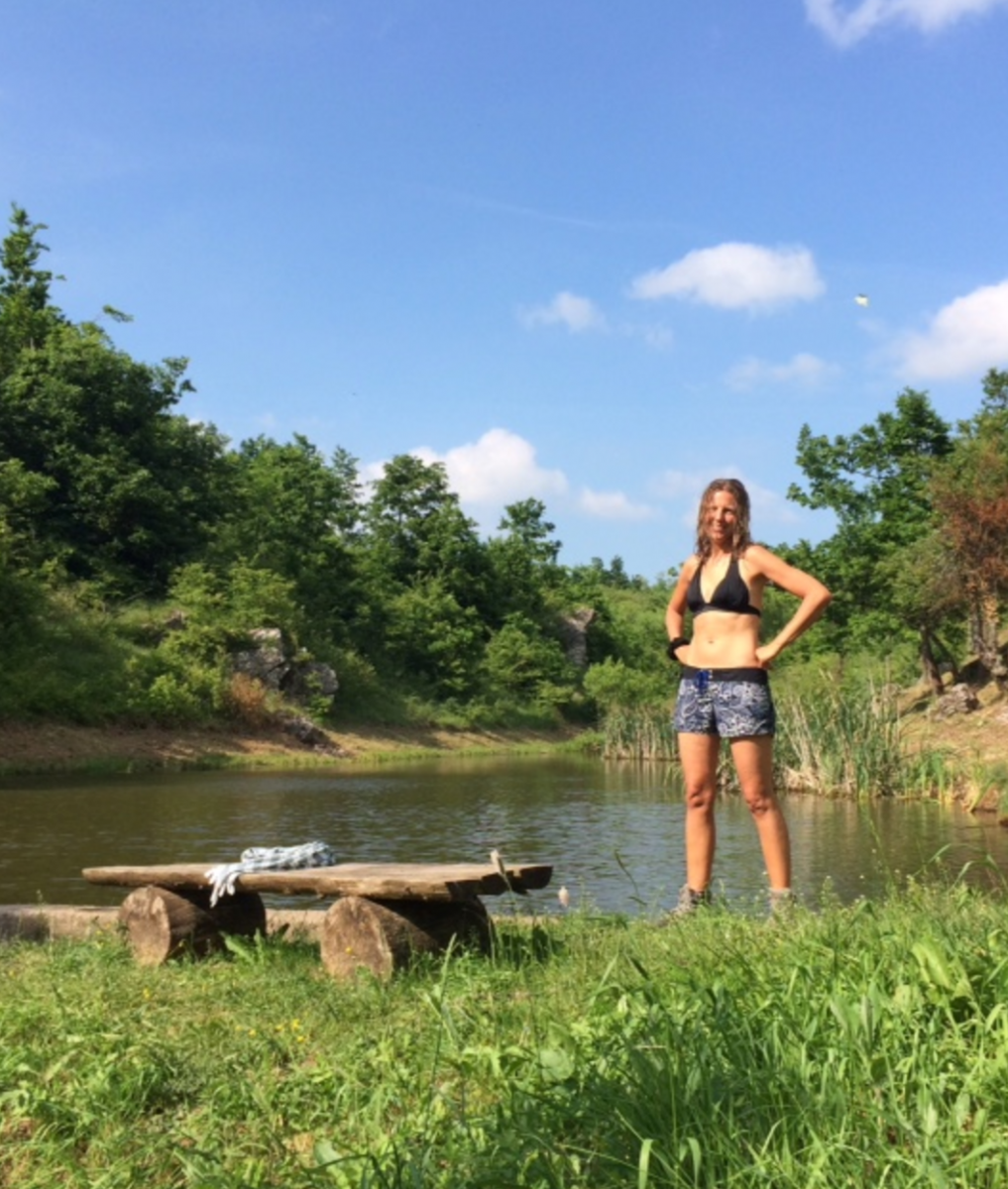 It worked. Here I am! And to Marjan's surprise I'm hands-on. It seems rare that he gets female help in the building department. They usually cook. Or want to hug him all the time. Understandable, he's pretty gorgeous. Well, instead, me being a bit of a Calamity Jane at times, I bashed his thumb with the hammer and then jumped down onto his Crocs-covered foot, so I had a job to prove myself so he wouldn't send me into the kitchen!
Gwendolyn climbing something, again
Now I have helped finish an eco toilet. Three in a row, actually. There is a red seat, a blue seat and a squat version. And a curtain! And views. Just the best kind of dumping experience.
Next we were balancing up on the rafters of the cottage extension, which will create a covered workshop area, in order to secure the roof supports. You kind of wrap your legs up around something, grip tightly and tie the ropes with your arms. A good tummy tightening exercise ladies!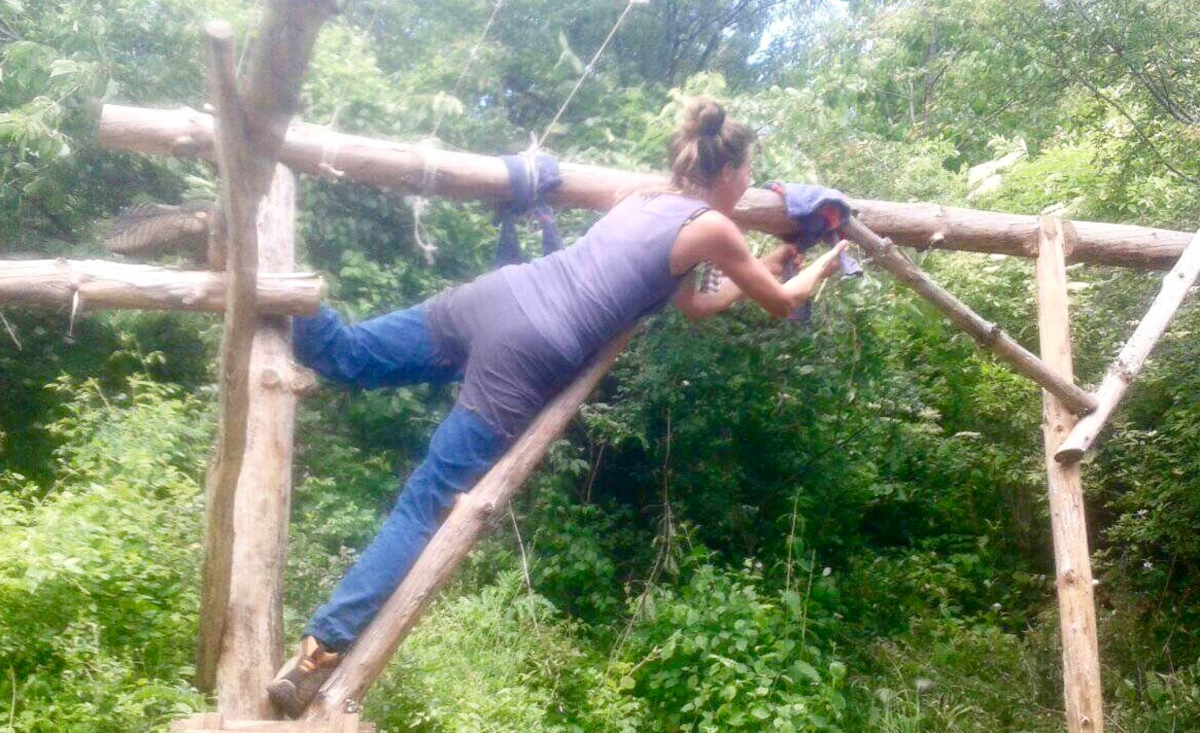 It was, however, tiring in the heat so we were elated when the quiet young Bosnian visitor announced he had made a huge, crusty loaf of bread and bean stew! Yesss! Reversed roles! Keep me out of the kitchen any day!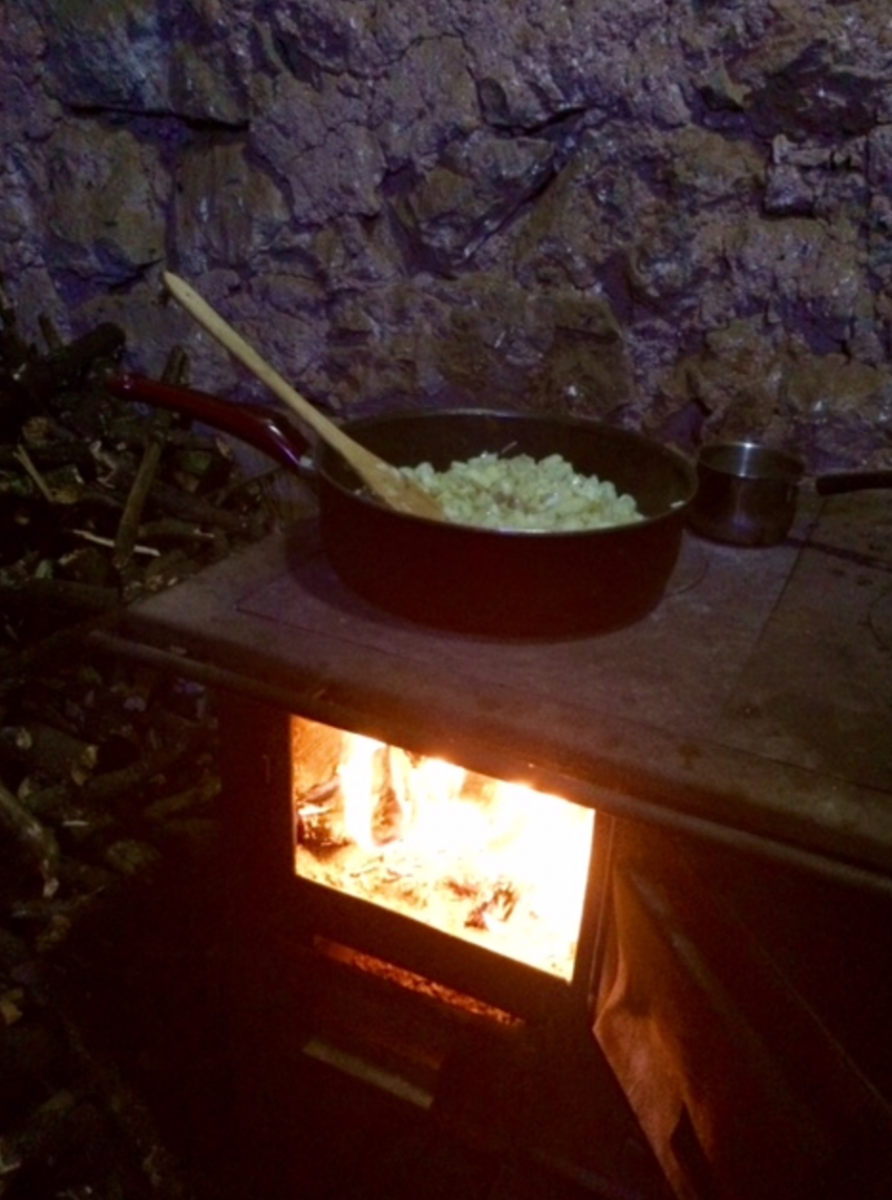 The veggie garden works with a wet pot system to prevent water wastage as well as to save the time needed to water and spend it doing other jobs. Marjan took terra-cotta plant pots, glued a plate over the opening and then made two holes in the bottom to allow one silicone tube in and one out. The pots are buried beneath the surface and seeds planted around them. The tubes are then all linked to each other, starting and ending at a water tank, creating a circular system. The tap is opened and voila – passive irrigation! The pots are permanently filled with water, which evaporates through the sides keeping the earth moist around the plants. A fascinating invention!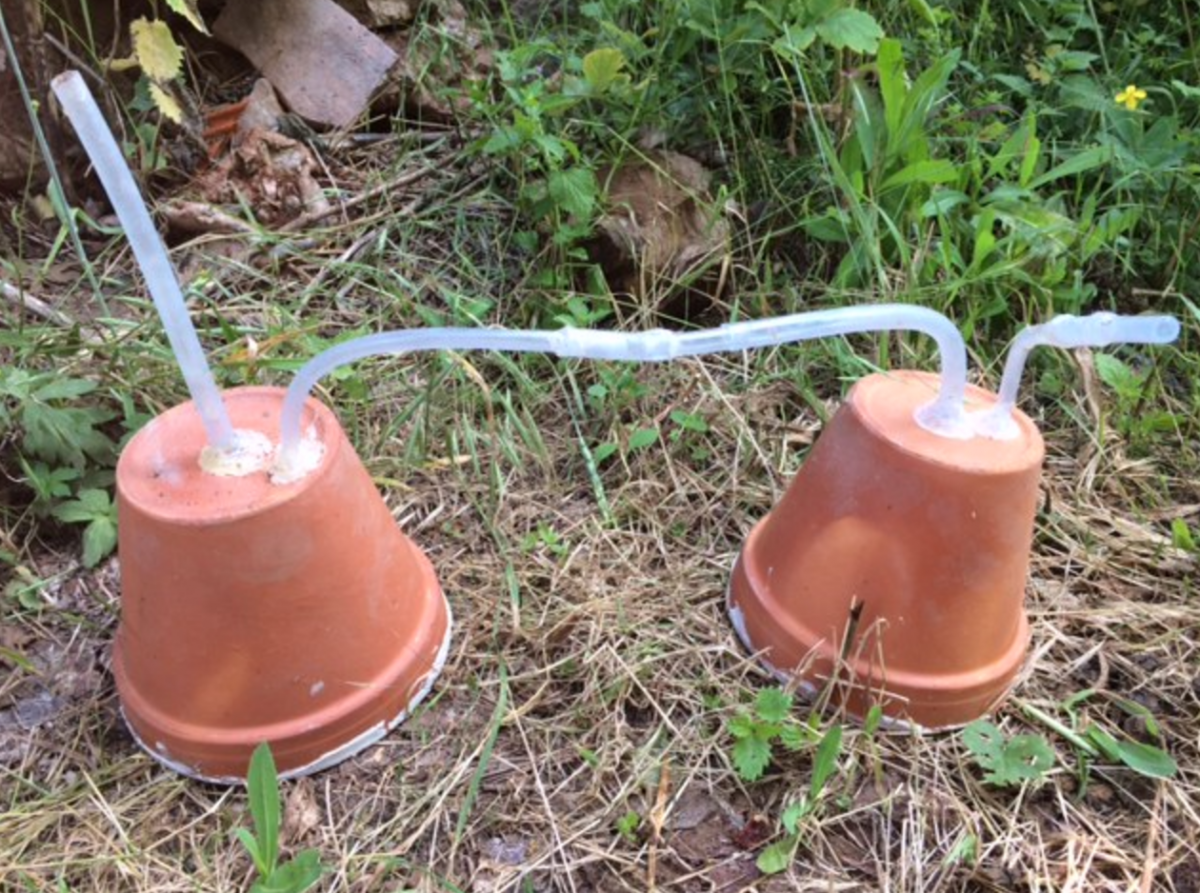 We sleep in bungalows, built spending only €100 on wood and plastic sheeting. A half open, solid, off the ground affair in between the trees which provide a truly 'at one with nature' feel when you snuggle under the blanket and get serenaded to sleep by a variety of birds and buzzing insects.
So, the basics are set but Marjan has an abundance of ideas to give any visitor's  creativity free reign. Get to it!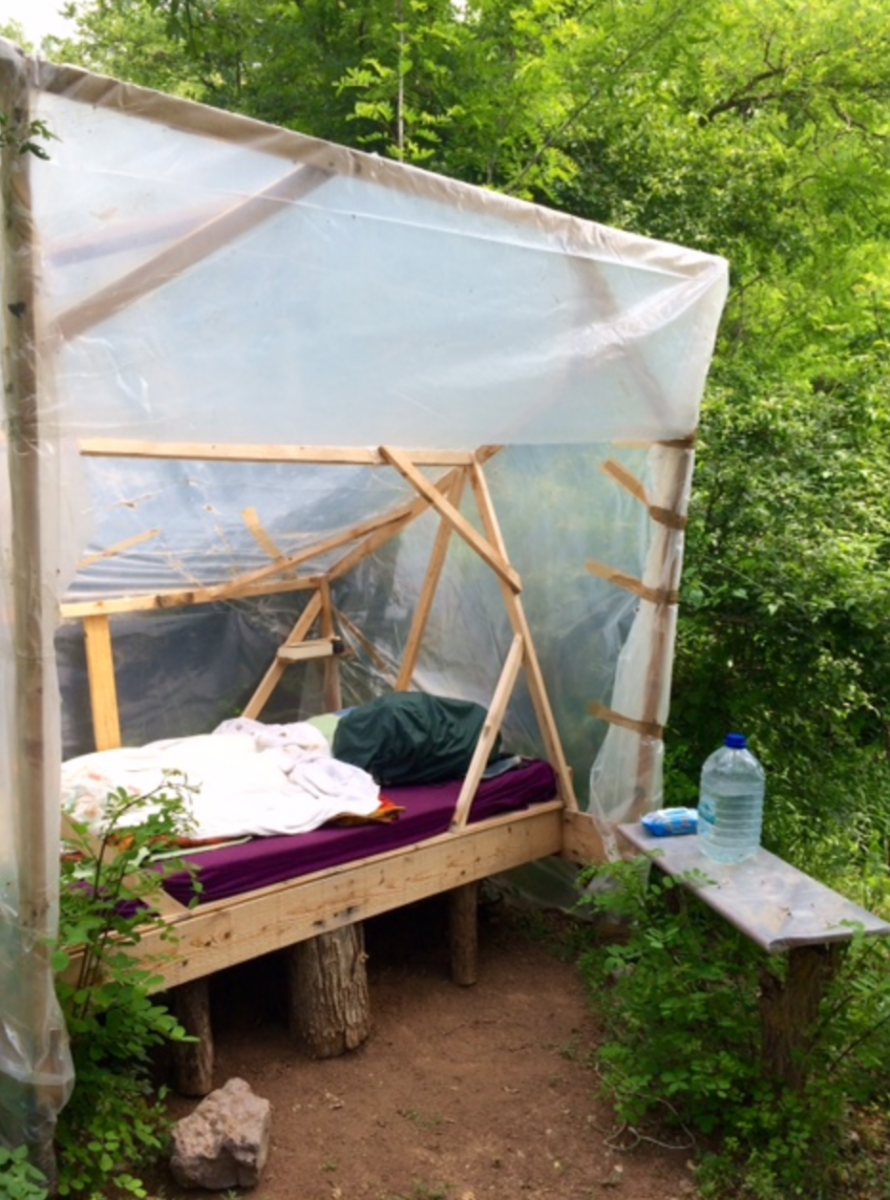 For more on Voice of Nature, check out the Facebook page and video
For more tales of Gwendolyn's adventures:
Gwendolyn Janke | Escapades of a SWF Part 1
Hitchhiking, Havana, Hot! | SWF Part 2: Cuba